Music is the energy that drives our soul. Any music lover will tell you how it is an integral part of their lives linked with the joys and sorrows they face every day. But besides all this, nothing would be the same without music. What do we mean? Well, imagine watching movies or playing video games without that awesome soundtrack running in the background - I think most of us would agree the experience would be quite lackluster.
So it is not surprising that music is one of the top money-making industries in the world, and not surprising why music is also heavily featured in online casino games. In fact, a lot of online casinos offer a varied selection of music-themed slot games, including rock and heavy metal music, such as in slots like Heavy Metal Warriors, but one particular casino took it to a whole other level and brought players and lovers of rock music together under one roof.
After launching just a year ago, Metal Casino has made some waves with its heavy metal-themed portal with slot games featuring some of the most renowned heavy metal bands including Megadeth, Guns 'N' Roses, and Motorhead to name a few. But before having a closer look at the games, we can't fail to mention what is perhaps, the best part about this casino, and that is that the player's winnings, which are paid out in Metcoins (Metal Casino's currency), can be used to purchase various band merchandise from their very own Merch Room! How? By simply going on the World Tour:
"The World Tour is a high voltage loyalty programme which will have players rocking out across 50 stops and 5 massive stages. Players will make a virtual stop at many world famous venues including the Melkweg Club in Amsterdam, The Netherlands. The aim of the World Tour is collect Metcoins, which are Metal Casinos own soft currency. These Metcoins can then be used in Metal Casino's very own Merch Room. Super fans can even purchase Metal Casino apparel including band style t-shirts, hoodies and more. Metcoins can also be exchanged for other great prizes these can also be found in the Metal Casino Merch Room."
Source: Casinotopsonline.com
Back to the games; here's a short description of the top 3 Rock and Metal slots at Metal Casino.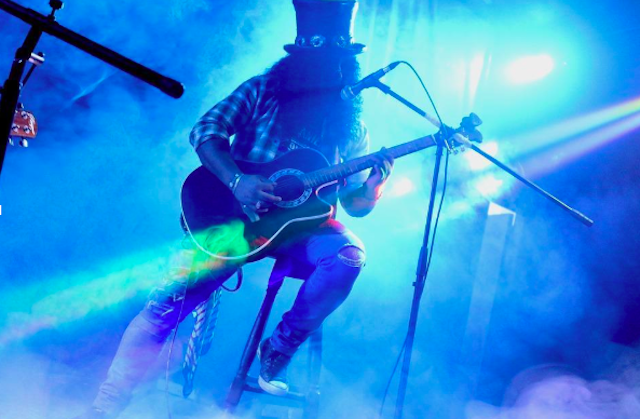 Guns 'N' Roses
Taking the best of all worlds, there is an imposing musical element to the game that is enhanced by the symbols of the slot. Axl and Slash make an appearance obviously as does a lot of roses and guitar picks. The 5 reels and 25 paylines have a host of bonuses which come into play through scatter symbols. The graphics are pretty cool and it is safe to say this game one of the best music-themed slots out there.
Motorhead
Another classic band who has loyal fans till this very day, Motorhead has over the years entertained Rock and Roll fans with their hard-hitting music. Early 2018 saw the sad demise of former guitarist Eddie Clark who was with the band for some of their most iconic songs. However, with sorrow comes joy and the group released a cover of David Bowie's 'Heroes' in April of the same year. The online Motorhead video slot puts the music of the band, and the opportunity to make money, in your hands. The 5-reel game has 76 paylines and comes loaded with free spins, wild symbols, and a mystery reel feature.
Megadeth
There is a lot of heavy metal action going on in this spectacular slot. The background imitates a concert stage, a metal frame surrounds all the reels, and the symbols are a mixture of the band players and musical instruments. With gameplay of 5 reels and 40 paylines, players have ample opportunities to make some cash. Free spins are on offer during the game, and a particular head-crushers round consists of hooded individuals from which you have to pick out the females to get a bonus. All in all, Megadeth slot is interactive and a must for fans.