Blurry vs. lucid; dim vs. bright; muted vs. loud. Like yin and yang, these elements coexist in one image without competing for space. The photo is awash in bursts of neon hues like a packet of Fruit Gushers spilling out from its bag. Whether it be a pair of shoes, lipstick, lollipop or a person, the image marries the vintage aesthetics of an old Polaroid and modern day HD. While it can be passed off as an artifact of a bygone era, Chelsea Wise (a.k.a. Bubblegum Roots), manages to make the new old again.
Born in Texas and currently living in Los Angeles, Wise constantly seeks to make the icons of the Internet age feel like they are a part of contemporary history. From musicians to Internet personalities, Wise captures them in her cloud of neon dreams, dousing them with huge doses of crystalline aura that permits the sitter to have the power to own their own gaze as if they are in a Cindy Sherman film still. Although Wise primarily focuses her lens on people, she also treats still lives as if they are human.
Wise and I chat about the origins of her love for photography, feminism and being musically inclined.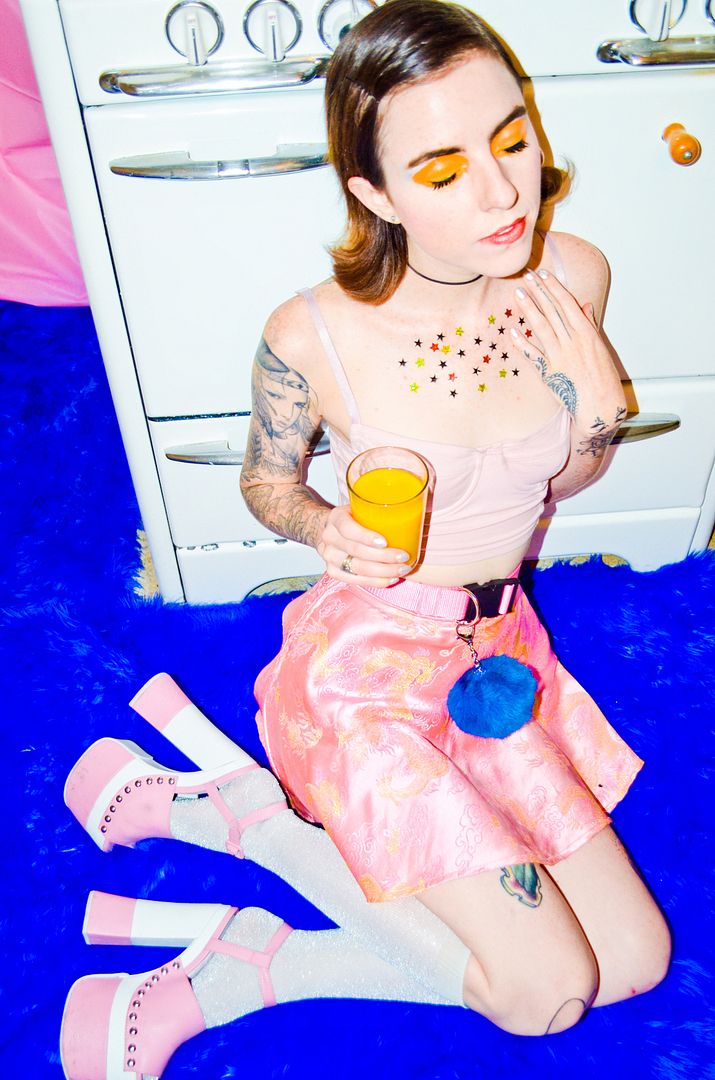 How did you get into photography?
Since I was younger, I have always been interested in photography. I was always stealing my parents' Polaroid and disposable cameras! They used to hide them from me because I was using up all the film, which was expensive! It wasn't until I turned 14 that I received my first Nikon camera. I was so obsessed with it that I would take it everywhere with me. I'm honestly so grateful that I was able to receive that camera so young since it really gave me the time to figure out my own photography style.
Looking at your photographs, you have an '80s to early '00s-inspired aesthetic that is heavily inspired by Lisa Frank, Jawbreaker, Barbie, vintage VHS tapes and a whole lot of neon. What draws you to these decades and why are they important to you?
I feel I'm heavily inspired by those eras mainly because they are so nostalgic for me. I remember in the late '90s growing up, I spent a lot of my time by myself renting movies from Blockbuster and watching them on my little pink TV. Some of my favorites were definitely Jawbreaker, Clueless, and of course, The Fifth Element. The outfits and color scheme in that movie really stood out to me and I go back and reference it every now and then.
I've noticed that the majority of your work centers around women. What brings you to focus on female subjects and why is it a central narrative in your editorials?
Actually, I didn't even realize that females were my main focus until people started to point it out! Which made me really question on why I was subconsciously doing so? I realized it was because to me, females are always so inspiring and they naturally have that "IT" factor. Every women has that "there's something about her" vibe and I love to bring that out in my photo work. Usually with loads of glitter and a lot of flash. I enjoy creating a fantasy dream land while playing on the female gaze.
Unlike the majority of fashion photographers, you tend to be very musically inclined. Why is music important to you and how has it shaped your outlook on photography?
I actually started out as a concert photographer when I was younger. I loved going to shows and the energy I felt from them. I loved the fact that I had no control over anything and my main goal was to document and capture all these small moments that a lot of people seem to miss. Whether it's a couple making out in the crowd or someone crying during one of their favorite songs, I really enjoyed being able to focus on those intimate moments that the music brought out of them and me. (Note: check out her photo of Tyler, the Creator.)
Speaking of your editorials, you have shot for different platforms such as Girl Gaze Project, which was started by TV presenter Amanda de Cadenet, magazines such as NYLON, who featured your photoshoot with L.A. indie pop band HOLYCHILD, and local fashion companies like clothing/accessories retailer Valfre and sunglasses label Rad and Refined. When you shoot for these projects, do you feel that you have to develop a different mindset and creative process that suits the brand/identity of the company?
I would say yes and no. I love the fact these people want to work with me in that way and actually want a piece of my vision. Usually, if it's an artist such as HOLYCHILD, I have them send me a moodboard so I can know exactly what they want to go for. Me being such a visual person, I understand seeing it rather than it just being explained to me. I see working with brands as a challenge, but in a good way. When you are working with a brand, your job is to take what they give you and make it into something amazing that they actually want to market to people because they know it's eye catching. A lot of brands have given me full room to experiment without any rules and I love that because I want to come back at them with something that makes them say "WOW".
Asides from editorials, you've also shot some personalities such as Instagram fashion blogger Josephine Lee (a.k.a. Princess Gollum), "Cooking with Candice" filmmaker Alanna Pearl and YouTube vlogger Morgan Lynzi. What is it like to work with them and how have they inspired you?
When I first moved out to L.A. from TX, I was so intrigued that I finally had the chance to shoot these girls that I had always found so interesting and inspiring via Instagram. I loved how they trusted me and were so open to my ideas when it came to shooting. Since then we are all good friends and keep in touch - it's so funny how a lot of the friends I made in LA were mainly people I shot with. I think it's so important to keep close with other females that are also creative and are doing what they love. It definitely helps inspire me to keep on shooting.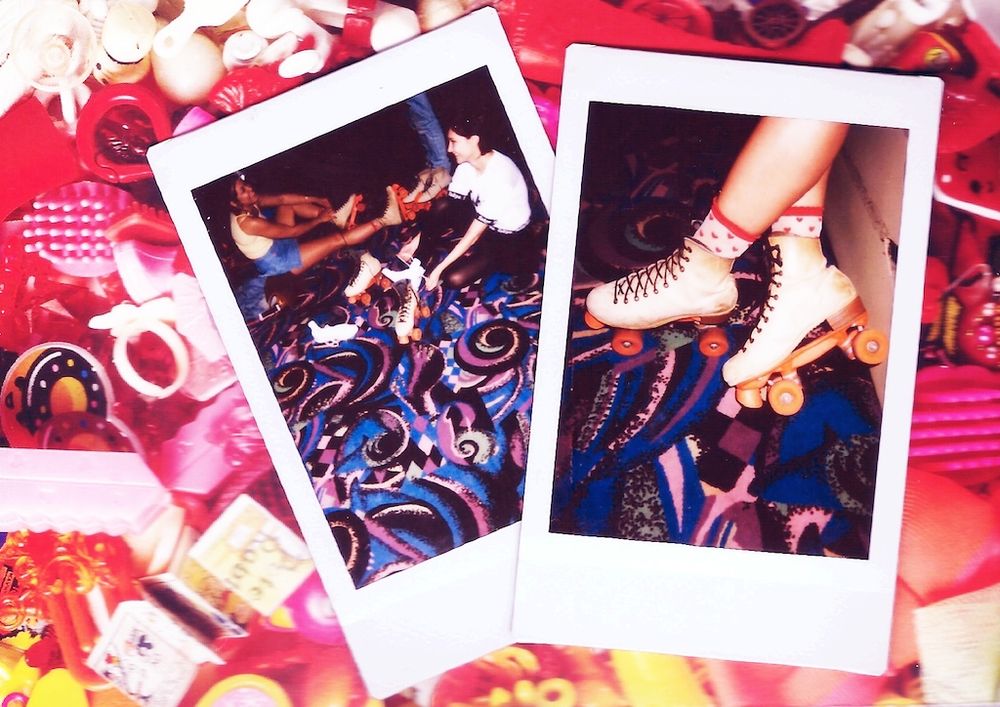 Before I forget, you did a video "Pastel" for online publication Superhero Mag. Instead of focusing on a human subject, you use dessert as the central figure in the film. What did it symbolize and why did you choose to capture it in a 20-second video?
As I get older, I've really been wanting to focus more on video! I have a lot of ideas that I come up with when I'm just coming up with ideas and listening to music that would only make sense if they were captured on video. My main issue is that I don't know too much about that tech-wise; so the video I made was one of my first experiments. My main focus always shifts between people and objects. It just depends on what I am inspired by and in that case, it was ice cream. I love how it starts off pristine then it just becomes so chaotic so fast! In a way, the video represents how people try to cover up and look so perfect (like the ice cream set up at the beginning) but in the end, the real is going to eventually shine through even when you try to put a little cherry on the top of your own destruction.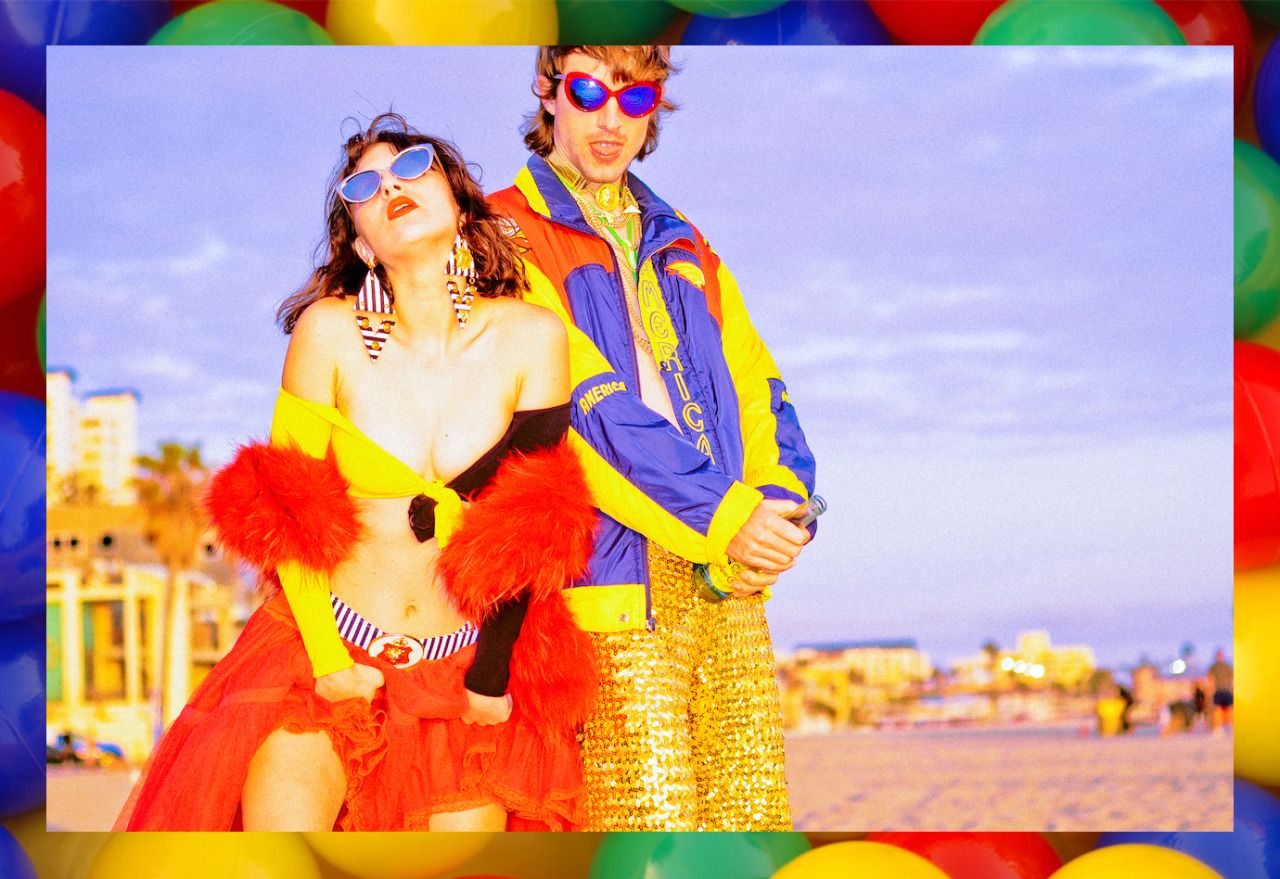 Speaking of your achievements, your photos were exhibited in Spain for a show called "We Don't Care Anymore", which was covered in i-D Spain. How did you become involved in this project and what was the concept behind the photos?
I was emailed by a friend of a friend who basically just asked me if I wanted to be a part of it. After learning what it was about, I was 100 percent into it! I love to challenge myself and question what my work truly means when it's put under a microscope like that. It really helps me understand myself better and I love that I finally get the opportunity to explain that it's more than just glitter.
As a woman building her name in the art and fashion worlds through a digital platform, do you feel that it has been able to help you gain more accessibility? If so, are there any pros and cons to using Instagram and the Internet?
Surprisingly, I would say 90 percent of the people and opportunities I have received have been because my online presence on Instagram. I realized that Instagram was a way to market myself and show my work within a small grid. I pay attention to a lot of small details on mine; I'll start looking at rows and end up deleting photos because I feel it doesn't look fluid enough! I might be a little too OCD, but it taught me everything you showcase matters. When it comes to cons, I wouldn't say there are many besides causing me to endlessly scroll for a good hour; sometimes I need to put it away.