Too often we assume perfection. Culture makes us believe something is great simply based on this boundless canon of criticism, whereby the definition of an artist or a piece of art is inextricably defined before our own judgement is made. Goya is a classic artist because art historians have been saying so for hundreds of years.
Born 1746, Francisco Goya is widely considered to be the greatest Spanish painter of all time. More widely renowned for his dark, nightmarish interpretations of the Spanish civil war, he was able to build up a hefty reputation for revealing, uncompromising portraits in his lifetime, developing a distinctly Spanish style that favoured amongst the Spanish elite of the time. Sadly, Goya's career was tainted by his ailing mental health and alcoholism. Despite this, his artistic profligacy remained during the late 19th-century era of enlightenment, one of the most turbulent periods in European history, an age and way of thinking that left an indelible mark on the artist and his work.
For most it is pure blasphemy to denounce or even insinuate that Goya isn't one of the greats. We must surely respect these pieces as the history books have pronounced, wonders of the world, a bounty of glorious treasure. However, in this manner we miss out on a great deal of critical enjoyment. The Beatles may be considered one of the greatest groups of all time, but they sure had a lot of duds (Flying, Wild Honey Pie, Don't Bother Me). Citizen Kane may be the greatest movie ever made, an undeniable classic yet an overblown, tedious, pedantic classic at that. Nothing can be wholly great.
Retrospectives of the like held by The National Gallery rarely invite any sort of critical re-evaluation. They preen and they gloat, an invitation for 'cosmopolitan' types to produce from rote some guidebook they picked up hoping some day this fountain of knowledge would impress their visiting foreign friends unsure of whether they can use their newly purchased Canon DSLR.
Fresh perspectives are few and far between at these events. Yet The National Gallery goes some way in revealing the character of Goya, a new side with far more depth than many have assumed. As with many greats - Van Gogh, Caravaggio, Michelangelo - Goya was a deeply disturbed and flawed man constantly on the precipice of insanity. He portrays aristocrats in a humble manner amongst simple backdrops, eschewing a new, more modest style from the lavish set pieces promoted by other neo-classical portrait artists around Europe (David, Kauffman, Ingres). It is oft the case that an artist's isolation from the style of the era marks out their greatness.
The exhibition is set out in semi-chronological order detailing Goya's development as an artist painting for the different sides of Spanish society, poignantly bookended by two deeply moving, confessional self-portraits. Entering the gallery you are immediately greeted with the modest grandeur of Goya's The family of the Infante Don Luis de Borbon (1783-1784). The painting shows Goya's making of greatness - enigmatic, alluring and delightfully elegant. Goya's personality is etched in every single painting - deeply unsettling, ferocious, bold and above all completely uncompromising. His portraits have a delightful laissez-faire informality to them, free from any stuck-up pretension, an alien concept to some of these exhibition-goers.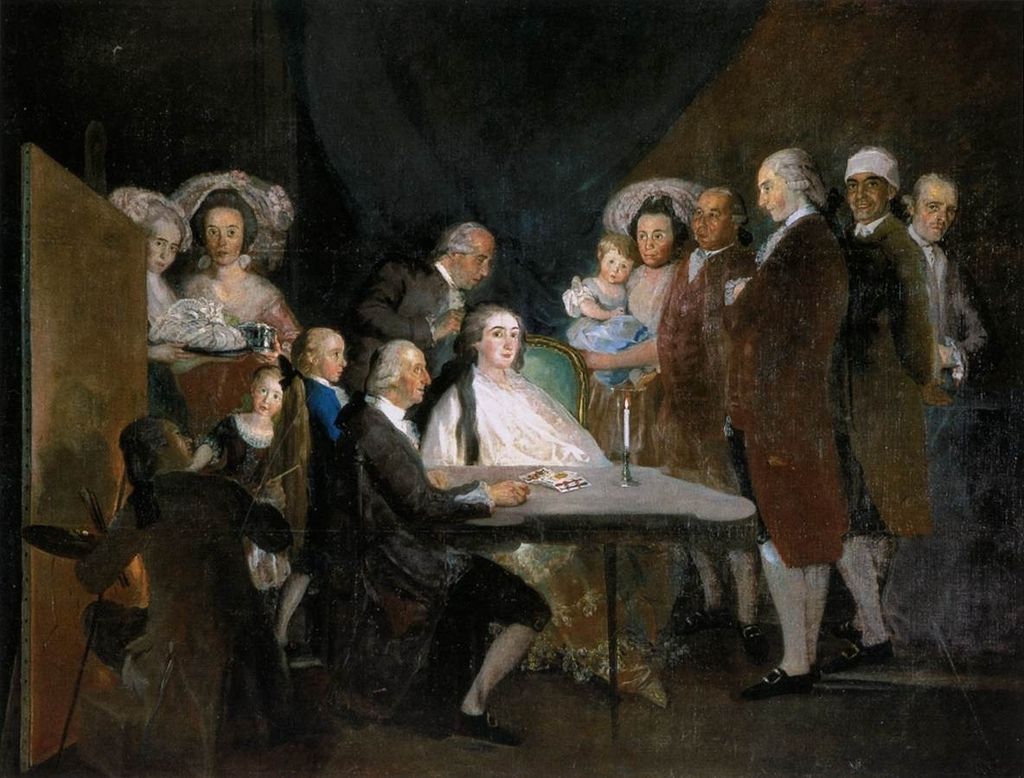 Goya's strengths lie in the use of his palette as sombre hues are juxtaposed with vibrant shades of royal red as with Goya's supremely gorgeous portrait of the Duke of Wellington (1812 - 1814). He has an exceptional knack for painting material and fabrics; each embellishment brings the image to life with a thrilling immediacy and sparky informality incomparable to any of his contemporaries.
However his paintings - like the man himself - are sadly repressed, trapped by convention and longing for true vision. Stuck between times, they lack the precision and realism of his neo-classical counterparts without the complete informality and revolutionary streak of the mid 19th-century impressionists. His painting is struck by an unfortunate stoicism, a simple lack of controposto, a crushing formality and rigidity. In contradiction and with closer inspection his art is riddled with imperfections such as the clumsily repainted red book in José Duaso y Latre (1824) the badly drawn hat in The Count of Cabarrus (1788) or the several cases of disproportion with oddly stumpy legs and drooping waists aplenty.
It is with abject disappointment that two of Goya's greatest portraits are missing in action here. Where is Charles IV (1800 - 1801) and more importantly, the infamous, La Maja Vestida (1798-1805)? These are national treasures in Spain, but it would have been an added delight if the National Gallery could have poached either one of these (realistically, poaching Maja would have been a stretch).
The exhibition also suffered from some more menial, trivial challenges. While being a timed event, with groups staggered into the exhibition, it seemed bizarre how busy the 7 rooms were; cosy to say the least. On a more petty level, strollers in these sorts of exhibitions become quite awkward obstacles, aiding the sense of claustrophobia. These events are of course highly popular but the artwork is slightly overshadowed by these planning deficiencies. The National Gallery - like Goya himself - has put on exhibition that exudes flawed genius that is brilliant at times, a little rough around the edges and a perennial outsider whose greatness thrived off the exact self-destructive tendencies that made his work both classic and shambolic.
Goya: The Portraits is open till 10th of January 2015 at The National Gallery.