The London Art Fair is a very stylish affair from its monochrome typography and red carpet entrance to the majestic plate-glass roof, an apt setting for this roll call of British artistry. Such is the magnitude of artistic treasure on display; it is nigh on impossible to circumvent its sprawling rooms and byzantine corridors in anything less than a day.
A number of high profile pieces were in attendance, mainly situated in the "Coast" exhibition, a selection curated by museum partner Jerwood Gallery, Hastings. Boasting an impressive array of the crème de la crème of 20th and 21st Century British art, the gallery housed John Piper's rustic idyll Aberyon Fields (1955) and Christopher Woods' primitive The Bather (1925) alongside Marcus Harvey's latest sculpture, the comparatively barbaric Bronzed head (2015) with its mishmash of military relics and jarring industrial imagery.
In fact, talk of the day would often centre on the maverick Harvey, for the louche art extraordinaire was in the house to give a talk on art publication Turps Banana, a bi-yearly concentrated exclusively on painting, and the various pieces he had included in the fair. Harvey made his name as one of the Young British Artists in the 1990s, along with fellow Goldsmith College alumni Damien Hirst and Sam Taylor-Wood. It was an insatiable scene that caught the public imagination nationally and internationally coinciding with Brit-pop and New labour to create an inimitable Cool Britannia image, heavily reliant on its cartoonish whimsy.
The outspoken artist was in wild form throughout. He describes his art as a "travelling Punch and Judy show" while his evolutionary approach to making art is a lesson to younger, pensively obsessive artists: "Let's just cough it up. I didn't sit down with the idea of making my art a critique." The title of his next exhibition, Insellaffe, given to him during a slagging-off match with a German in a restaurant he was working in at the time, is the quintessential arousal of cool Britannia's cartoonish whimsy: "It means 'Island Monkeys' in German".
Now an elder statesmen in the art world, Turps Banana and its associated Art School offers Harvey the opportunity to pass on his pearls of wisdom to the next generation of artists while his work remains staunchly true to the manifesto he developed during the BYA zeitgeist years.
The other big event of the weekend was the photo50 exhibition, Feminine, Masculine, loosely inspired by Jean-Luc Godard's 1966 film, Masculin Féminin. The exhibition presented a feminine narrative voice in an attempt to explore the "ineffable and immaterial" dynamics between men and women.Fiercely sexualised images of this kind are no longer shocking in today's society. It places fresh emphasis in their search for importance. Immune from any indolence they need to intrigue in new ways or else they will conceptually fail.
The pieces in Feminine, Masculine were sophisticated enough to surpass such fears. Highlights include Maija Tammi's sci-fi epics, The Milky Way (2015) which sees the photographer present images of female and male semen as if they were from outer space and Jo Broughton's Empty Porn Sets (2010). Both pieces capture a bewildering ambiguity, Tammi's work in its blissful beauty and Broughton's in its conflicting emotional reverberations. Together, they made the exhibition essential viewing.
However, the worst thing you could do at the London Art Fair is to restrict yourself to the high profile temptations. As with every mixed exhibition of this sort there are the big name pieces, your Harvey's and Wood's, the pieces your tour guide will inevitably shunt you towards, but the true gems lie in the unchartered nooks and crannies that become personally special, as if you yourself are the only one to have stumbled upon their indubitable magic.
The Woolf Gallery featured a selection of vibrant, pop-art including a Keith Haynes piece 'Hitzville', made from cut up vinyls in the shape of the British Isles with each vinyl placed in its region of origin, a kitsch fascination for any cultivated music lover. Jim Whitty's immersive work, situated in the Adam Gallery, has a meditative quality that sets it apart from the other less-transcendental works bordering its resplendence.
The Liberty gallery showcased Mariah Rivans' sumptuous and vibrant style, especially with her mesmerising female portrait prints complete with headdresses made out of cultural references to marks in female history all set up to look like mouth watering fruit hand picked by Carmen Miranda. Stylishly gaudy, Rivans' vibrant portraits are reminiscent of 16th-century Italian artist Giuseppe Arcimboldo in their creative construction. It's kind of what makes contemporary art so progressive, being able to take from the past to the benefit of the present.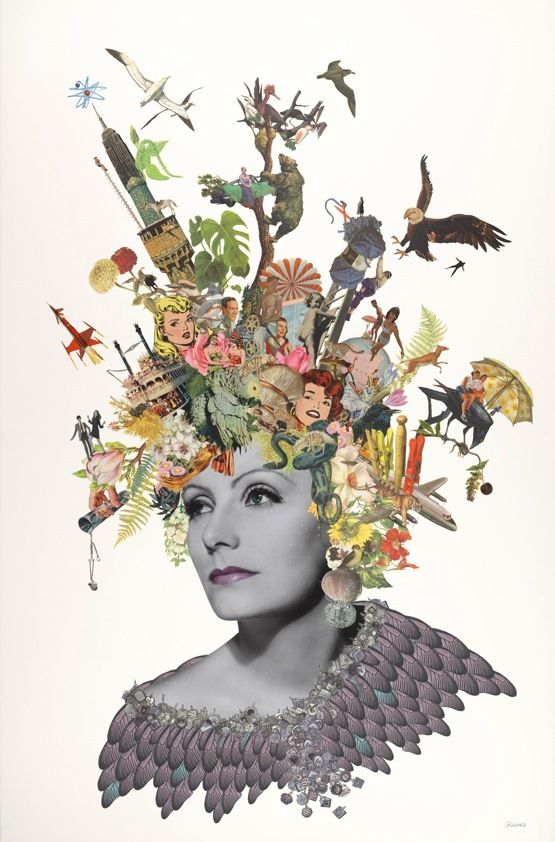 The London Art Fair therefore was a resounding success, with plenty on offer (literally - most of the pieces are on sale) to make even the most earnest art-lover drool and although the prices themselves are awe inducing, the affluent crowd in attendance were almost certainly keeping a few grand in their back pocket in case a certain piece tickled their fancy. A boy can only dream of such extravagance.