As if this year's line-up for Iceland Airwaves wasn't killer enough - hiya John Grant with the Iceland Symphony Orchestra - the festival have collaborated with Urban Nation Berlin to showcase a public art element of the festival. The WALLPOETRY project pairs a bunch of incredible Icelandic musicians together with talented street artists to create huge outdoor artworks using lyrics from the acts as their inspiration.
"I had been visiting Iceland Airwaves for many years and finally decided last year to collect walls, find spaces and connect with the Iceland Airwaves crew," explains Urban Nation curator Yasha Young. "My idea was to bring the music onto the walls and in a way re-connect two entities that have always been vital and necessary for each other in a public space."
"I love music. I knew the line up well in advance and IA's Grímur Atlason, Henny Frímannsdottír and myself started to play out favourite bands to each other," she continues. "Once we had the bands and the artists I started to match them. I know the artists I work with very well so it was a more about listening to them and defining in more detail what the artists did want to do for and with this project and their individual ideas. Than the goal for me was to pair them with the right collaborative partner music and visual and vice versa."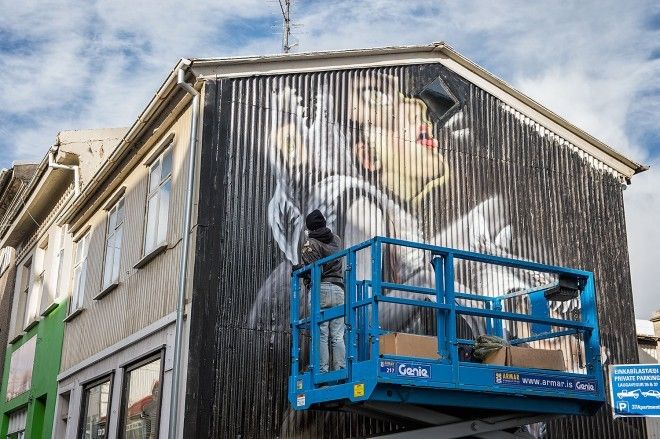 Featuring artists Mercury Rev, GusGus, John Grant, YLJA, Saun & Starr and loads more, Young explains that it was actually the artists and musicians that decided upon which lyrics to use - she just paired them together. "It was more about creating and encouraging the connection between both of these groups to get their beautiful creative minds talking together," she enthuses. "To read the exchanges and feel the moment the spark ignited between them... that moment to me is and will always be what marks true curatorial success and is the key to all collaborative creative projects."
Whilst the visual aspect of music can often be forgotten - album artwork being succumbed to a tiny square on a screen, One Direction being very cba about their newest video - Yasha is more than excited to take about her passion for the visual side of things. "I think it is vital as an individual - working with and for artists - to work with as many different creative aspects as possible to be able to produce one lasting and meaningful overall experience," she explains. "Today we have a one click behaviour that almost reminds me a little of when video killed the radio star. There is an essential part of the experience that is fading and we feed it with the instant buy.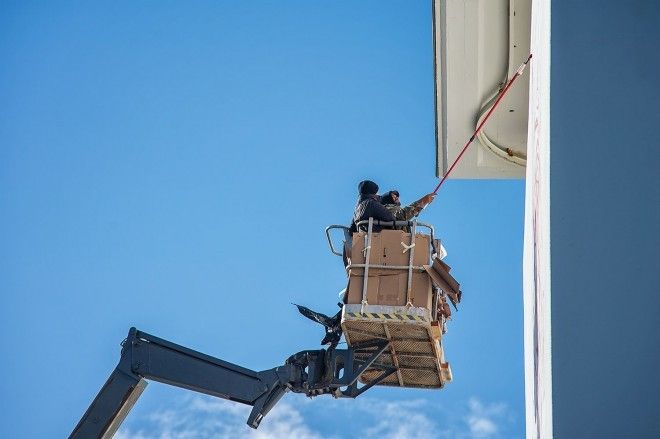 "I believe that we lose more than 'just' the record store and the poster art or album cover. We lose an essential and lasting connection that came with the purchase of a record or CD. Reading the lyrics as audio poetry on the back sleeve or the LP or interacting with the music and the art makes it a much more lasting and impressive experience in my view. This is just the surface of what I think and like to explore even more and on a deeper level next year when we return for the 2nd edition of WALLPOETRY."
Iceland Airwaves takes place November 5-9th in Reykjavik. You can purchase tickets by heading to the official festival website, icelandairwaves.is.