To many, Kenneth Williams is known as the purveyor of that sickly camp humour beloved by British households in the 1960s as he took the leading role in nearly all of his 26 appearances in the popular Carry On film series. The films flogged a sort of cheeky-chappy brand of 'Rule Britannia' - light-hearted and formulaic they weren't completely immune from moments of bracing, tongue-in-cheek virtuosity: "Infamy, Infamy, They've all got it in for me" shrieks Kenneth Williams as Julius Caesar in Carry on Cleo.
Indeed there is a renewed feeling of nostalgia for these supposedly simpler times but you can't exactly see the BFI doing some sort of month long critical endorsement of the films freshly discovered directors cut. They are what they are: humour for the masses, like Michael McIntyre, a great big guffawing marshmallow without much in the way of sustenance or edge.
Therefore, after attracting 50 years of critical eye rolls and seeming completely at odds with current interests it seemed mildly perplexing to hear the British library announce their major acquisition for 2016 - a set of 43 personal diaries and approximately 2,000 letters from their star, Kenneth Williams, all reportedly bought for the princely sum of £220,000.
Beneath it all though the Kenneth Williams story is worthy of Shakespearean tragedy, revealing a life spent in relative alienation and privacy, away from a world that stirred every fibre of his being. Even success could not temper his distaste for life, his diary entries have quite morose, morbid overtones and the controversy surrounding his death nearly three decades ago now, back in 1988, is only going to feed the frenzy for more juice.
It could all be quite intrusive and this event would be borderline shameless if Williams' story didn't have much stronger, universal and less personal narratives running throughout or if the diaries weren't a showcase for a quite brilliant comedic genius in full flight.
Williams' diary entries reveal a vitality, relentless energy and rapier wit that is echoed in his on-screen persona and led him to write up to 400 words each and every day. However, his dark personal life and ability to write with comfort on all facets of life, reveal hidden depths from his work with which we are more acquainted. No longer is the humour flimsy, its deliciously cynical, brutal at times with an emotive, everyday mortality. His searing put-downs are monumentally sharp, here are a few corkers:
"A kind of acting which is so dirty that I mentally vomit...proximity with such muck is dangerous." (12 June 1954 - The struggling actor has little option but to accept work with a 'wretched' provincial repertory company)
"Eden has resigned. That equally mediocre fossil Macmillan has taken over! The tory situation is quite pathetic since that old hypocritical rat-bag Churchill left." (10 January 1957)
"Cow cunted Mare" (Poor Joan Sims, Carry-On co-star to Williams, suffers his wrath. Oh I say!)
Williams would often warn his friends of diary rebuke with the withering phrase "You'll be in my diary". Yet the diary is much more than an outlet for Williams' personal grievances; like the great diarists before him the work evokes a time and place to great success. He discusses everything from political and cultural events to the London arts scene, even his own solitary trips to Tesco's. These artefacts, for they should be considered as such, document a period many of us have forgotten. Take those rose-tinted glasses off, the swingin' sixties weren't nearly as glamorous as they've been made out to be.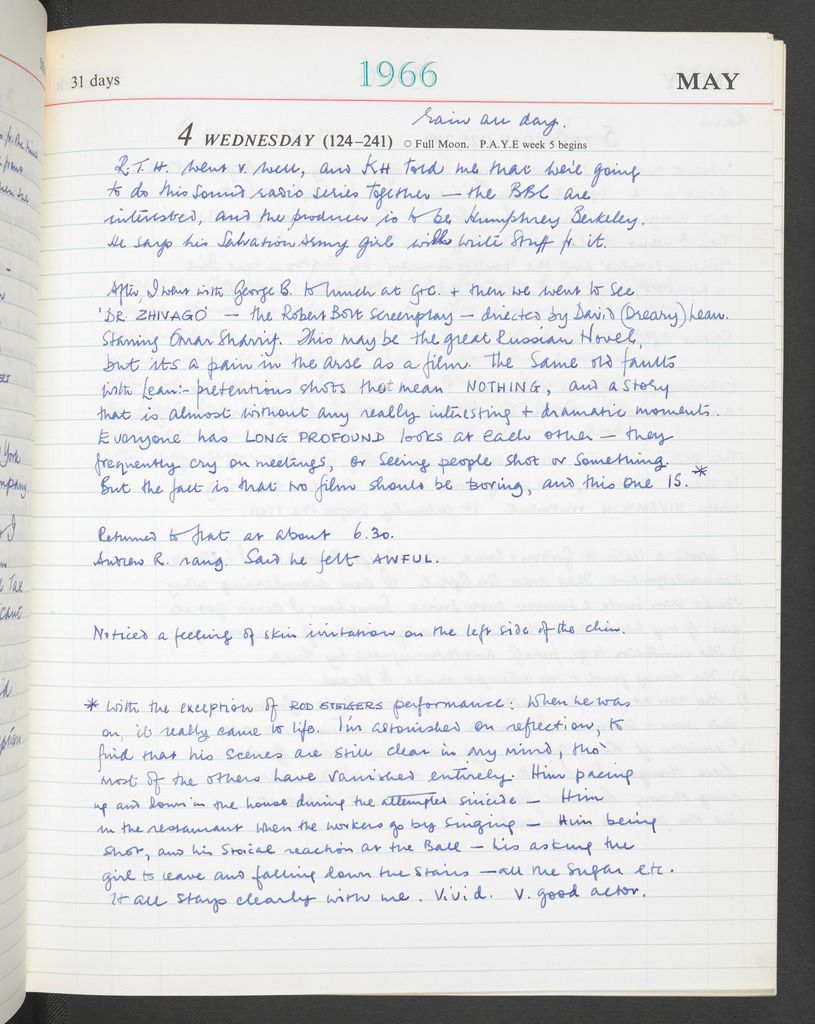 However its not all pure stream of consciousness, Williams own freedom of expression is at times constrained. Williams as a gay man prior to the decriminalisation of homosexual acts in 1967 made sure to take care with the way he expressed his true sexual feelings. The diaries are loaded with examples of 'Polari', a gay slang used to codify sexual expression while it was still criminalised: "Met two marines - very charming, Bonar Sharnises." It's an insight into a fascinating, secret world, a shocking prohibition that existed less than half a century ago.
For anyone who sees Kenneth Williams as merely the parody of himself portrayed on screen, this recent British Library acquisition will break any pre-conceived perceptions or stereotype. As with all great cultural events the archives and resulting exhibit will make the public think twice, cultivating Kenneth Williams' legacy as not only a great humorist but also one of the most important diarist's these fair isles have produced.