If you're fond of gambling and also love listening to music, the music-themed online slots are definitely going to be a big hit with you! These online slot games are pure joy to the ears of the gamblers, and are normally dedicated to some legendary solo artist, band or music style.
Here in this short article, we will take you through some such well-known music-themed online slots, specifically from Playtech, a well-known name in the online slot game development world. This is the same developer that powers the online slots section of www.mansioncasino.com/slots/.
Rock n Roller
A simple and classic online slot game from Playtech portfolio, this one is dedicated to Little Richard, Elvis Presley and other legends of the retro-rock era. Although you won't see their faces appearing on the reels, you can hardly miss their presence with their music playing constantly in the background. The intro to this online slot game features the well-known 'Tutti Frutti' chorus and every win is celebrated with the guitar riff from the Presley's 'Jailhouse Rock'. Rock n Roller online slot game features 3 reels and 5 adjustable pay lines, with the bet amounts ranging from £ 0.05 to £ 25 per spin. Although there are no free spins or bonus rounds, the music is good enough to keep you glued to this game!
The Jazz Club
This online slot title from Playtech is all about a well-designed Jazz club where you can enjoy a drink or two, while listening to some cool jazz music. The Jazz music lovers who also enjoy a punt every now and then are guaranteed to fall in love with this online slot game. Every spin of the reels triggers piano chords that play in synchronisation with the reels. The band on show comprises of 3 soloists, on a cello, trumpet and piano each, giving a mini- performance each time you land a winning combination on the reels. The perks like 14 free spins, stacking wilds and up to 4x multipliers make this an exciting slot game for everyone.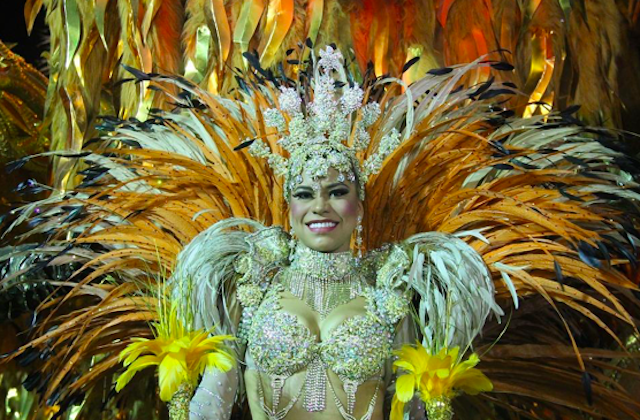 Samba Brazil
Another music-themed online slot title from Playtech, Samba Brazil is all about adding some rhythm and hot sun to your day! You will get transported to Rio de Janeiro and get to dance alongside those beautiful Brazilian dancers (see the carnival picture here on bbc.com). The music in the background is straight from the street carnival and will make you want to swing your hips. The dancer symbol, weirdly separated into two distinct parts, makes the star symbol on the reels. When it appears split, it results in a Mix Pay feature and when full, your reward is increased.
La Chatte Rouge
Inspired from the French cabaret, this online slot game from Playtech features beautiful girls singing and dancing to theatrical and jazz music. There is plenty of lace, high heels, champagne and glitter on the reels, turning it into an enthralling and never-ending performance! The slot game has 5 reels and 25 pay lines, apart from a free spins and a bonus round.