Playing video games comes with lots of benefits, apart from just being fun. They help relieve stress, improve coordination and problem-solving skills, enhance memory, improve attention and concentration, as well as being a great source of learning.
However, beyond these benefits, there is a whole lot you need to understand. This includes the capabilities and safety features of gaming devices and how to play securely and safely online.
With improved gaming technology in recent years, how we perceive games has changed over time and the need for online gaming safety is more necessary than ever.
Here is a quick guide to help you get started with online gaming:
1. Have a Budget
Like every other thing you would spend your money on, you must have a budget before getting started with gaming, as it could cost you a lot. However, this depends on the kind of game and the level you are starting with. It is always best to start small and upgrade over time while you get the hang of it. In addition, having a budget will help you narrow your options and could influence the kind of games you opt for.
2. Know the Kind of Games You Want to Play
The gaming world is diverse and you need to go for one that piques your interest. This includes the puzzle, action, sports, adventure, simulations, stealth shooter, and more. If you do not know which to begin with, do an online search for lists of popular and fun games or simply watch videos to select the ones you think you would enjoy playing.
3. Choose Your Platform
There are many gaming platforms, ranging from the Sega Mark to the Nintendo series, to Game Boy, Amiga, and Commodore. Choosing one would depend on both your budget and your preferred game titles, as not all games are available on all platforms. There are also several other factors that determine the cost and availability of games on different platforms. For example, while mobile gaming is the cheapest, PC gaming is more expensive, and the experience on these two shows an obvious difference.
4. Always Practice First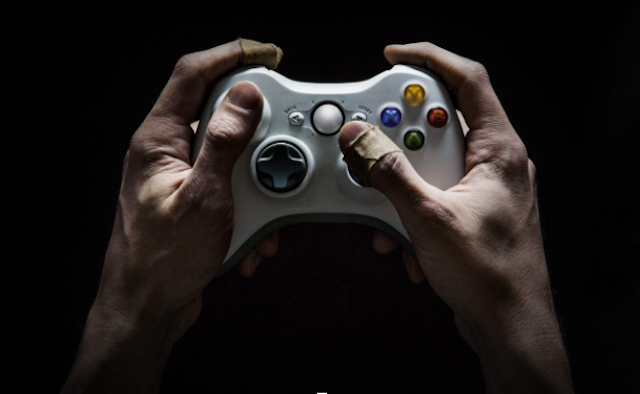 Man holding a controller with plasters on his fingers showing lots of practice.
When you start gaming, you might be tempted to take bigger challenges like playing with the more experienced. While it is okay to dare, it is always best to have put in the work offline until you can win more challenges and conquer without fear. With time, you will become better and gradually, an expert. Ignoring the practice and challenging experts might discourage you from continuing, as you might constantly get defeated.
Conclusion
While gaming could be beneficial, a study on Online Game Addiction Among University Students has also found how students get addicted. This affects their health, relationships with friends, relationships with family, and study habits. Hence, there should be a balance to ensure it doesn't take a toll on your life where the cons outweigh the pros. A helpful tip is to set time limits while playing.