Photographer Maria Memet recently spent some time InterRailing around Europe with a few of her friends. The result is this beautiful diary, featuring photos from her hazy summer adventure. You can discover more of her work by heading here.
For a month we travelled around on trains, starting out in Naples. The culture was amazing there because it felt truly Italian; all the washing hung up across the tall balconies and the market stalls full of fish and people washing the floors with their hoses. Rome was our next destination. We only spent one night there which was a shame because this was definitely one of our favourite places. We sat out on the rooftop balcony of the hotel and watched the sun go down over the city.
Our train from Rome to Florence was easily the worst journey we experienced. Sitting on sticky leather seats dripping with sweat from the 45-degree heat whilst my friend Hannah spent her whole time in the toilet with sun stroke. We didn't arrive in Florence until midnight and the little Italian woman who owned the apartment didn't seem too happy with us. The cathedral in Florence was incredible; so detailed and intricate and the little indoor market had tons of spaghetti and Italian ingredients that Dan and I took home to cook in our apartment.
From Florence we made sure we booked a reservation for the train to Lake Garda to avoid the 5-hour delay we experienced on our last journey. Arriving in Lake Garda was such a relief because we were able to relax in the warm Italian waters and enjoy the freshly-caught calamari. We also managed to visit a theme park the next day (Garda Land) and had a very fun day out there. Although, standing in those queue in a heatwave wasn't enjoyable. We ended up spending a lot of our day on the log flume.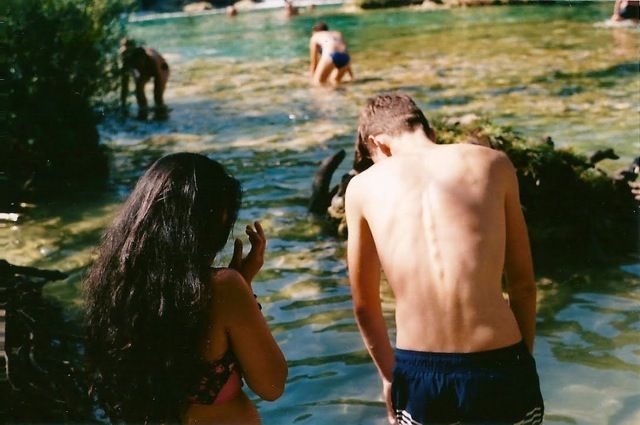 Venice was our next destination and only a 1-hour train journey away. Finding our apartment down a little alley in the middle of Venice was wonderful. It was such a beautiful apartment in which we managed to cook a fresh fish risotto, buying all our ingredients in the fish Rialto fish market. Although we found Venice very touristy we loved the little alleys and the way that the whole island had rivers for roads. It was strange to go back to cars when we left for Lake Bled in Slovenia. This was a bit of a random pick, but we wanted to fill a gap.
Catching a 5am train to Lake Bled and sitting in a little carriage as the sun came up was one of those moments when you truly appreciate everything. Lake Bled is such a pretty place. The lake was so blue surrounded the mountains. We swam over to the little island with a church in the middle of the lake, pulling along Matty (who couldn't swim) on an inflatable lilo we bought out there. We stayed in a little annex of someone's house, which was sitting on a stream next to the woods that opened out to the lake. We didn't want to leave!
From Lake Bled, we went up to Austria and stayed in Vienna - a quiet yet modern and interesting city. Arriving on a Sunday wasn't the best idea, as nothing much was open. We spent the day walking around the empty city and enjoying the cooler air. We visited a lovely Turkish market in the morning and then decided we would go to a Mozart concert in the evening (this seemed to be the thing to do in Vienna). I had the best cocktail I've ever had after the concert and Dan ate Dim Sum until we went back to our apartment to get prepared for Budapest.
Budapest did not look like I had expected when we first arrived but quickly lived up to its incredible reputation. The hostel we stayed in was so inviting and told us the best restaurants to experience Hungarian food. We stuffed our bellies full and moved onto the ruins bars that were old abandoned buildings made into fantastic bars. We spent a lot of time in the indoor market which was huge and full of people. Dan managed to keep some goose scratchings under the bed in the hostel the whole time we were there until he decided they weren't for him. The thermal bath was incredibly warm and meant you couldn't actually stay in there for too long, however, we had an amazing time with the yellow buildings surrounding the natural waters we sat in.
Finally, we took an overnight train (which wasn't my idea of fun since I get very bad travel sickness) all the way to Split in Croatia to meet our friends in a villa out there. After sleeping in a carriage of two triple bunkbeds squished together, we weren't happy to find our friends passed out indoors and not answering the doors in the apartment we were staying in (it seemed they had gone out to experience Split's nightlife and hadn't got back until an hour before we arrived).
Krka waterfalls was the highlight of Croatia for us all; the wonderful park full of waterfalls was a perfect day out for us all. From nearly missing our flight on the way to Naples, to nearly being sick the whole way back from Croatia after our last night out, I had one of the best experiences I've ever had. Tavelling with my favourite people in the world and experiencing so many new and exciting things. I would go back to that month any day.