In celebration of National Nude Day, we're highlighting five contemporary photographers who explore the nude in an unconventional way. These nudes won't always be easy to look at (frankly, some will look uncomfortable), but they challenge society's general approach to the nude, in particular the sexualisation and idealisation of nudity. That's not to say the nude can't be sexual or even ideal, just that nudity is also natural, so it's not always sexy and it's not always ideal.
Alva Bernadine
Alva's 'Round Mirrors' dissect the body into parts, exploring issues of gaze and reality. 'Pornography as Art', on the other hand, puts the nude on full display. Alva imagines what our society would look if we removed the stigma of the nude. Advertisements sell their products based upon some manipulation of sex, so is exposing what they're trading on, ie. the nudity barely hidden under wet t-shirts, really that shocking? Alva professes (hopefully tongue-in-cheek) to be a 'one man subculture', explaining that "Even if I shoot something sexually explicit, there is always something perverse or repelling in it. I like my work to both attract and repel the viewer at the same time."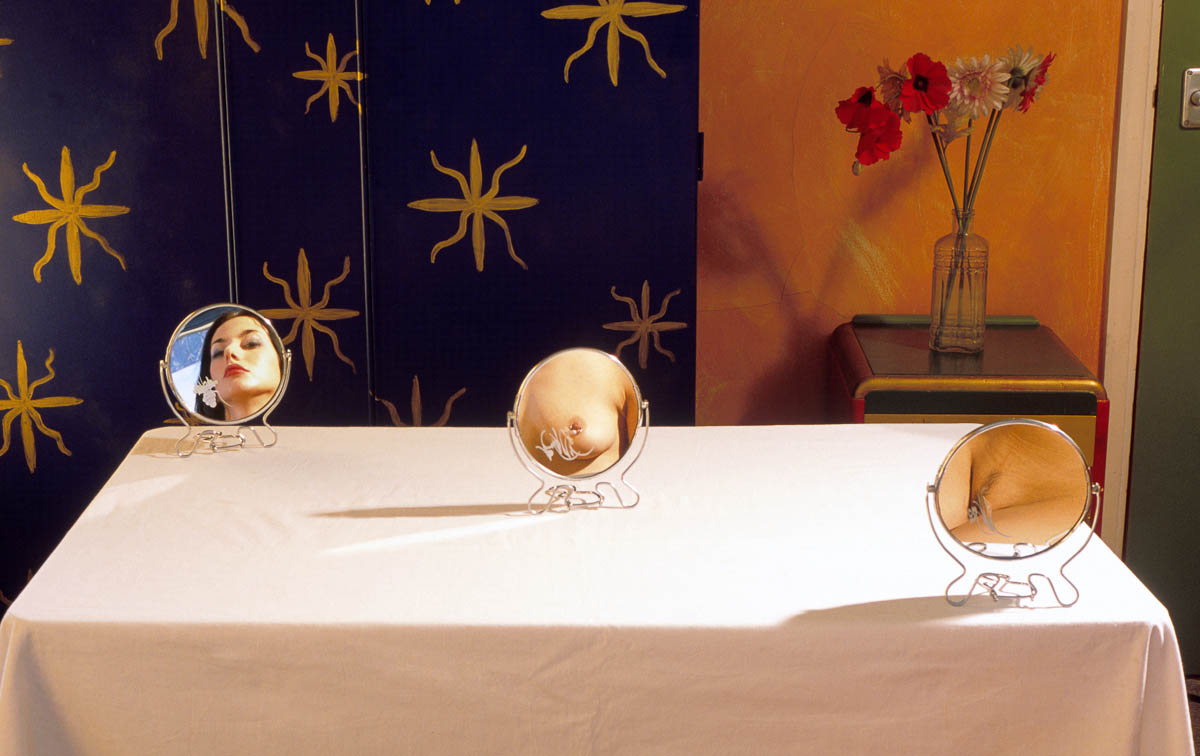 Ren Hang
It's rather difficult to write about contemporary photographers of the nude and not including Ren Hang. Ren presents the nude, both male and female, as natural (hence the nude is often portrayed with fruit or flowers and is occasionally fully immersed in nature, as in a desolate wood). His explicit representations of naked men challenge society's general acceptance that the female nude can be openly exhibited, but that the male should be protected and hidden from view. For both genders, the strength is in the models' confidence, be it their unwavering gaze or simply their unabashed openness.
Maisie Cousins
Maisie Cousins explores uncomfortable representations of the nude. Her figures are often slimy, almost translucent, mirroring plants and animals. Indeed, she often represents the nude (in a Georgia O'Keefe fashion) with flowers, fleshy, bulbous, bobbly and oddly coloured. So, for Maisie, sex and the nude are completely natural. They might be slimy and bobbly, just like flowers and figs, but that's perfectly ok.
Marco Onofri
Marco Onofri takes the viewer (including us, the viewers of his photographs of viewers of the nude), as the central topic of his 'Followers' project. Similarly, the 'Followers' project could be a critique of the female nude being the object of society's piercing gaze. Marco crafts his stories in the faces of the viewers. Although the nude is at the centre of Marco's photographs, it's the relationship we (as voyeuristic viewers) have with the nude that is the object of his gaze.
Eylül Aslan
Eylül Aslan creates uncomfortable nude-scapes, and that's a compliment. Legs are littered by pills, bodies are covered in glitter and often mirrors distort the nude, confusing the viewer and keeping the body just out of reach. Although there's an undertone of violence in the scattered and broken objects, her models seem serene, in a golden glow.
All images copyright of their respective artists. See more of Alva Bernadine's work here, Maisie Cousin's work here, Marco Onofri's work here, Eylül Aslan's work here, and Ren Hang's work here.