From February till April, the Gagosian Gallery in London is pairing Richard Avedon (1923-2004) with Andy Warhol (1928-1987) for the first time showcasing more than 50 artworks that span from 1950s to 1990s. It was the opening night and the queue snaked down the Britannia Street. Everybody was reeling with excitement, ready to catch a personal insight into the work of these two post-war artists. They both rose to success in the 1960s after starting out within commercial settings, both from difficult situations of immigrants living in America. They then furthered their success within their iconic artistic practices that we are accustomed to now. The opening night was a monumental event, with all walks of life involved; the rich, the students, Eastern European models and the suits. That was the beauty of it. The event was free, therefore no exclusivity - and within the same vein of pop art - there was something there for everyone.
This is an exhibition of duality, two different lives, two mediums, two sets of outcomes placed side by side to reach one goal. The comparisons are unavoidable. The photography standing out from the screen-printing. The realism standing out from the unhinged. What is noticeable here is the way the subjects are represented by the artists. One significant comparison is how the two portray one prolific celebrity. Marilyn Monroe is featured by both artists.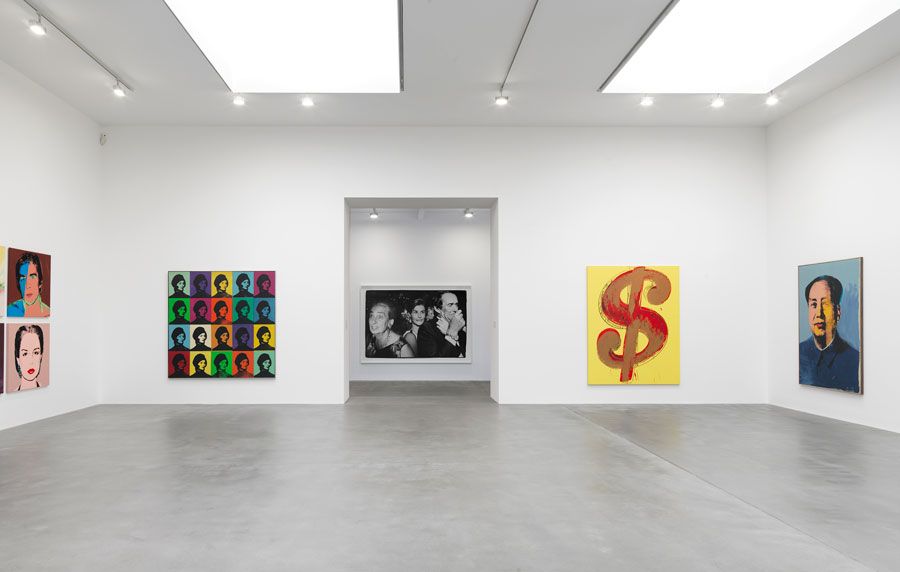 After her tragic death in 1962, Warhol made a series of screen prints under the umbrella term Marilyn Diptych. The artwork displayed here is an iconic portrait of Monroe used for the 1953 film Niagara. Marilyn (1962) portrays the superstar in a deadpan expressionless aesthetic. It is the commentary rather than the portrait that seeps through and Warhol's darker fascination with both her mortal death and her death of self is disclosed. The cheapening of her image through serialization and reproduction is a statement made by Warhol about the nature of society and the way personas could be marketed and consumed like products. Some twenty years later he reproduced the same image in Four Marilyns (1979-1986) this time in black and white, which gives it an ethereal disposition, once again her living on as a product rather than a person.
Unlike Warhol's assembly line reproductions, Avedon set out to capture the genuine sentiments of celebrities. This is entirely poised in his portrait of Monroe in Marilyn Monroe, actress, New York, May 6 (1957). The comparison between the two sets of work is without precedent. In Avedon's portrait, we see a more vulnerable or innocent looking Monroe, a side to her that wasn't necessarily depicted in the public domain. It is true that Monroe had a troubled life, struggling with addiction, depression and anxiety, but it is Warhol's interest in these themes of her downfall that shines through. Even though considered a tribute, the inevitability of her exploitation as a celebrity is too much of a strong facet to ignore. Of the two works I would champion Avedon's sentiments. This shot specifically was taken in his studio after a night of drinking and dancing. Once the party had ended Avedon claims that she "sat in the corner like a child." The question to pose is whether pop art can show emotion and still be pop art? Are feelings intended to be displayed in the documentation of popular culture or is it more accurate to display the subject as they are marketed in public? Which of the two are more hard-hitting?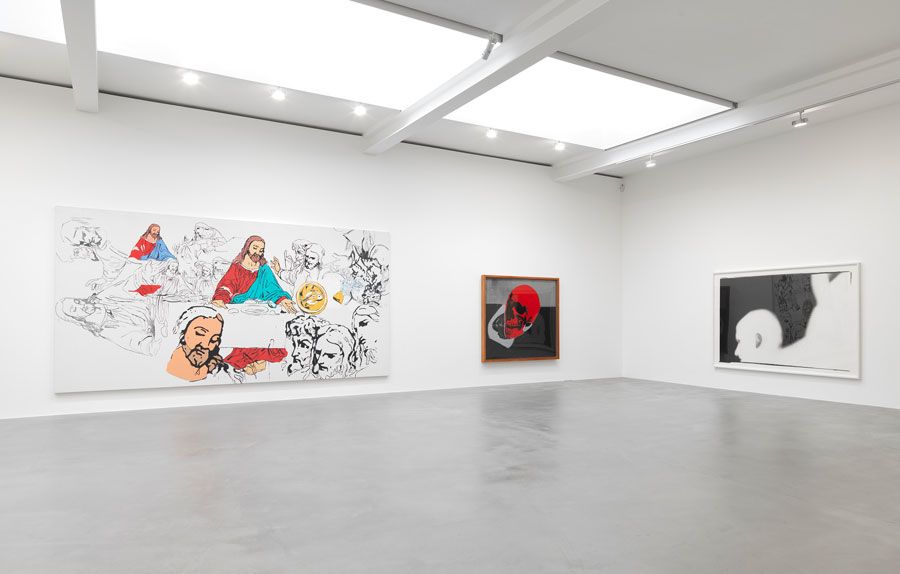 As well as celebrity muses, there was also the political documentation that both artists indulged in. Avedon's The Family (1976) shows the elite political power within America at that time. Although it would seem that the positioning of artworks within the gallery tries to not compare the work, it seems almost inevitable that you as the audience, will. For example, this compared to Warhol's Mao (1972), both have the same stench of power that the two artists are implicated in. Warhol's thirst for celebrity, like his idolisation of many products, pours out through every colour and image he reproduces.
What struck me odd was the representation of Warhol in Avedon's work. The giant mural: Andy Warhol and members of The Factory, New York, October 30 (1969) is an acknowledgement from Avedon of Warhol's prolific scene in New York, a giant multiple photoshoot re-organised frame by frame of members of that that den of iniquity and creativity. And then Warhol himself laid bare, a shot of his twisted torso from the time of his attempted murder, shot by radical feminist Valerie Solanos. Warhol's work, although incredibly important, still lacks the emotion and sensitivity represented in Avedon's photography. But it is Avedon who encapsulates Warhol, and after his near death experience he claimed that he would always see life like watching television, once that attempted assassination had happened, the television turned off.
The exhibition is open till April 23rd. More information onthe Gagosian website.