The casino industry is an intractable part of our cultural zeitgeist. In fact, it always has been and pop culture is testament to that. Casinos are synonymous with opportunity, and our yearning to strike it rich is overwhelming. Film studios are fascinated with the ritz and glitz of sprawling Vegas-style casinos and the mechanics that allow them to function.
Casinos are veritable funhouses of perpetual entertainment. The gambling industry never sleeps; nor do the casino managers, pit bosses, croupiers, or players who grace these sprawling establishments. From the seemingly endless array of classic slots, fruit slots, progressive jackpot slots, to the roulette tables, craps tables, and VIP blackjack lounge – casinos have carved out an incredibly exciting niche in pop culture.
Casinos have a particularly enticing appeal to writers, producers, and directors in the TV and film industry. In fact, this connection spans decades, with classic titles such as Sean Connery's depiction of agent 007, James Bond in Dr. No of 1962. Of course, 007 had a particular preference for the casino card game baccarat – the game of choice for the well-heeled. Baccarat's appeal has grown tremendously over the years, and remains the #1 most popular casino card game in Asia.
007 Brings Charisma to the Casino Tables
The importance of this high roller favorite to Las Vegas and Atlantic City casinos is equally significant, and it contributes substantially to the gross gambling revenues (GGR) of Sin City in the West, and Atlantic City on the East Coast. Ian Fleming's high rolling James Bond remains just as relevant today with a smorgasbord of A-grade blockbuster films showcasing the cultural significance of gambling-related activity in pop culture.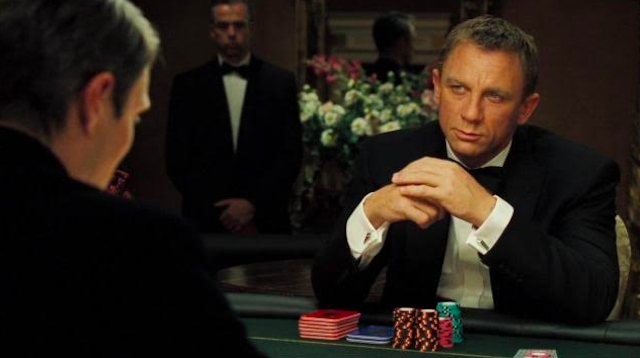 Films like Casino Royale introduced the world to Daniel Craig, the latest 007 to grace the stage. The runaway success of this feature film reignited interest in the 007 series, particularly after a devastating onslaught from competing films such as the Jason Bourne series, Mission Impossible series and others. Casino Royale (2006) delivers hard-hitting action with a gritty edge, and Daniel Craig brings depth to a character that had otherwise become rather two-dimensional in the days of old.
Without the high-stakes casino play, Casino Royale the movie has no foundation. All those suave, sophisticated, and debonair characters who populate the craps tables, baccarat tables and blackjack tables are hard to resist. They are the epitome of cool. Perhaps it's our desire to see them beat the house, perhaps it's their carefree approach to betting that is so alluring?
Gambling in pop culture spans well beyond the 007 series of films and all the actors who have portrayed the inimitable James Bond. We need look no further than blockbuster smash-hit sensations like The Hangover. This iconic action-packed comedy trails the exploits of a group of guys heading to Vegas for a weekend of fun before wedding nuptials are exchanged. The film was a resounding success, thanks to the fabulous chemistry between the characters on screen.
Everything That Happens in Vegas Stays In Vegas is a mantra that every eager visitor to America's adult playground truly abides by. The Hangover was received with rapturous applause by audiences the world over, and it instantly created eager throngs of adoring fans for actors Bradley Cooper, Zach Galifianakis and Ed Helms.
The Most Impressive Casino Film of All Time?
Rounders starring Matt Damon is widely regarded as one of the finest performances in film, particularly as it relates to capturing the essence of casino game play, tensions among players, and a storyline that remains emblazoned in our mind's eye to this day. The Oceans 11 series of films started off incredibly well, starring George Clooney, Andy Garcia, Brad Pitt and Julia Roberts among others. Audiences love the idea of a casino heist, and Oceans 11 was executed with precision. The series went on to amass hundreds of millions of dollars at the box office and spawned multiple sequels, although nothing topped the original.
Arguably one of the grittiest, most captivating casino stories of all time is the one and only Casino of 1995. The film brought all of Hollywood's heavyweights together in an Oscar-winning performance that could best be described as sublime. When you pit Hollywood titans like Joe Pesci, James Woods, Robert De Niro, and Sharon Stone together, you get a tour de force in action-packed entertainment. Casino routinely ranks as the #1 best casino-style film of all time, and for good reason.
From the Big Screen to the Silver Screen Casinos Shine
TV and casino have a symbiotic relationship. Over the years, numerous TV series and TV shows have featured casino-style elements as part of the storyline. Consider popular TV series and films which have given rise to incredibly entertaining video slots games such as The Dark Knight, The Walking Dead, A Nightmare on Elm Street, Rocky, Rambo, Men in Black, a Fistful of Dollar$, Terminator 2 Judgement Day, Ace Ventura Pet Detective, Seinfeld, Back to the Future, Ghostbusters, and dozens of other popular selections.
Our obsession with pop culture plays out in the casinos, particularly the video slots games where players compete for unimaginable jackpot payouts. We are drawn to the jingling, jangling sounds of the slots, particularly when they are associated with celebrity elements that we can all relate to. As a society, we thrive on associations between the heroes of yesteryear and today, and our own interactions with them. By playing online casino games, or traditional casino games we get to immerse ourselves in the pop culture of our time, and it's fun.
We are entranced by the glittering appeal of the casino and the heroes who bring these games to life. Throughout the ages, casinos have evolved to become a staple in our lives. This multi-billion-dollar industry is steadily working its way into the mainstream, with regulation, responsible gaming conduct, and fun-filled entertainment for all legal-age players to enjoy.