Zero Days
Alex Gibney follows up his similarly tech-orientated Steve Jobs: The Man in the Machine with a documentary delving into the development, uncovering and ramifications of the 2010 Stuxnet virus, which was determined by many in the internet security industry to be a US-Israeli hack - though it was denied - designed to target Iranian nuclear development.
Zero Days features a parade of variously cagey, paranoid and sometimes shockingly honest security specialists, government officials and anonymous spooks, highlighting both the difficulty Gibney faced overcoming Kafkaesque confidentiality standards, and also the frustrations of those trapped behind them. The film makes broadly palatable an in-depth examination of a highly complicated and technical subject, with a well-crafted two-part structure. The most exciting strand is the malware-detective story of uncovering the source and targets of Stuxnet, told by anti-virus experts Liam O'Murchu and Eric Chien - whose amiable and idiot-proof instructive presence is perhaps the secret weapon of Zero Days. This is then set within a fascinating contextual story about the secret birth and unseen ramifications of international cyberwar.
When not talking-heads or archive, the film consists of a very stylish mix of dark glides through server farms, Matrix-like 3D representations of the Stuxnet code, and a touch of sly gimmickry. One anonymous contributor from the NSA is rendered using a fancy laser-based 3D modelling, similar to the Radiohead music video for 'House of Cards'. Is it a bit silly? Yes, but it's fantastic to look at, and eventually develops a certain metaphorical edge.
Zero Days plays with such a contradictory sense of understanding and simultaneous doubt, that a lot of the tension comes from who among it you should believe. Gen. Michael Hayden, the former director of both the NSA and CIA, comes across as refreshingly honest compared to the current officials of the spy and security agencies, but still evasive enough to leave you second-guessing. It often seems as though it's less some carefully orchestrated secrecy than those involved not truly knowing what they're part of. As the film expands into the disturbing lack of international law covering cyberwarfare - or even wide agreement that unconfirmed actions like Stuxnet are warfare - Gibney successfully portrays the issue as the modern equivalent of the Cold War, and worth equal concern.
Liam O'Murchu, the anti-virus technician involved in the unpacking of Stuxnet, describes his experience as being like a Bond film - I imagine he has Skyfall in mind - and Gibney likewise sees the potential in crafting Zero Days like a spy thriller. The results are just as captivating and zeitgeist-savvy as any John le Carré adaptation, especially as the expanding context turns cyberwarfare from a fairly abstract concept to a threat on par with chemical or nuclear weapons. It could be accused of alarmism, but Zero Days makes a strong case that we should be alarmed.
Mojin: The Lost Legend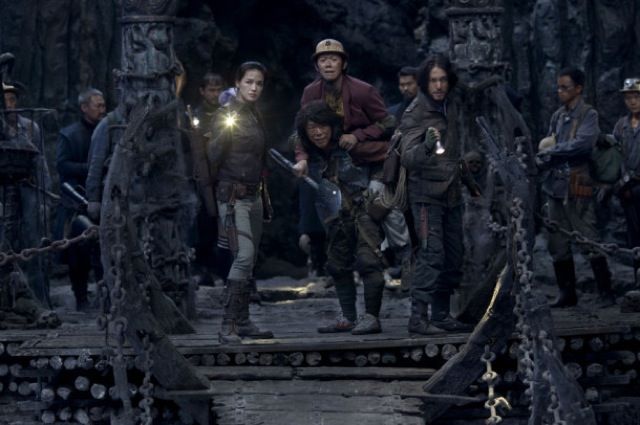 Based on the bestselling Chinese novel Ghost Blows Out the Light by Zhang Muye, Mojin: The Lost Legend is a schlocky B-movie romp with enough winks, hustle and lively action sequences to offset the fact it's as edifying as being brained with a phone book.
Shamelessly skipping along the path lain by Indiana Jones and the Last Crusade, Mojin swaps fedora-clad extracurricular cultural appropriation for Communist celebration via grave robbing. A three-member team of the Mo Jin Xiao Wei, an ancient school of tomb raiders, have retired from the game and moved to New York. After a representative of a strange mining company/cult offer an emperor's ransom to find a mysterious artifact called the Equinox Flower, loudmouth member Wang Kaixuan (Huang Bo) is lured back. This is much to the chagrin of his former partners, the maudlin Hu Bayi and permanently exasperated Shirley Yang (wooden pretty-boy Chen Kun, and always delightful Shu Qi). When Hu sees what Wang is after, however, it's revealed that the Equinox Flower holds personal significance, related to a tragedy during their Red Guard days that still haunts both Wang and Hu.
The heroes are two-dimensional, the villains barely manage the one, and the plot is wafer thin, but none of that is too detrimental to the kind of wacky amusement Mojin is aiming for. It's pure hyperactive spectacle, and Qi, Kun and Bo have enough inviting chemistry to hold it all together. Occasionally it falls into a sugar-rush incoherence - it seems the editor was paid solely in sherbet - but largely the elaborate, cartoony set pieces are well-constructed and energising.
There is a weird element of propagandistic trumpeting to Mojin, in which Maoist nostalgia does play awkwardly in a Western context, but it's hardly too dissimilar from the romanticised orientalism of Indiana Jones and, for me, added somewhat to its oddball allure. Eccentric, brassy and dumb, a couple of drinks and Mojin: The Lost Legend is sure-fire fun.