There's something about Vertigo (1958). Whether it's the critical dismissal that greeted the original theatrical release, or its meteoric rise to the top of the Sight and Sound 2012 survey of the greatest films ever made. Or maybe it's the countless imitations it has inspired?
There's a dream logic to the whole film. If you look closely at the plot, it doesn't completely add up and you suspect that Hitchcock doesn't care. It's operating under its own logic, like all truly great films do. It's also one of Hitchcock's most autobiographical, on a contextual level. His filmmaking being reflected back at him with the metamorphosis of the lead characters and the desperate lengths that they will go to in the recreation of a lost-love. It also comes during Hitchcock's incredible run of great films in the 1950's that would be followed by North by Northwest (1959) and Psycho (1960).
It all begins with the Saul Bass credits: the twitching eye movements that are underscored by the now iconic score by Bernard Herrmann, suggesting a state of REM, and quickly the imagery heads into a spiral descent. Enter this world, it seems to say. More than any other Hitchcock film up until that point, a sense of dread is immediately palpable.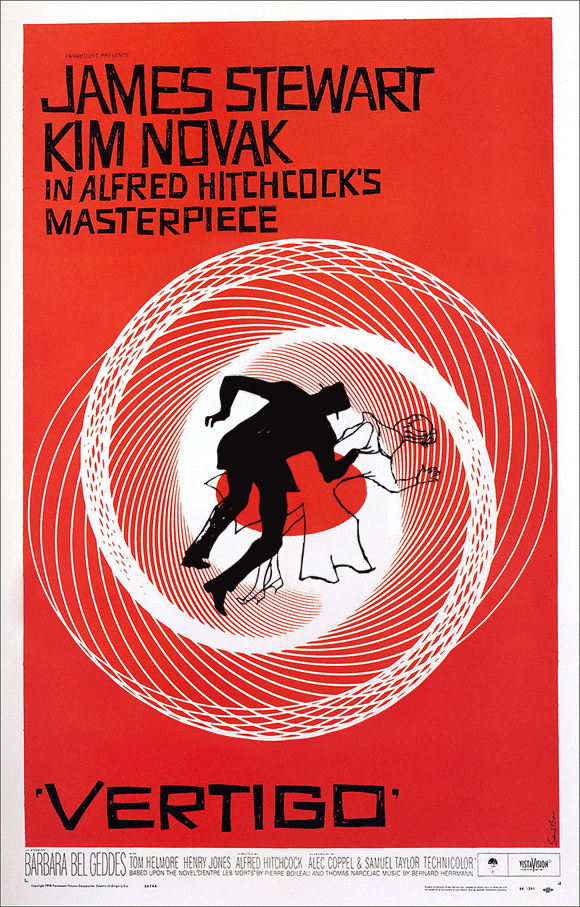 The story is adapted from a French novel called "D'entre les Morts" ("Among the Dead" in its apt English translation), written by Pierre Boileau and Thomas Narcejac and then turned into a screenplay by Alec Coppel and Samuel Taylor. Hitchcock had originally attempted to grab the rights to a previous novel by the writing duo, "Celle qui n' etait", but it ended up -famously-being directed by Henri-Georges Clouzot (The Wages of Fear) as Les Diaboliques (1955).
Hitchcock originally wanted to have Vera Miles star alongside James Stewart (in his fourth collaboration with the director, after Rope (1948), The Man Who Knew Too Much (1953) and Rear Window (1954) ) but following delays caused by an ailing Hitchcock's gall bladder, she fell pregnant and was forced to withdraw. Hitchcock then managed to talk Columbia into loaning him Kim Novak, in exchange for Stewart and Novak agreeing to do a film for them (turning out to be the same year's Bell Book and Candle)
Jimmy Stewart's John "Scotty" Ferguson is a retired detective, suffering from vertigo – as depicted in the film's opening rooftop chase. That's not his only issue though, throughout the film we see just what a weak-willed and selfish character he really is. His only real friend is Midge (Barbara Bel Geddes) who is clearly besotted with him, and whose love is brutally shot down with one line of dialogue quite early on. "We were engaged once," is delivered in a forgettful, dismissive manner by Stewart – as well as being an early indicator to the audience, in a slightly theatrical manner, that this isn't going to be an atypical Stewart 'nice guy' character.
When Scotty is hired by an old friend named Gavin Elster (Tom Helmore) to keep an eye on his wife, the real story begins. San Francisco and its infamous sights play a large part in the action and are almost another character – when Scotty tails Madeleine (Novak) as she seemingly makes her way around disparate locations. But all is not what it seems and, in another hint of the film's dream logic, the clues are based around the places she is visiting. In particular, a painting of Carlotta Valdes, a fictional dead person standing in for the film's thematic subtext of recreation of death, and whom she will later claim to have been in a previous existence. The sequence is largely silent, save for Herrman's score doing the emotive heavy lifting.
This sequence is repeated, with Novak's Madeleine visiting the same locations until she gets to San Francisco bay. In a trance like state, she throws herself into the waters, with Scotty diving in afterwards to rescue her. It's a crucial point in the film, where Scotty goes from a passive observer into an active participant in her life. It's especially crucial, when viewed more than once. Of course, as we find out later on via a letter writing scene – that Hitchcock wanted removed, but the studio insisted that it remain – that Madeleine is really Judy, somebody hired to take the place of Gavin Elster's wife as he wants the insurance money. Scotty has been played from the start and Madeleine knows that he will dive in after her. He literally dives into the charade at this point.
The charade itself can be viewed as Hitchcock reflecting on his own films. He's always looking to cast the blonde, being chased down by so many of his protagonists. Is Scotty Hitchcock? A man ignoring the potential of love at home – represented by Midge – in pursuit of his leading ladies? With the accounts from Tippi Hedren from the making of The Birds (1963), there is certainly a suggestion of it.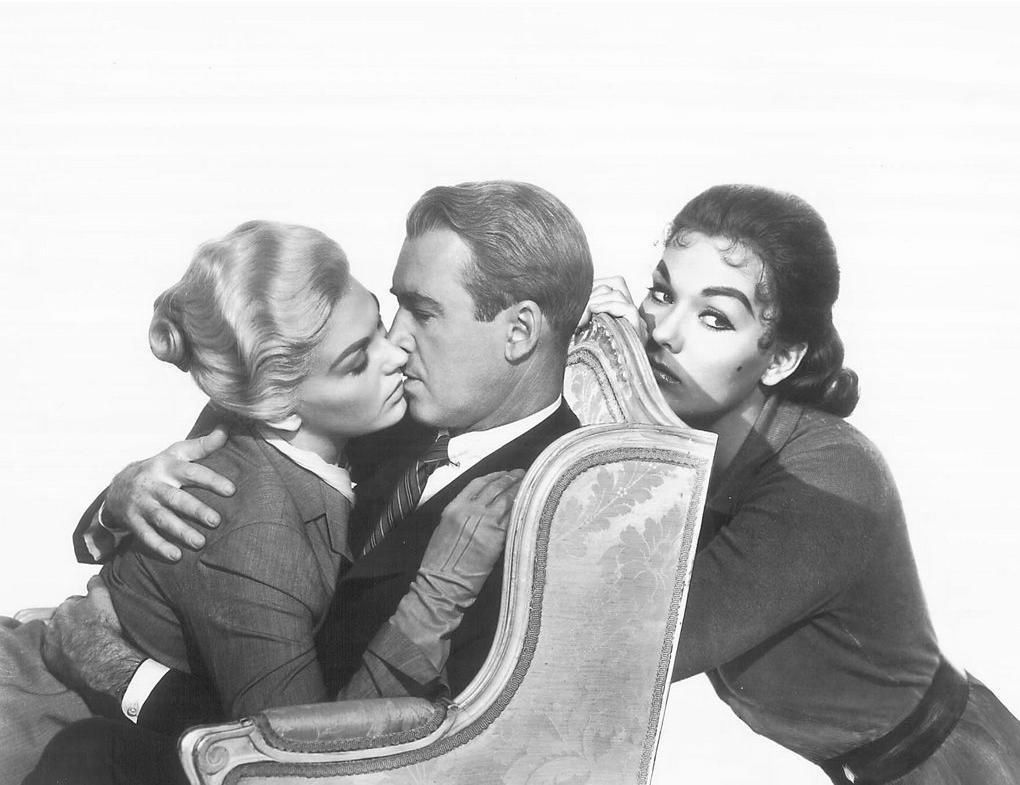 When Scotty begins talking to Madeline, he quickly develops intense feelings. When she attempts to show him events from her former life, an apparent tragic accident happens leaving Scotty believing that Madeleine is dead. Following a breakdown – and an infamous early psychedelic sequence which depicts Stewart falling through his own thoughts, also one of the first film sequences to use computer effects, watch it below via Fandango Movieclips on Youtube – he attempts to rebuild his existence when he encounters Judy, still living in the area. She has her natural hair colour again and has hoped of returning to her regular life. Of course, this being a film, she is thrown back into the life of Madeleine when Scotty – amazed at her resemblance to Madeleine – asks her out to dinner. Judy tries to write him a letter indicating to him – but actually there to put the audience a few steps ahead of Scotty – that their whole initial encounter was a fake, but that she did love him. She thinks better of giving it to him, leading down a toxic path where, torn by her previous feelings and guilt, she allows a controlling and demanding Scotty to recreate Madeleine, an apparition of a ghost that never existed to begin with. Stewart and Novak are both superb, revealing the depths that these characters will go to in the recreation of a lost love and to really sell the inevitable tragic outcome where Scotty's control leads to a literal recreation of a previous scene.
Of course, Vertigo was released in 1958 to a large audience shrug. Audiences at the time were not quite ready for it. Its critical re-evaluation occurred during a period where it was largely unavailable for viewing, until a 1984 cinematic re-release. Its full restoration in 1998 and subsequent first digital release on DVD saw new waves of fans emerge. But what keeps drawing them back? What suckers a viewer in every time? That wave of madness at its core, the semi-autobiographical thesis? Robert Burks' superlative cinematography? Brian De Palma has made a career out of appropriating Hitchcock's career, to great success and perhaps that speaks to why. Perhaps deep down, underneath what we project out to the world, we see a lot of our own insecurities in Scotty and Judy. Only the great films keep you thinking about that.