The 405 caught up with documentary film-maker Alison Ramsey to talk film-making, influences, the art of the documentary, and her IWM Short Film Festival award-winning short documentary Deeds Not Words: The Suffragette Surgeons of WWI, which you can watch free here.
When war broke out in 1914, women who had been fighting for the vote suspended their campaigns and devoted themselves to the war effort. Two women doctors who had been prominent Suffragettes, Louisa Garrett Anderson and Flora Murray, quickly set up a small hospital unit in Paris.
Despite having no experience of military medicine, they made a success of it, and two months later opened a second hospital on the Channel coast. Favourable reports of their activities reached the War Office and the two women were offered the chance to run a new war hospital in London. Realising that this would enable them to show very publicly that women could do the job as well as men, they accepted and returned to England.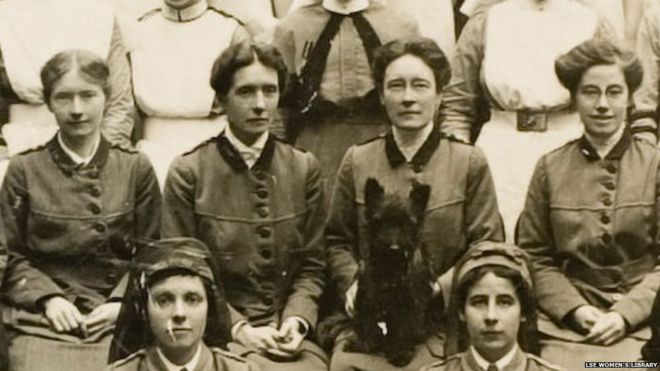 The hospital was to be sited in a large workhouse in Endell Street, Covent Garden. After frantic preparations, the Endell Street Military Hospital, the only British army hospital to have been established and run entirely by women, opened in May 1915. It had nearly 600 beds and a staff of 180. Flora Murray was Doctor-in-Charge; Louisa Garrett Anderson was Chief Surgeon.
Life at the hospital was challenging. Of the doctors, only Murray and Garrett Anderson had any real medical experience of treating patients after qualifying. And as was usual at the time, none of the doctors had treated male patients. Their work was relentless. The fact that Endell Street was near main railway stations meant that it received a high proportion of severely injured soldiers; when convoys of casualties arrived at the hospital, carrying up to 80 men at a time, there could be as many as 30 needing immediate surgery.
While Murray and Garrett Anderson had wanted to do their patriotic duty by contributing to the medical services, their primary aim was to prove that women could do as professional a job as their male colleagues. The staff, many of whom had been active in the suffrage movement, were reminded by Murray: "You not only have got to do a good job, you have got to do a superior job. What would be accepted from a man will not be accepted from a woman. You've got to do better."
A hospital run by women in the centre of London was an extraordinary phenomenon, and reports of Endell Street often appeared in the press. The women met with considerable opposition from the Royal Army Medical Corps, whose general view was that the hospital would fail within six months. In the event, it lasted four and a half years. In that time, over 26,000 patients were treated and over 7,000 surgical operations performed. The women had demonstrated that they were able to run a large military hospital and to deal with complex medical and surgical problems just as competently as their male colleagues.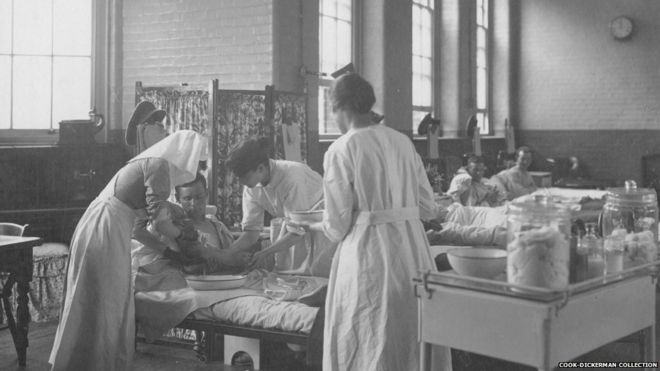 Deeds Not Words is an extraordinary tale of extraordinary women in extraordinary circumstances. Truly the examples of Doctors Murray and Garret Anderson are something we all should aspire to follow, in seeking to live by the suffragists' motto: "deeds not words".
Enjoy this interview with Alison and catch the documentary below.
Hello Alison! Welcome to The 405. I'd like to start if I may by inquiring about your history for our readers. What got you into film-making?
Hello Wess! My background in film-making started when I got my first job as a production assistant for a small film production company in London, just after graduating from my master's degree in English literature. Initially I thought I wanted to work in the movies (it must have been all those novels I read as a literature student!) but I ended up as a freelance researcher on TV documentaries, employed by independent production companies.
After a few years I was lucky enough to get a job as a researcher on a BBC Arts series, and then spent several years working in the BBC Documentaries department, researching, directing and producing a range of documentaries from observational, fly on the wall series to history documentaries.
For the past five years I've been working with my friend and colleague Kate Valentine, the founder of Digital Drama (who also has a background at the BBC, in radio drama) to produce a range of multimedia projects, from films to radio to theatre to exhibitions. It's great to be able to work on a wide variety of projects - we tend to come across an idea that fascinates us, then go out to raise the finance to fund the production.
Favorite films? Favorite directors? Which have been most influential on your development as a story-teller?
There are so many films and directors that have had an influence on me, it's almost impossible to choose! I suppose the documentary about war that has had the greatest impact was Jeremy Isaacs' The World at War. I vividly remember watching it on Sunday afternoons in the 1970s with my dad when I was a little girl. My dad was conscripted into the army, taking part in the D-Day landings as the gun operator in a Sherman Crab flail tank. He was fascinated by that series, and I think that in many ways watching it with him helped me understand a lot more about him and his terrible personal experience of war, because like most men of his generation, he never really talked about it. The image of the opening credits and its haunting music have stayed with me throughout my life.
My favourite movies include All About Eve, Casablanca and Now, Voyager. More recently I watched and thoroughly enjoyed Joan Didion: The Centre Will Not Hold - I loved the way the director told the story through the prism of chapters of Didion's own writing. Many of the documentary film-makers I was fortunate to work for at the BBC have had a great influence on my own work, and I greatly admire so many of them.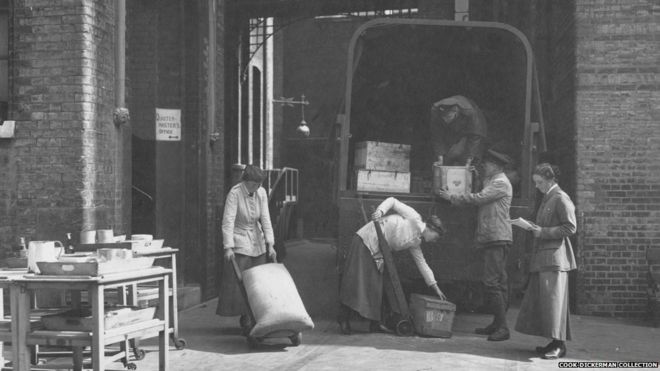 That is so cool. A grateful world thanks your dad for his service.
Greatest triumph so far as a film-maker? Greatest challenges?
Well I can say that winning an award in the IWM Short Film Festival has been absolutely wonderful, and I will treasure the memory forever - especially because my 89 year old mother told me that my dad would have been proud. As a woman who chose to take a break from film-making when my two children were younger, I particularly appreciate winning an award for a project I so enjoyed working on, because the subject matter means so much to me.
What to you makes a great film? And a great documentary?
To me, a great film/documentary makes you feel something - it gives you an insight into other peoples' experience of life. I love films that have a sense of intimacy, where you feel slightly bereft when they end, because you feel so invested in the people who are the subject of the film/documentary.
That is a great distillation of what makes a great film. I wholeheartedly agree.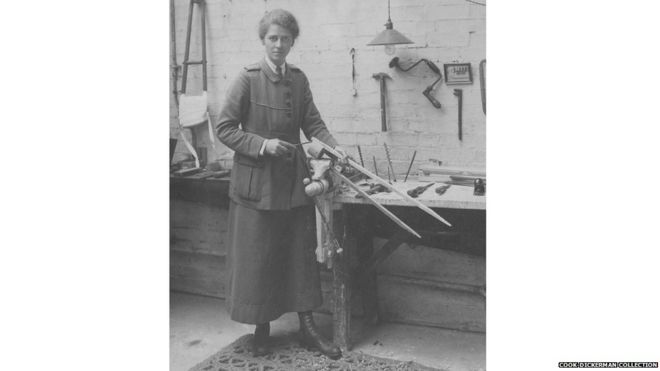 Getting into Deeds Not Words, what was the spark of inspiration for the project? I understand the story of the Suffragette Surgeons is an inspiring one, but I'm wondering what motivated you to tell it in the form of a short documentary.
The story of suffragette doctors Louisa Garrett Anderson and Flora Murray, who founded the only British army hospital run entirely by women during the First World War - successfully treating over 26,000 injured servicemen, at a time when women in the UK didn't even have the right to vote - is extraordinary. My colleague Kate happened to notice a small plaque dedicated to the Endell Street Hospital on a 1970s housing block in London's Covent Garden, and we were so intrigued that we did some background research to find out all about the hospital and the 180 women who worked there. Through our research, we were inspired to produce an immersive play to recreate life in the hospital and a touring exhibition - the short film was part of that wider project, as we felt it would be a particularly effective way of sharing the story of those incredible, pioneering women more widely.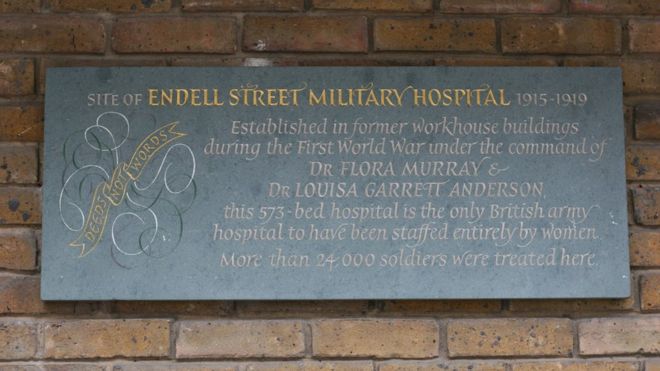 You certainly succeeded on that front. Such a powerful story. Quite serendipitous that you found it that way too.
Being a history major in another life, I was immediately drawn to your use of the archival materials (of which you won an award from IWM). I'm wondering if we could get an insight into the creative process there. What was the decision-making like in deciding to use the materials the way you did?
It is very difficult to make a history documentary come alive without using any archive film; we had access to the most wonderful still photographs and other archive images through our project partner The Women's Library LSE, and I also discovered some lovely informal photos held in the US Cook-Dickerman Collection whilst researching the film, but I think it would have felt quite static if we had only been able to use stills and talking head interviews to tell the story of the hospital.
We were so fortunate to have the opportunity of including extracts of films held in the archives at the Imperial War Museum; I went about conducting a painstaking research process of trying to find footage that would help me to tell the story of how the hospital came about, through finding footage of injured soldiers at the front and being transported back to London, to footage of women doctors and nurses treating them. After that initial research period to find relevant archive footage, the creative process started with filming a very long interview with historical expert, Dr. Jennian Geddes, then cutting down the interview from 45 to 15 minutes to refine the narrative. Once I had cut down the interview, I returned to the archive film and worked out which pieces of footage I needed to intercut the interview, in order to illustrate the story being told by Dr Geddes. I always work with the words first, then add the pictures to tell the story. As the archive film is silent, all of the sound (bandages being wrapped, a bell ringing in the courtyard, a ship's horn) all had to be added in the edit.
Fascinating. What message do you think the Suffragette Surgeons would tell the world today if they were still alive? Also what do you hope audiences will take with them after seeing the film?
I think that the Suffragette Surgeons would advise the world to follow their motto "Deeds not Words' - that is, prove yourself by what you do, not by what you say. If you want to change the world, you need to just get on and go out and do things to make change happen. Doctors Anderson and Murray and the staff of Endell Street certainly did that, and their actions not only helped tens of thousands of injured men during the First World War, but also helped contribute to a change in society's attitudes towards women in medicine, helping to prove that women could run a hospital as well as men and were therefore equal and entitled to the right to vote.
I hope that audiences will be as inspired and moved by the story of the women of the Endell Street Military Hospital as I continue to be.
Last, what is next for you?
Digital Drama is launching "Positive in Prison", a 30 minute audio drama, on World AIDS Day (1st December) which looks at what happened following the emergence of HIV/AIDS in a Dublin prison in the 1980s. The drama is based on oral history interviews with people who were there at the time, and we were commissioned by the London School of Hygiene & Tropical Medicine to produce it as part of a project funded by The Wellcome Trust.
After that, I'll be filming next week for another project, "100 Banners", about the history of the suffrage banners that were made and carried by suffragettes at large processions and rallies in the UK as part of their campaign to get votes for women, so it's fantastic to be able to continue from where we left off with the Suffragette Surgeons.