I caught up with actor Ashton Holmes of A History of Violence and The Pacific to chat film, the craft of acting, influences, veterans' issues, his new film Acts of Violence and its surprisingly topical material, and a lot more.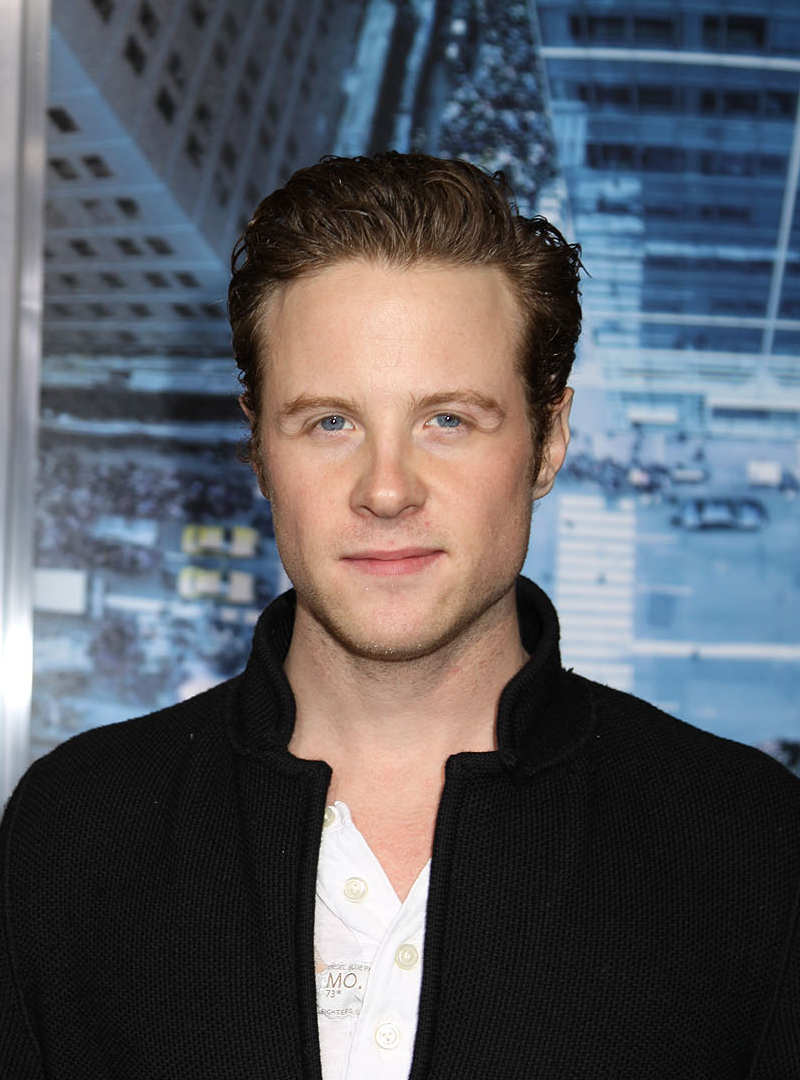 Brothers. Soldiers. Friends. The men in the MacGregor clan – Brendan, Deklan, and Roman – prioritize family above all. Working-class guys born and raised in Cleveland, Ohio, their now-deceased father taught them all to be strong but loving, brave, considerate, and to honor the rules, the home, and each other.
Deklan (Cole Hauser), the oldest brother, is struggling with Post-Traumatic Stress Disorder. After several tours of duty serving in the Middle East, Deklan has had a hard time as middle brother Brendan (Shawn Ashmore) married Jessa (Tiffany Brouwer), and now his youngest brother, Roman (Ashton Holmes), is engaged to Mia (Melissa Bolona). Brendan is also a veteran, but unlike Deklan has found a stable life. He and Jessa open their home to Roman and Mia, goofing with them at get-togethers and helping them with their upcoming wedding.
But on the night of Mia's party with her bridesmaids, everything changes. At a bar, she confronts a pair of thugs, triggering a confrontation – and then, as Mia steps outside to make a phone call, the thugs grab her and throw her into a van, bringing her to a local crime boss named Max Livingston (Mike Epps). Amongst Max's deadly endeavors is human trafficking, getting young girls hooked on narcotics, forcing them into prostitution, and selling them. When Mia wakes up from being drugged and kidnapped, that is the nightmare she finds herself in.
As Roman and his brothers search for Mia, they discover what's happened, but have no idea where she is or how to save her. With the police powerless, the brothers turn to a friend of their father's, Det. Avery (Bruce Willis). A local cop known for fighting the system, Avery and his partner, Det. Baker (Sophia Bush), have leads on Max and his human trafficking ring.
When the MacGregors decide to take the law into their own hands, Avery joins them on the front lines to save Mia, stop Max, and fight for justice.
Screenwriter Nicolas Aaron Mezzanatto (who served with the Army's 101st Airborne Division in Afghanistan) wrote a very timely and relevant script in Acts of Violence, which is deftly executed by director Brett Donowho and all the cast. It's a movie with something to say on the state of the world that also functions as damn fine entertainment.
Check Acts of Violence out in theaters and On-Demand today.
Hello Ashton! Welcome to The 405! I'd like to start by asking what got you into acting?
What got me into acting? Truth be told, I grew up in upstate New York, just outside Albany, and there wasn't much going on there. [Laughs]
[Laughs]
Except for me doing things like building forts in the woods. When I was about 5 years-old, my mom took me to see a play – she took me to see Peter Pan – and I was just like struck by the magic of theater: especially when, after the play, everybody came out in costume.
I was just enamored with it all – with the spectacle of it all, and like real people pretending to be other people. I was just mesmerized and I badgered my parents to put me in acting classes after that. They begrudgingly agreed and put me in this acting class in Albany, which was the closest city – about 45 minutes from where I grew up.
That was just like my start ya know?
Absolutely.
I was just like a real young kid taking acting classes. I had great interest in it and my teachers always really encouraged it. I think they saw that I had a sort of knack for it and I just loved it.
So… yeah. I loved it and I started pretty young and got involved in community theater and did the drama club thing in high school and then I got a theater degree from a state school and then I moved out to LA and started my career.
I'm also curious about influences. What films and what performances really stuck with and influenced you as an actor?
At a young age, I was really into Star Wars. [Laughs] I remember just like really wanting to be Luke Skywalker – but that wasn't necessarily something that inspired me as an actor. It was more just like "oh! I really want to be in that world", ya know?
Performances over the years that have really inspired me would be like Daniel Day-Lewis – everything that he's ever done – I marvel at it because he's just such a chameleon. Tim Roth is an actor I've always tried to emulate – he's an actor I've always felt was able to shed his essence as a person and become somebody new. It's like, "where'd Tim Roth go?" Oh, he's not Tim Roth anymore. He's somebody else.
The actors I've always gravitated towards and been inspired by are less movie star and more actor, if that makes any sense? I always like seeing performances where the actor was just like gone and really inhabited the behavior and life of the character they were portraying.
Getting into Acts of Violence a bit, which of the two films under your belt that both have "violence" in the title was the most fun to work on? The most challenging? A History of Violence was an incredible picture too.
Thanks man! Yeah!
Yeah, any time there's like "violence" in the title I'm like the go-to guy I guess. [Laughs]
[Laughs]
They were both challenging for different reasons. A History of Violence was like right at the beginning of my career – the first movie I was ever a part of. That was challenging because I grappled with a lot of nervousness – I was working with all these incredible actors and this director [David Cronenberg] who had done some incredible movies. I was battling with the feelings of like "you really don't belong" and "Ashton, you're not worthy". I had a lot of self-doubt.
It was a challenge to prove to myself that I did belong and to be there. In this movie, Acts of Violence, my challenge was that anytime I have to like shoot guns and kick ass I sometimes don't have as much self-belief or confidence. I don't necessarily think I'm like the next "action star", you know?
Yeah.
So sometimes it's a challenge to muster up the belief that I can kick some ass. I feel like I need to take some Muay Thai or Brazilian jiu-jitsu in order to like toughen myself up if that makes sense.
Does that answer the question?
It certainly does. Getting into Roman as a character. He seemed to me to be a almost paradoxical character. Very vulnerable but luckily able to steel himself like his brothers when it was necessary for him to.
Sure.
What was it like getting into that head space? Only non-veteran brother of three who ultimately has to fight to save his fiancée.
I think that there's a paradox in all of us. I really loved the journey I was able to go on with the character of Roman because when we meet him, he's sort of just like this kid who's completely enamored with his childhood sweetheart– this girl that's he's just like completely infatuated and in love with – and life is just perfect. Then what means the most to him is snatched away so he's forced to do some pretty trying things to get her back. I think anyone that has the love of their life taken away from them will go to some pretty extreme lengths to get that person back.
So, we get to see Roman's innocence taken away from him in a sense. His journey is really that from boy to man, ya know? As an actor, when you're able to really go from one extreme to another in the course of a 90 minute movie, it's really satisfying. Or at least it is for me.
It certainly is for an audience as well.
Sure.
I'm curious how research and prepping for the role of Roman was. What all did it entail, with having brothers so visibly affected by their time in combat (especially Cole Hauser's character) and issues as heavy as sex trafficking and veterans' issues? Did you carry over anything from your performance as PFC Sidney Phillips in The Pacific?
Yeah. A lot of the PTSD stuff I didn't really research for Roman's character – that was more specific to Cole's role and to Shawn's role. Their characters have the military background.
Indeed.
But given what I did on The Pacific, I definitely did a lot of research into being a soldier and what that was like. That experience working on The Pacific definitely informed my character in Acts of Violence. I'm drawing upon any experience I can to make my character more rich and seem more well-rounded and involved in whatever I'm doing.
Do you hope the audience will carry a message with them beyond just the great entertainment that the film was? If so, what message? I was very surprised at the timely issues the film touches on (sex trafficking, veterans' issues like PTSD, the opiate epidemic).
A good question. I hope the audience leaves asking themselves questions, I think that's what good cinema does – forces us to look at whatever culture we're a part of, to further dissect it.
The movie does look at some pretty dark material like sex trafficking and the experience one has in the military. Obviously Cole's character suffered through his experiences in the military and a lot of what he experienced in Afghanistan he brought back to his personal life in the States.
I think that's not talked about nowadays like it was in the '60s and '70s when Vietnam was happening and maybe it should be talked about more. This movie does uncover and expose some of that stuff – which is kind of cool.
What is next for you?
I'm not exactly sure. [Laughs]
[Laughs]
I just got back from Hawaii, I was surfing for the past week and a half – I'm open and available to being hired by the universe. I am unemployed and open to whatever might be next.
I finished work on this show Being Mary Jane that I was doing pretty much all of last year. That show ended and now I'm looking for work, so…
Thank you Ashton!