Personal Shopper got booed at Cannes, which only made me want to see it more. The weirdest things get booed at Cannes (e.g. Only God Forgives, which I liked, and Inglorious Basterds, which I haven't seen because I just can't be bothered with Tarantino but I'm pretty sure it's considered a great film) so I knew Personal Shopper would, at the very least, be interesting. Kristen Stewart has also been killing it with her role selection lately (aside from Cafe Society but I'll let it slide this time, Kristen) so if it got her seal of approval, how boo-worthy could it be, right?
Let me start off by saying that I didn't realize what I was missing in my life was Kristen Stewart playing a personal shopper/medium. Yes, you read the right. (I think more ghost films could benefit from being more fashionable, now that I think about it.) Maureen lives in Paris and works for an insufferable woman named Kyra. She wants to quit her job but she can't because she's waiting in Paris. For what? A croissant? No… A sign from her twin brother, Lewis, who died recently.
The premise reads a bit "wait, what?" but Stewart's performance keeps everything well grounded. She approaches ghosts, texting, the word "ectoplasm," and haute couture with this sexy, confident nonchalance that's no-nonsense but somehow also delicate.
Maureen is desperately hoping for a sign from Lewis to give an indication that some sort of afterlife exists. She seeks him out at his home but finds something else instead. Then the mysterious text messages start and she can't help but reply, which starts to lead her somewhere dark. If she's not shopping for Kyra she's trying to find Lewis or researching new ways to reach Lewis. Her life isn't hers anymore.
The film has scary moments, but it isn't a horror film. It also makes you think a bit, about ghosts (in this film they definitely exist) and personal identity, but not too much. It juxtaposes two incredibly different lifestyles (the first apartment we see is Kyra's slick, expensive condo, followed immediately by Maureen's cluttered and cozy flat) but isn't really a commentary on either. There are so many shifts in tone, woven together impeccably by director Olivier Assayas, but that's definitely half the fun in watching it.
Personal Shopper is a lot of things but most of all it's entirely worth watching. It's weird and expertly-crafted. Although the weirdest thing of all might be the extra space Maureen and the mysterious texter would add before the question mark in their texts. (Character choice or just how Stewart texts? We may never know.)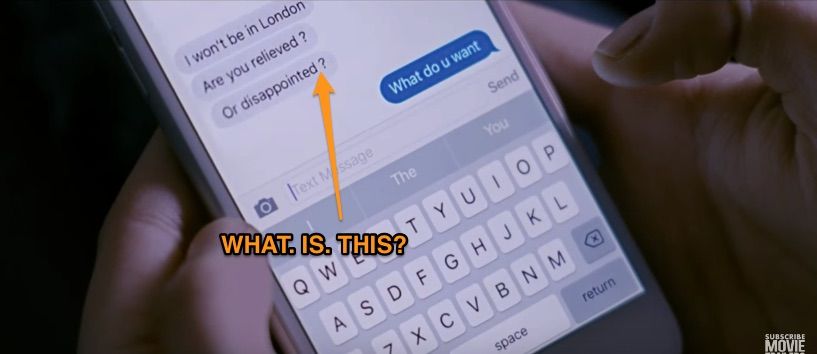 Bottom line: if you aren't a Kristen Stewart fan yet, you will be after seeing Personal Shopper.
PERSONAL SHOPPER, directed by, Olivier Assayas, premiered on Monday 10 October at the 2016 BFI London Film Festival. Go here to learn more.