I caught up with Grammy-nominated composer and musician Manu Delago for a chat on his latest, a very interesting musical experiment taking place at several mountain altitudes in the Alps, titled Parasol Peak (Live in the Alps). Catch it via its website here.
A pioneer of the hang (handpan), Delago leads an ensemble of 7 musicians on a mountaineering expedition in The Alps in Parasol Peak. Along the way, the group perform a collection of brand new compositions in different locations, at varying altitudes – making for a very interesting audio-visual experiment that is really best seen and heard to truly understand its beautiful, raw, naturalistic nature seen not just in the stunning mountain photography, but also the video of the group playing.
The Austrian-born composer was discovered by Björk, who first invited him to perform alongside on her Biophilia tour. He is now a fixture of Björk's live lineup and has also toured with The Cinematic Orchestra and Olafur Arnalds. Further, he earned a Grammy-nomination for his work on Anoushka Shankar's album "Land of Gold", performed hang on Poppy Ackroyd's latest album "Resolve" and appeared as a soloist with the London Symphony Orchestra.
It is for this reason that the musician spends a great deal of his life on the road and in studios, collaborating with various artists as well as writing, recording and performing his previous two critically-acclaimed electronic-driven albums "Silver Kobalt" and "Metromonk". This was how Parasol Peak became an exercise in the artist removing himself from studios, tour busses and laptops, and seeking to compose and perform both within and as part of nature, using only totally acoustic instruments.
Delago was not only inspired to incorporate the ensemble's natural surroundings in The Alps, but also the percussive sounds of the group's climbing gear. Delago said, "Of course performing on acoustic instruments has been done for thousands of years, so I wanted to add an extra component – nature, or more precisely the Alps. I wanted to utilise our surroundings by incorporating lots of percussion sounds like trees, water, little rocks as well as the gear that we were carrying, such as helmets, carabiners or ice axes".
Parasol Peak speaks to how natural limitations can spark to incredible creativity. Delago explains, "in general, I find limitations inspiring and in the case of Parasol Peak I was limited to a fixed ensemble of 7 musicians. The different locations also brought various limitations, which affected how I composed the music. At some locations we were vertically aligned and couldn't see each other. At others we couldn't hear each other, or we were trying to survive while playing."
Director and producer Johannes Aitzetmüller knew that the expedition would be one of his most difficult shoots yet. He comments: "Because I know the mountains and the situation I knew I could handle it, but what about the rest of the crew? How long can we shoot and how many times can we film the same performance over and over again in these conditions?"
"On almost every location we faced a tough climb first, then very cold conditions (physically and also playing), snow, installation time of the audio, instruments out of tune and finally – the shooting. We sometimes could film only 2 takes, because the instruments were out of tune again, or the fingers too cold or the icy wind blowing too fast. The audio engineer, Michael Reisigl, installed a network of recorders, cables and microphones all over the rocks. On the right and left side there were sometimes more than 50m of vertical rock – so falling was no option. It was crazy how he performed. Further, we knew that the crew shouldn't wait too long doing nothing because of the cold, the motivation and the instruments. And I knew that the filming had to be perfect first time – there won't be another chance."
The expedition posed life-threatening conditions for the ensemble, which at times had Delago questioning the project. "There were several moments of physical struggle and anxiety in the group" he says, "but that makes playing music together even more emotional". A drastic unseasonal temperature drop causing heavy snowfall complicated the journey further and made for a bigger challenge musically, with the group performing in exposed locations at freezing temperatures".
"There were definitely moments when individuals in the group would have turned around and left the expedition," Delago said. "But because we could only do it as a group, we had to strongly support each other. We had to help each other carrying instruments and gear, as well as help each other in overcoming anxieties and exhaustion."
The result of the struggle that the group endured is a completely rare, once-in-a-lifetime piece of work – both stunning visually and remarkable musically. The album could very much sit wonderfully amongst the contemporary classical giants of the present, but there is no escaping its distinctiveness – with flecks of European folk embedded in the brass and accordion melodies, as well as prog drones performed on the strings and handpan, ornamented by taps and whistles from various natural sources. Sonically, without the visual, the evidence of nature is present throughout.
Catch Parasol Peak out now via One Little Indian Records (find the video here and the soundtrack here), and enjoy the interview below.
Hello Manu and welcome to The 405! Parasol Peak was fascinating to watch and listen to. What inspired you to undertake the project?
Basically I just combined my love for music and mountains. I've been a touring musician for 15 years and in the summers I spend all my free time hiking in the mountains. Two years ago we filmed a little solo video called "Freeze" and that project inspired us to do something bigger, with a larger ensemble.
Cool. It was fascinating to watch. What was the creative process like in writing compositions to be played at varying altitudes on a mountain? I imagine much of it would have to be highly experimental as this – it seemed to me – is a very novel project.
I hope it is a novel project. In the six months prior to the project, I spent a lot of time scouting locations, in other words, climbing mountains. That period was very important for the composition process. All locations are very special and instantly gave me some ideas for composition.
But performing under extreme circumstances on mountains also comes with various limitations, and those limitations can be inspiring too. At certain locations we were extremely far apart, so some of the pieces ended up being very atmospheric and slow, without any rhythm or groove. At other locations, we stood extremely close together, especially on the peak where there was hardly any space to perform. Those pieces are very intimate with a lot of small details.
I love what you said about necessity being the mother of invention in creativity.
How much of the final auditory product was organic to your actual mountain recordings and how much was post-production? The reason I'm asking that – and perhaps I'm off-base here, please correct me if I am – is as a lay person, someone who knows very little about what you do (and has zero musical talent and who's competency only involves appreciating great music like this, not playing it), that there seemed to be a kind of discrepancy between what my eyes saw and what my ears heard (which isn't a bad thing either, its part of why Godard called cinema "the most beautiful fraud") – especially distance wise when you were all performing at the different peaks, to where it's like I can't imagine the sound would travel like that but then again I've never been that high up on a mountain either, let alone 2200 plus meters in the air while listening to live music. I hope what I'm asking and saying makes sense.
I think that's what added a lot of the magic here too – not expecting this level of sound so high on a mountain.
All music was recorded live in the mountains. We used 12 microphone channels of which 2 mics always recorded the acoustic sound of each location and give the listener/viewer a natural perspective. The other mics were placed very close to the instruments and could be turned up or down in the mix afterwards.
I wouldn't say there was any post-production, but there was definitely a lot of mixing.
Oh I see. Like I said, this sort of thing isn't exactly my competency from a technical view, so hope I made sense.
Outdoor recordings usually sound very dry, so when you mix the instruments together, there is still a bit of freedom how you balance them. The challenging bit was that we could never listen back to any recordings on the mountain. We could just hope for the best, and luckily the sound quality turned out much better than I ever hoped.
Absolutely agreed on that quality. It was really stunning. What were the physical challenges like in scaling the peaks with musical instruments and camera and sound recording equipment?
Hiking and climbing with instruments was definitely a challenge, but I think the temperature was probably the toughest opponent. It's extremely hard for brass, wind and string players to perform at freezing temperatures. Because all performances were filmed, we also had to stay at each location for several hours, sound and camera equipment takes time to be set up. I'd say reaching the summit was easier than staying there and playing music with frozen fingers.
Wow. What were the challenges involved in the actual recording process while up there?
There were different challenges for different departments. The sound engineer had an extremely hard job managing all microphone and equipment handling. The musicians only had to climb to each location once, but the sound engineer had to climb from musician to musician several times to check mic placements and that everything was recording properly. The camera people had to carry most gear and also had to do the most exposed climbing since they had to find good spots to place their cameras. And for the musicians I'd say it was a combination of very cold temperatures, exhaustion and fear of heights.
What was it like getting the final product together? That is the music plus the video footage.
As soon as I saw the first images, I knew that we were creating something unique and special. We were originally planning to have more animated material but the natural pictures looked so amazing, that we kept it simple and real. It was great having two directors with different backgrounds. Johannes Aitzetmüller does a lot of extreme sports films and Jeb Hardwick has created amazing music films, including the animated video for my track "A Step". The three of us worked together really well and I'm proud of every single person involved in Parasol Peak.
Are there any future mountain-climbing trips with perhaps different instruments and/or locales planned? This is an absolutely fascinating experiment you did that I would think could be played with even further in that way.
I don't like repeating myself. As I said, I think Parasol Peak is unique, but I don't see a reason to do it again. I do have lots of other new ideas for the future though.
I see.
A variation on one question I ask most everyone: what art and artists (of any kind) have been most pivotal on your development as an artist? Has film played a big role there?
It might sound boring, but my biggest inspiration is music itself. I try to listen to a big variety of music and also play lots of different styles. I could mention some heroes such as Stravinsky, The Bad Plus, Michael Jackson, Deftones, Daughter of The Prodigy, but there are so many more.
Not boring. It's a big question by nature.
I know you've done scores for a few documentaries, so another variation on a question I put to everyone: what makes a truly great film score? Also a big question I know.
I guess the most important thing is to not distract from the film and story. I like it when a soundtrack has a certain flavour, but with a simple thread going through it. I also like it when occasionally there is a strong connection between the plot/action and the music, but that shouldn't be overused. Recently I watched Toni Erdmann with no soundtrack at all - great concept.
I will have to check the one out. That's interesting you brought it up too – I've had filmmakers tell me they like watching a movie with the sound totally off for similar reasons.
Finally, what's next for you?
Over the next weeks we'll have lots of international Parasol Peak screenings where I'll also do some additional live performances. In the Autumn I'll also be touring with Anoushka Shankar, Ólafur Arnalds and my own chamber orchestra. And of my highlights this year will be a tour with the Metropole Orchestra in Holland. They perform compositions of myself and Anoushka Shankar, with us two being the soloists.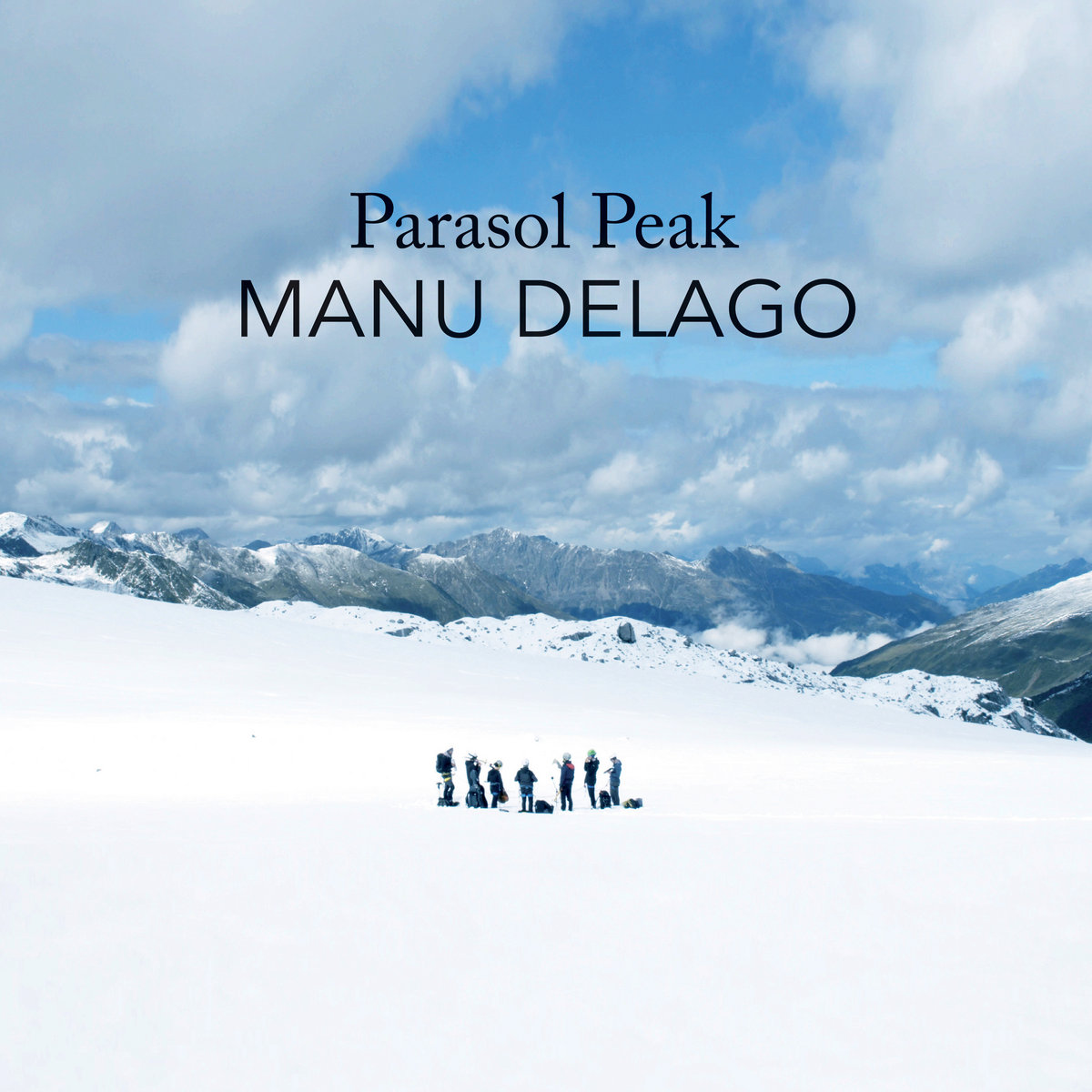 ---
Read More
Manu Delago
Mountain Climbing
Parasol Peak
The Alps
Swiss Alps
Music
F Ilm
Grammy
Composing
Hang Drum
Bjork
Jeb Hardwick
Johannes Aitzetmüller
Film Making
Adversity
Nature
Interview
---
Trending Music