Before we begin, I suppose some introductions are in order. Welcome to Reel Talk, a shiny new weekly round-up of film news that we'll publish every Friday here at The 405. Rather than inundate you with shameless, ephemeral clickbait and regurgitated press releases, we've opted for something more considered: the most important news carefully selected and delivered with insight in this weekly digest (plus some regurgitation at the end). At least, that's the plan. Honestly, it'll probably take a few weeks to really nail the format and iron out the kinks. And, of course, it all ultimately depends on the kind of news week we've had (luckily, this past one was rather fruitful). But it's all a process; come with us and we can all learn and grow together. It'll be beautiful. Or... something like that.
Anyway, now that's sorted, we can get into the news. Now, for all the big talk of Steven Spielberg and Marvel Studios that will come later, we'll kick this whole party off with what is, in my warped shitheap of a mind anyway, the week's most exciting news story: that Joe Kelly and Ken Niimura's magnificent comic book I Kill Giants will be adapted for cinema. The announcement came Tuesday, as financiers Treehouse Pictures (whose previous ventures include mid-budget films such as All is Lost, That Awkward Moment and Arbitrage) came on to fully fund the production, which is now scheduled to begin later this year. Chris Columbus (yes, the director of the first two Harry Potter films) will produce through his company 1492 Pictures/Ocean Blue Entertainment, while Anders Walter - whose short Helium won Best Live Action Short Film at the 2014 Academy Awards - has been drafted in to direct his first feature, which Joe Kelly will write himself.
There are some conflicting signs here. The material itself is wonderful; a seven-issue run published by Image Comics between 2008 and 2009, I Kill Giants follows a misfit, fantasy obsessed 10-year-old-girl battling with the terrifying giants in her life, both real and imagined. It is, simply put, a beautiful and deeply affecting work - one of the best comics I've read. And though a large part of its success was Niimura's dynamic and evocative artwork, Walter appears to work on a fantastic, surreal register that's very appropriate to the material's approach to magical realism. There even are strong thematic overlaps between I Kill Giants and Helium that suggest he was the ideal candidate for Columbus. Columbus himself, though, is cause for concern. His recent producer credits Night at the Museum: Secret of the Tomb and Percy Jackson: Sea of Monsters hardly set the heart ablaze with excitement. Likewise, his latest directorial credit, the upcoming Adam Sandler comedy Pixels, looks kind of dreadful.
But while I think that I Kill Giants could allow Columbus to embrace the weird side of himself that wrote Gremlins and The Goonies back in the 1980s, I also fear that, under his stewardship, it could also fall into the maudlin abyss of his recent family-centred works that Kelly's comic so expertly avoided. But this is why Kelly writing the screenplay is so encouraging. Granted, it's not always the best idea to have somebody adapt their own work for cinema - they can perhaps be blinded by devotion to elements that don't necessarily work on screen - but I Kill Giants was such a personal work for Kelly (it's about personal loss) that it's difficult to imagine many writers doing a better job, or managing the balancing act that he did. Still, even if Columbus does eventually take the film down the wrong path (which, honestly, I think he's already doing in electing to produce a live-action film rather than animated), it'll at least work as an advertisement for a comic that's truly special.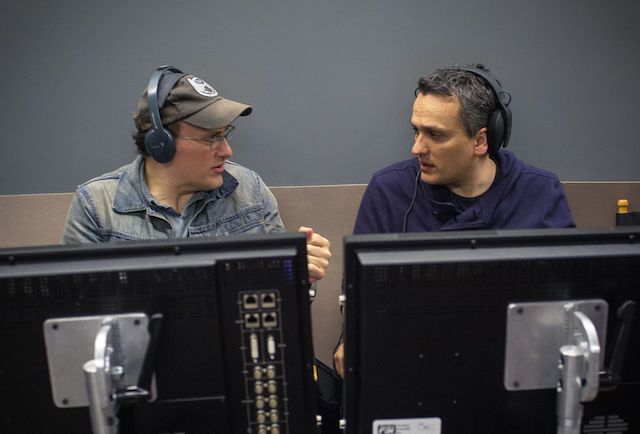 In the week's markedly less interesting but more widely reported comic-related news, Marvel Studios announced on Monday that Captain America: The Winter Soldier directors Joe and Anthony Russo will be directing Avengers: Infinity War Part I & Part II - pencilled in for May 4, 2018 and May 3, 2019 respectively. The announcement follows a long, screaming cataclysm of speculation, only compounded when Joss Whedon, writer/director of The Avengers and the forthcoming Avengers: Age of Ultron, told Empire back in January that he would not return for the third instalment. According to The Hollywood Reporter, Christopher Markus and Stephen McFeely, who wrote all three Captain America films and co-wrote Thor: The Dark World with Christopher Yost, are in talks to take over Whedon's writing duties, and the long shoot for both parts is scheduled to begin next year.
Despite recently signing a three year deal with Sony, which comes into effect in April, the Russo brothers are, pragmatically speaking, the perfect candidates to take over from Whedon. They come from the world of sitcoms (having previously directed episodes of Arrested Development and Community), and accordingly work in a way that is both functional and incredibly easy to watch. They're neither mavericks nor overt stylists, people with a necessary comic sensibility and a keen eye for action that - unlike, say, Edgar Wright - are also willing to toe the party line. Indeed, many of Marvel recent films have been helmed by such filmmakers in an effort to create a strong sense of stylistic continuity between films. Moreover, they've already ingratiated themselves with Marvel; The Winter Soldier was a significant financial and critical success, and their forthcoming film Captain America: Civil War will apparently function as an Avengers-lite, with Robert Downey Jr.'s Tony Stark playing a significant role, and consequences that concern the Marvel Cinematic Universe writ-large. Admittedly, directors are probably the least important important-people in Marvel's system (after Kevin Feige, the stars and the writers), but the Russo brothers definitely seem to the logical choice to direct Infinity War.
I mean, you couldn't imagine, say, Steven Spielberg directing a Marvel film. It's the same reason why, though he wanted to, Eon Productions would never hire him for a James Bond film: a strong, individual vision is directly at odds with everything the series represents. But that vision is why he's one of American cinema's greats (even if his recent work has been sketchy), and what makes it such a coup that Warner Bros. have secured his services to direct the film adaptation of Ernest Cline's science-fiction novel Ready Player One. Zak Penn, whose previous works include X2 and The Incredible Hulk, wrote the latest version of the script, revising what had previously been written by Cline and Eric Eason, and Spielberg will tackle the project following the completion of his adaptation of The BFG starring Mark Rylance, which is due next year. Honestly, I've not read the book, but, from what reliable sources (friends that have read the book) tell me, this news is Something We Should Be Excited About. Certainly, Spielberg returning for science-fiction for the first time since War of the Worlds is a welcome prospect, and the book's premise of a virtual reality game usurping the real world should present him with many interesting cinematic opportunities. Then again, that's assuming the film actually happens, which, as fans of Robocalypse can attest, is no certainty.
The Weekly Regurgitation:
- Fifty Shades of Grey director Sam Tayor-Johnson confirmed that she will not return to direct the sequel Fifty Shades Darker. (Deadline)
- Star Trek 3 may be getting exponentially more handsome as Idris Elba is rumoured to be in talks to star. (Variety)
- The Gareth Edwards directed Star Wars spin-off Rogue One may be getting dirtier as Ben Mendelsohn is reportedly in talks to star. (Deadline)
- Harmony Korne's next film The Trap will be bought by Focus Features; Idris Elba will star (replacing Jamie Foxx) alongside Benicio Del Toro, Al Pacino, Robert Pattinson and James Franco, the latter three of which are still in final talks. (The Hollywood Reporter)
- Nocturnal Animals, Tom Ford's belated follow-up to the outstanding A Single Man, seems to be going full steam ahead, as Amy Adams and Jake Gyllenhaal are both in discussions to star. (Variety)
- Bradley Cooper, yes that one, will reportedly mark his directorial début with the third remake of A Star is Born for Warner Bros, which Clint Eastwood was attached to way back in 2011. I guess they have a sense of humour. (Deadline)