Leonardo DiCaprio and Martin Scorsese are executive producing a series at Hulu based on Erik Larson's seminal book "The Devil in the White City: Murder, Magic and Madness at the Fair that Changed America".
The book tells a true story of the intersecting lives of two men at the opulent 1893 World's Fair in Chicago: ambitious young architect Daniel H. Burnham racing to make his mark on the world (he is regarded as "a father of the skyscraper") and a grifter turned doctor and serial killer Herman W. Mudgett, alias Doctor Henry Howard Holmes.
The story of H.H. Holmes in Chicago is a twisted one. He already had a solid history of more petty crimes out East where he was born when he got to Chicago in 1885. In the city he set up shop as a doctor in a pharmacy. A year earlier he had finished medical school at the University of Michigan where he allegedly stole cadavers to maim and plant to make it look like they had died an accident where he would then collect insurance money on them.
When the owner of the pharmacy passed away, he left his wife the store. Holmes convinced her to turn operations over to him and she soon after went missing. He then bought an adjacent vacant lot and began building his "hotel" which would go down in history as"the Murder Castle".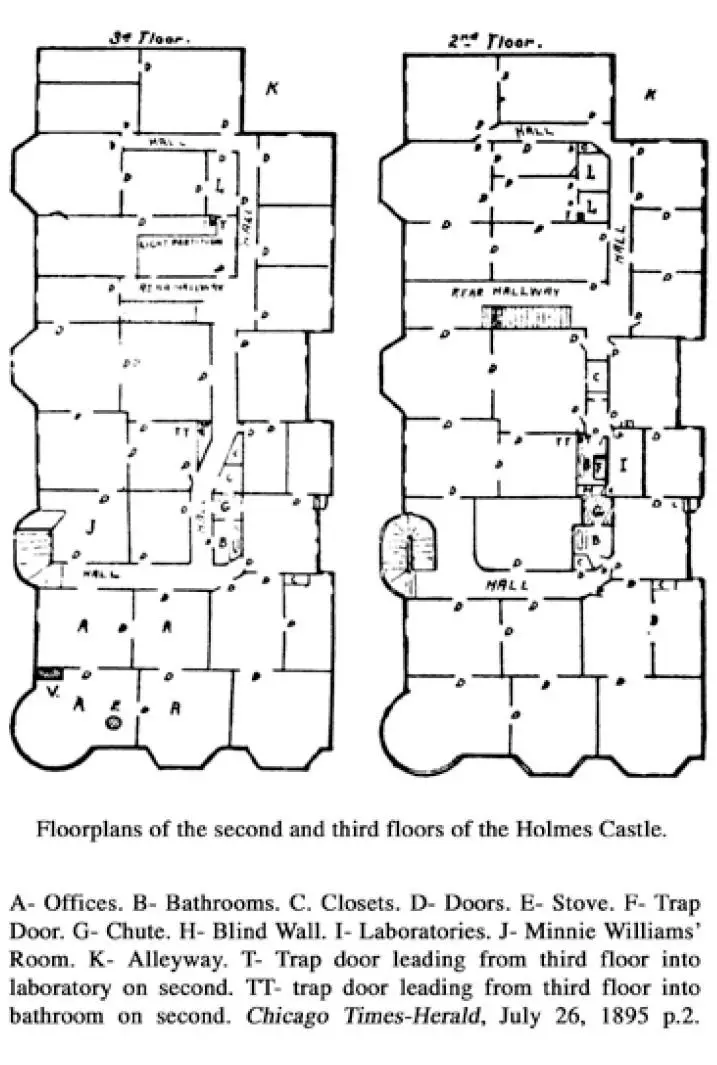 Holmes marketed it as a hotel and during construction he hired and fired crews routinely so no one would know the full floor plan. This was for good reason, as his hotel was designed with one goal in mind: be able to kill tenants and easily dispose of their bodies without anyone being the wiser – he would then steal their valuables, although some allege he also killed for the thrill. For instance, many rooms in Holmes's Castle had gas lines running through them and peep holes where Holmes could asphyxiate his guests while watching. He would then dump them down a body chute and incinerate them in a kiln. For this reason, a precise victim count has been nearly impossible to calculate, although Holmes confessed to 27 and other estimates of a kill count go up to around 200 people.
The 1893 World's Fair did, however, give Holmes a huge batch of victims to pick from as an estimated 27.5 million visitors flocked to the Windy City, and with spotty communication back then it would often be far too late before anyone would realize their loved ones are missing.
H.H. Holmes was apprehended in 1894 and hanged for his crimes in 1896. The Murder Castle subsequently burned down to nothing but the first floor, with that being razed to build a post office in 1938.
DiCaprio has held the rights to Larson's book for a decade, and Scorsese came on board as director in 2015. Stay tuned for more on the series as we hear it. I will be a cannot miss.
Enjoy the videos below. The first is a 50 minute documentary on Holmes and the Murder Castle and the second is a walkthrough of a basement that sat under part of the Murder Castle.