An Italian television crew visits a dilapidated auditorium (a converted 13th-century church) to meet an orchestra assembling to rehearse under the instruction of a tyrannical conductor. The TV crew interviews the various musicians who each speak lovingly about their chosen instruments. However, as petty squabbles break out amid the different factions of the ensemble, and the conductor berates his musicians, the meeting descends into anarchy and vandalism. A destructive crescendo ensues before the musicians regroup and play together once more in perfect harmony.
Made in 1978 for Italian television, Orchestra Rehearsal, an allegorical pseudo-documentary, is possibly Fellini's most satirical and overtly political film, starring Balduin Baas, Clara Colosimo, and Elizabeth Labi.

The story is simple - a TV crew document an orchestra practising in an ancient church - and rest assured, everything starts to unravel. Hilarious and often hysterical, and abounding with its director's trademark rich imagery and expressive style, Orchestra Rehearsal makes a notable addition to his impressive canon.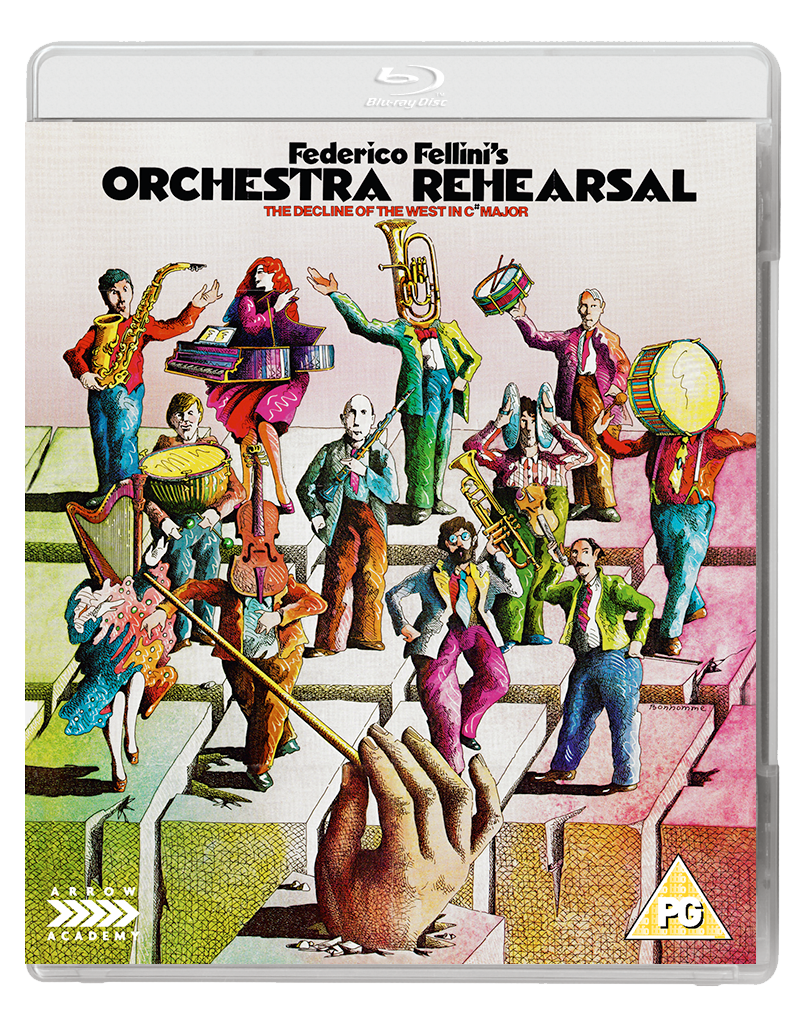 The film marks the last collaboration between Fellini and the legendary, Oscar-winning composer Nino Rota, famed for his haunting score to Francis Ford Coppola's 1972 classic The Godfather. Rota, who provided music for Fellini's La Dolce Vita, Amarcord and Roma, among others, composed one of his most beautiful themes for the film's extraordinary conclusion, which moves from surreal devastation to heartrending beauty in sublime style.

This special edition features a stunning new 2K restoration of the film, rare poster and press materials, and an illustrated collector's booklet featuring new writing on the film. All in all, it's music to the ears of Fellini aficionados.
Catch the Blu-Ray for Orchestra Rehearsal out February 12.