You now, it's been quite a good year for cinema so far. While the Oscars were a pretty white-washed and safe affair, plenty of great movies still came out during this year's awards season, and rate of memorable releases never quite slowed down from that point on.
So with 2015 being just over halfway finished with, it's time to have a bit of an assessment of the first six months, and what better (re: cliché) way to do so than to compile a compulsory list of the best films of the year so far? However 2015 has seen such a wide selection of solid releases that you better believe we've got plenty of honourable mentions to get through first.
Honourable Mentions:

A Girl Walks Home Alone at Night is a film that subverts audience expectations at every turn. The film, shot in gorgeous black and white, is a testament to what horror films can achieve; heartfelt, funny, satirical, and most importantly, scary, director Ana Lily Amirpour has created a film that feels like a loud and ambitious turning point for the genre. Boasting some of the most memorable scenes of the year so far, there's something about the unassuming terror of A Girl Walks Home Alone that's so effectively scary, and it will no doubt go down as one of the most talked about films of the year.
However, it's not only more experimental flicks that take up the honourable mention slots of this mid-term retrospective. Keanu Reave's John Wick gave audiences one of the most irrevocably enjoyable experiences of the past six months, with some of the best American action choreography seen on the big screen in years. And in a running trend of 2015, John Wick, while on the surface appearing to be all about style over substance, actually houses a deep and layered set of characters and world-building that the visual affectations try so desperately to hide.
Finally, January's Birdman kick-started 2015's fascination with cynical, post-modern themes. The Best Picture Oscar winner started the year on a high note, however since its initial release Inarritu's film hasn't had the lasting appeal many predicted. Although it's still a superbly executed picture, Birdman's critical view of Hollywood and the film industry comes across as perhaps too cynical and too naïve for its own good, and as a result just misses out on being included in this list.
Anyway, that's enough about the films that didn't make this list, and without further ado, onto The 405's Top Six Greatest Films of 2015 so far. Why six? It's just been that good of a year, that's why.
Inherent Vice

Perhaps the most divisive film release so far this year, Paul Thomas Anderson's '70s throwback is certainly an acquired taste. The thing is, if someone spoke up and made a case for why they think the movie is bad, there's no way to really argue with them. The movie itself does have a lot of flaws; it's meandering and overlong for one, but for some reason, the evocative picture just instantly clicks in the way most others don't. If you go into it with the right mind-set, then PTA's ;70s stoner fantasy (or perhaps "nightmare" would be more accurate) proves to be an incredible intoxicating experience
Selma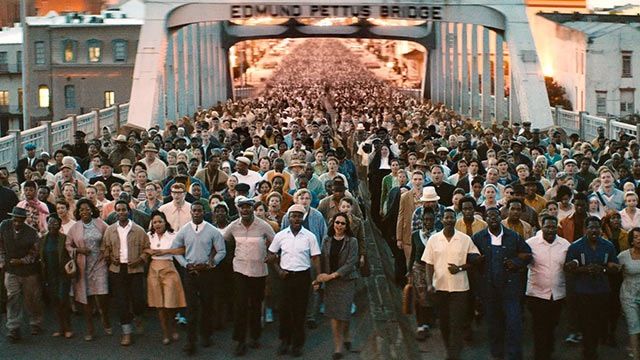 Criminally overlooked at the Academy Awards, Selma is one of the most important films of 2015. Anchored by amazing performances from the likes of David Oyelowo, this Martin Luther King biopic feels entirely different from other historical dramas. Instead of covering the entire life of the civil rights icon, the film instead opts to capture the essence of King's legacy over the course of one particularly memorable conquest. Luckily, the unconventional approach turned out to be an absolute masterstroke, as the added focus the picture gains from this decision makes for a tighter overall film, and it never feels like director Ava DuVernay is stretching her material too thin or trying to cram too much into 120 minutes.
Kingsman: The Secret Service

Matthew Vaughn hasn't made a bad film yet. From the genre defining Kick Ass to the only other good X-Men film, the British director continues to knock it out of the park regardless of whatever genre he's dabbling in. With that said, it comes as no surprise that Vaughn's throwback to the spy films of the '60s, Kingsman: The Secret Service, set the new benchmark that every spy thriller will be compared against going forward. Combining an enjoyable sense of camp with moments of seriousness, Kingsman utterly embraces its retro influences, creating a thoroughly enjoyable action film that boasts some of the most satisfying moments of the year. Even more impressively, just when you think the movie has peaked it keeps on going, delivering set piece after set piece, unthinkably continuing to better itself.
Whiplash

It was a shame it took so much effort to get non-believers to actually sit down to watch Whiplash. "That drumming movie?" faceless masses who hate fun would bark. "Sounds boring" they'd continue, probably at the same time as signing the petition to get Kanye West kicked out of Glastonbury. In reality though, Whiplash, despite its initial appearances as "the drumming movie", proved to be anything other than boring.
With the hostile and aggressive back and forth between Miles Teller's obnoxious musical prodigy and J.K Simmons' vitriolic bully of a conductor providing an utterly engrossing human dynamic to the film, Whiplash achieved a sense of tension and unpredictability that puts most horror movies to shame. While Simmons' character became more and more terrifying as the movie progressed, the constant escalation in general, echoed by the increasing intensity of the musical interludes, culminated in a fever pitch of a climax that had everyone in the cinema on the edge of their seat. A feat even more impressive considering the final twenty minutes is essentially nothing other than an extended drum solo.
Mad Max: Fury Road
Who'd have thought that action films would have made for some of the best films of the year so far in 2015? Between John Wick and Mad Max: Fury Road, it seems that the genre is undergoing a kind of renaissance as far as well-crafted and tightly choreographed cinematic releases go. But Fury Road has proved to be the most memorable so far because of just how impossible the whole thing seemed to be. Suffering delay after delay in production and with some horror stories of over budget reshoots happening late last year, this Mad Max revival seemed sure to be one of the first big flops of 2015.
But that didn't happen, and Fury Road roared onto cinema screens, showing everyone that even ridiculous things like flame-throwing guitarists and skeletor-esque baddies can be taken seriously if they're in a film good enough to pull them off. With an awe-inspiring visual style that tells so much of the story through simple images, Fury Road is probably going to be one of the most distinctive films of the year, as George Miller has created a unique experience that you can be sure won't be replicated in any other film this year.
Ex Machina

Ex Machina always looked as if it was going to be pretty solid; written and directed by Alex Garland, someone who's been producing pitch-perfect screenplays for well over a decade now, the film is an absolute tour de force in almost every possible way. Subverting audience expectations at every turn, just when you think Ex Machina is going to go off the rails down a more generic, predictable route, Garland consistently pulls the rug out from under the audience.
For such a high-concept film, it's outstanding that Ex Machina never puts a foot wrong, as its science fiction tale of creating synthetic AI women (a concept which becomes darker and darker as you delve further into the warped psyche of Oscar Isaac's unstable prodigy) threatens to become problematic with just about every new plot twist. But the film never derails, and stays on course to become one of the most intense, inventive and original movies of the past six months. If this doesn't show up again on the end of the year round up then damn, we must have had a good 2015.