To catch you up to speed:
- Jim Carrey's been posting editorial cartoons to his personal Twitter account a couple times a week since November 2016.
- Upon U.S. Supreme Court Justice Anthony Kennedy's retirement in July, President Donald Trump nominated U.S. Circuit Judge Brett Kavanaugh to fill his position. In the run-up to his confirmation hearing, Dr. Christine Blasey Ford, a professor at Stanford University, accused Kavanaugh of attempted rape in the early 1980s. Senate Democrats are now requesting a full FBI investigation before proceeding with Kavanaugh's nomination, while Senate Republicans are hoping to push the nomination through.
Now that we're all caught up, let's return to the man known for his larger-than-life roles in The Truman Show and The Mask. I find Carrey's Twitter feed, which is almost exclusively self-drawn political cartoons, fascinating because, after all, one art posting by a celebrity is a novelty—two year's worth is a statement.
So what is that statement?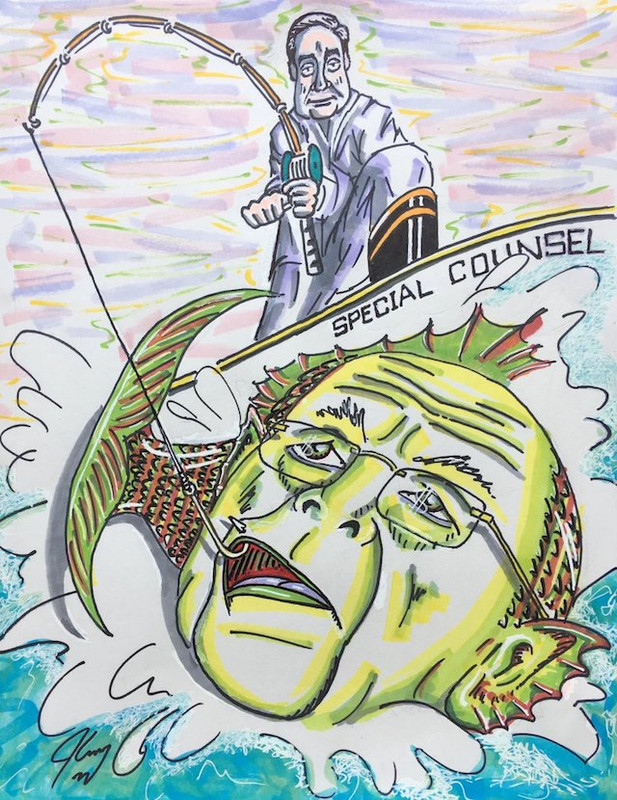 Many of his previous tweets end with a simple URL: vote.gov. Obviously, Carrey sees it as his civic duty to use his platform to get people out to vote—and what's a better motivator than anger. According to The New York Times, "Americans between the ages of 18 and 24 voted for Clinton over Trump in a landslide. Only 43 percent of citizens in that age group voted, however."
But these recent Kavanaugh portraits don't explicitly contain that same call-to-action. Instead, Carrey includes his own artist's statement of sorts: "Colleges care more about donors than the victims of on-campus rape. That's why women don't report it and why ENTITLED LITTLE SHITS like Injustice Kavanaugh get to party and pillage their way to the Supreme Court. I'd like to suggest a new uniform for the highest court in the land."
There's a different statement being made by Carrey's two Kavanaugh portraits, one which has Kavanaugh dressed in the Justice robes but donning a bank robber's cap and one which shows him on top of a female victim. Carrey wants us to see this man for what he is. It's easy when people get dressed up in a suit and tie and come across civil and well-educated to forget what exactly they're accused of. Carrey's illustrations aren't just anger for anger's sake, they're pleas to really think about what's being discussed.
Of course, the actor posted these illustrations on the 17th and 24th, respectively—days before Judge Kavanaugh appeared before the Senate Judiciary Committee alternatively yelling and crying. Maybe we didn't need as much help as expected in seeing Judge Kavanaugh as a less-than-desirable Supreme Court nominee.
Carrey seems to favour markers and/or acrylic to traditional pencil sketches, and the saturated colours really accentuate the intense feelings underpinning every drawing. Maybe when Twitter is your mode of distribution, there's no room for subtlety. He also has this m.o. of colouring the entire background of his illustrations with heavy, analogous colours, like the blue-purple on purple of the Sept. 17 Kavanaugh portrait. The effect, honestly, is a little like a Sean Scully painting, where the layers on layers of colour just weigh on you. Maybe the intensity is why people respond in such a heated way. (Or maybe it's because America is more polarized than ever.)
But in any case, I think Carrey's worth discussing as an artist, not just a celebrity who happens to draw. Apparently Michele Maccarone, founder of the Los Angeles-based gallery Maccarone, agrees. She'll be showcasing ~80 sketches by Carrey in a solo exhibition called "IndigNation: Political Cartoons by Jim Carrey, 2016-2018" from October 13-November 10. "The cartoons seemed so urgent to me. I immediately felt the impulse to exhibit them," she told artnet News.
If you're new to Carrey the visual artist, you may enjoy the 2017 documentary short I Needed Color. In it, Carrey explains "I think what makes someone an artist is they make models of their inner life. They make something physically come into being that is inspired by their emotions or their needs or what they feel the audience needs." Maybe we need some angry colour.