On the back of Nintendo's recent announcement that it would be bringing Gamecube titles to the Wii U's Virtual Console, the time felt right to look back at the best games released for the company's all-too-overlooked system. The Gamecube – much like a gaming equivalent of the Velvet Underground, if you will – never reached as many homes and hearts as it could've in its lifetime – 2001 through 2007 – but those that let it in to their gaming lives found a library ripe with exhilarating, poignant and magical titles.
In terms of sales, it was beaten comprehensively by SONY's Playstation 2, which sold in excess of 150 million units compared to Gamecube's rather meagre 22 million. Perhaps GamesMaster put it best, though: "A worthy, yet utterly beaten, challenger… Those who owned one, however, were special and valuable people."
1. Eternal Darkness: Sanity's Requiem (Nintendo, 2002)
Without a doubt one of the most innovative and truly frightening video games ever conceived, Eternal Darkness served as a potent reminder that for every Mario or Donkey Kong title, Nintendo could still do adult-oriented gaming with the best of them. Its unique concept of the protagonist's sanity – as well as their health, of course – depleting on facing the game's countless horrors led to all sorts of disturbing events; be it tricking the player into believing the TV was turning itself off, warped voices and screaming babies being heard off-screen, or enemies becoming invisible. These, and many more, shocking and confusing elements made for a game in which it's impossible to ever feel truly comfortable, but with a storyline that urges you to push forward into the darkness. It's compulsively entertaining but probably not very good for your health, the way the best things in life often are.
2. F-Zero GX (Sega/Amusement Vision, 2003)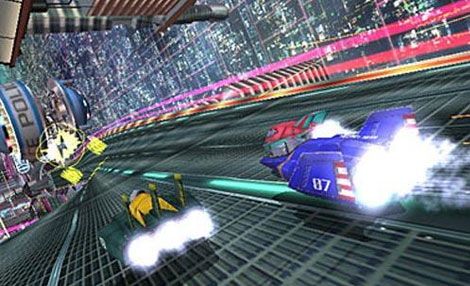 Moving on now from one of the scariest games ever produced to one of the fastest. It's fair to say a few people were a tad concerned when Nintendo handed over the rights to one of its most beloved franchises to the newly console-unattached Sega. How wrong the naysayers were. Not only did F-Zero GX trump the top speeds set by its N64 predecessor – the furiously fast but graphically lacklustre F-Zero X – it also managed to achieve this while remaining one of the most visually breathtaking racing games before or since. Whether you're diving through the heady heights of Port Town, getting bumped around a giant casino-themed raceway or traversing the lush, aquatic expanses of Big Blue, rarely has there been a more punishing yet rewarding racing experience.
3. The Legend of Zelda: The Wind Waker (Nintendo, 2002)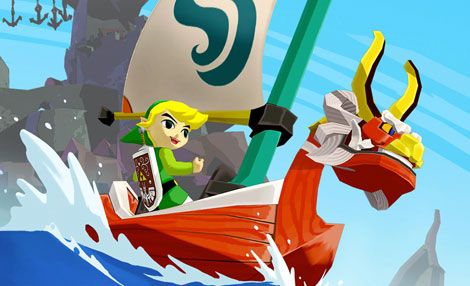 It's fair to say that the Gamecube certainly had its share of divisive titles – F-Zero GX, Luigi's Mansion, Super Mario Sunshine to name but a few – but none quite upset the established order of things like The Wind Waker. Its cel-shaded art style was met by uproar on its initial unveiling to a gaming public awaiting a true next-gen successor to the legendary – excuse the expression – Ocarina of Time. What they didn't realise, however, was that in The Wind Waker, it had already arrived. A glance past its almost Disney-esque cartoon veneer reveals one of the most touching, epic and ingeniously crafted adventures in the Zelda canon. Sure, its emphasis on sailing and exploring the vast seas presented to you may seem a bit tiresome and drawn out, but you could always be damn sure the reward at the other side would be worth the endeavour.
4. Luigi's Mansion (Nintendo, 2001)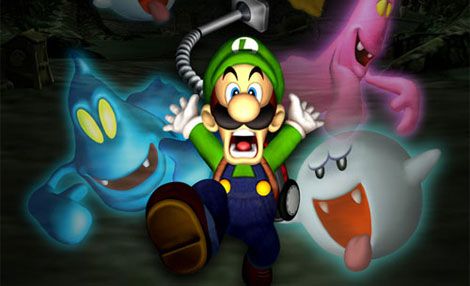 With its long-awaited 3DS sequel, Luigi's Mansion: Dark Moon, set for a March release, there's been no better time to discover what made Luigi's Mansion one of the Gamecube's best-kept secrets. Released as a GC launch title – in place of a sequel to Mario 64, to the chagrin of many a fanboy – Luigi's Mansion perfectly epitomised Nintendo's almost tenacious grip on upending expectations and following the path of quirkiness. It sees the green-capped hero doing his best ghostbuster impression and exploring a dark – but surprisingly lavish – mansion in search of his missing brother. In the process, he'll have to solve devious puzzles, vacuum up countless ghosts and ghouls and collect enough riches to earn him a tidy retirement. Sure, the koopa and goomba-infested hills of the Mushroom Kingdom are a million miles away from Luigi's Mansion's dimly lit corridors, but in its own quirky and light-hearted way, it's still a Mario game through-and-through.
5. Metroid Prime (Retro, 2002)
Taking Metroid – another of Nintendo's most beloved franchises – handing the keys to a small, relatively unexperienced American developer, and morphing it from a side-scrolling platformer into a first-person, corridor-scrawling shooter was a risky move. Boy, did it pay off though. Having not made an appearance on a Nintendo console since 1994's Super Metroid on the SNES, the time was ripe for re-invention. What's amazing however, is that for all the upheavals in terms of the series' gameplay and design, it still feels perfectly in keeping with the Metroid way of doing things; only, it does it better. Space pirates and Metroids are more intimidating than they've ever been, the sense of exploration is now far greater in the third dimension, and the cold of space feels as chillingly eerie as it ever has.
6. Pikmin (Nintendo, 2001)
You may've noted that a lot of the titles chosen for this list deal with Nintendo franchises being rebooted or updated in some way. That doesn't mean the gaming giant wasn't capable of developing new titles and fresh characters, though. Pikmin, an early release for the nascent Gamecube, introduced spaceship pilot Captain Olimer and the frankly bizarre Pikmin – a wacky race of creatures indigenous to the planet on which Olimar crashes his ship – whom he must control and guide through countless puzzles and tasks in order to escape and return home. What this simple summary belies, though, is just how insanely addictive Pikmin really is; the fact it's become one of Nintendo's best-loved series only confirms this. With a long-awaited third title in the franchise due on Wii U this year, there's never been a better time to re-discover just what it is that makes Pikmin so magical, and so hard to put down.
7. Resident Evil (Capcom, 2002)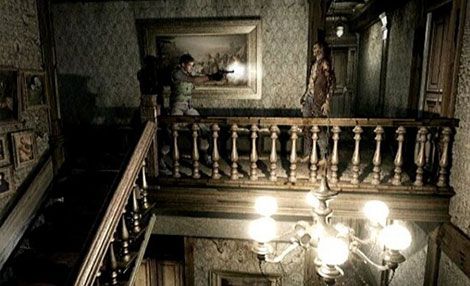 Rarely has there been a moment in modern gaming as disconcerting as when the first zombie you encounter in Capcom's 2002 remake of the seminal Resident Evil starts shuffling towards you. Letting out a low, gruff moan, it turns to face you, you freeze for a second and then raise your weapon: 21st century survival horror begins here. Gone are the blocky graphics and pixelated blood of past Resi titles, in their place are rotting sinews that glisten in the moonlight, dark rooms lit only by a flickering lamp in the distance and a sense of true dread lurking round ever corner. Exploring the mansion grounds on a whim and a – substantial – prayer is probably the closest you'll ever feel to being in a true zombie b-movie and yes, that includes the cheesy voice acting.
8. Starfox Adventures (Rare, 2002)
There haven't been many as profitable – both financially and creatively – partnerships in gaming as that between Nintendo and Rare. Between 1994 and 2002, the small British developer provided the Japanese giant with killer titles including Donkey Kong Country, Perfect Dark, Banjo-Kazooie and, of course, Goldeneye; that is, until Rare were mystifyingly sold to Microsoft in 2002. Starfox Adventures – Rare's Nintendo swansong – saw the company leave on a high note, though. It saw Rare take the titular hero from one of Nintendo's key first-party franchises – the on-rails sci-fi shooter Starfox – and place him on an uncharted alien world with a game mechanic that's far more action adventure than extra-terrestrial gunplay. A vital experience for any Nintendo connoisseur, if only as a reminder of why Rare are so sorely missed.
9. Star Wars Rogue Squadron II: Rogue Leader (LucasArts, 2001)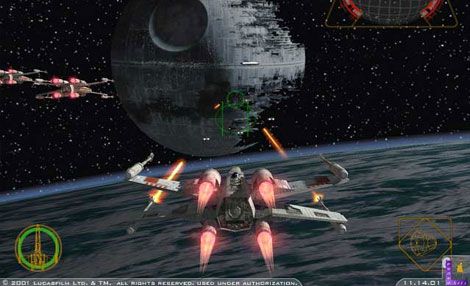 How many of us have dreamt of being in the cockpit of Luke's X-wing the moment he dropped that all-important proton torpedo and blew up the Death Star? I'd wager a significant portion of people reading this. Well, with Rogue Leader, that's exactly the opportunity you got. Placing you in the midst of many of the original Star Wars trilogy's most beloved moments – A New Hope's Death Star run, Empire's battle of Hoth, Jedi's fight above Endor – Rogue Leader is a fanboy's wet dream (or at least, the closest you'll get to one not involving Leia's metal bikini). What's more it looked amazing, too. It remains to this day one of the most visually breathtaking Star Wars games ever produced, so just imagine how we felt back in 2001. That it might in fact be THE greatest Star Wars title ever made only added to our awe.
10. Super Smash Bros. Melee (Nintendo, 2001)
For a company with as colourful a gaming history as Nintendo, titles like Super Smash Bros. Melee are vital. The decision to produce one game featuring all the developer's biggest hitters – Mario, Link, Donkey Kong, Kirby, Samus, Fox et al – in one place is not only inspired, it also serves as a reminder just why we loved Nintendo in the first place. Sure, the original Smash Bros for N64 may have introduced the concept of a Nintendo cross-series brawler, but Melee is where the franchise perfected its revelry in the company's rich past. With levels and items drawn from every corner of Nintendo gaming, 300 collectable trophies of weird and wonderful characters from the NES to the present and a cast of playable pugilists so strange it makes the Tekken roster look like a game of Guess Who?, Melee is a remarkably immersive and jam-packed experience. Oh, and it plays pretty well too…