Welcome to the latest edition of 24 Frames. Sahara Shrestha and Andrew Jamieson will be guiding you through the exciting, confusing and often brilliant world of 'film'. Expect news, trailers and plenty of opinion.
The latest edition is brought to you by Andrew Jamieson, who can be found on twitter over at @theghostwriterc.
24 Frames: The 'Jack Ryan trailer' Edition
A couple of weeks ago the wonderful author Tom Clancy passed away. Clancy himself could be attributed with having defined the ethos of the pop culture espionage thriller on screen in the early nineties. One of Clancy's most famous characters was Jack Ryan, the intelligence analyst who was played by Alec Baldwin in The Hunt for Red October (1990) and then Harrison Ford in Patriot Games (1992), and then again two years later in Clear and Present Danger (1994). The former two pictures were directed by Phillip Noyce who would later direct Angelina Jolie in the silly but rather entertaining action/espionage thriller Salt (2010). Ryan was then brought to life by Ben Affleck in the mildly passable thriller The Sum of All Fears (2002).Now Ryan is returning to the big screen to be played by Chris Pine, with English thespian director Kenneth Branagh behind the camera.
In the aforementioned movies, Ryan always seemed to me to be a fish out of water - a man steeped in virtue who found himself uneasily propelled into matters of high intrigue, politics and action. Jack Ryan was a reluctant hero, although he had some military background he was never played as a straight action hero in the manner of some of his more erstwhile and extravagant peers such as James Bond. This is why at first this trailer was greeted by me with a frown. The Jack Ryan here is closer to the archetypal modern day portrayals of the male secret agent in terms of the physicality at play here, Ryan seems to be a close cousin of Jason Bourne and Daniel Craig's Bond than the aforementioned fish found in the earlier movies. Although upon looking at the trailer again there a few things to get excited about here.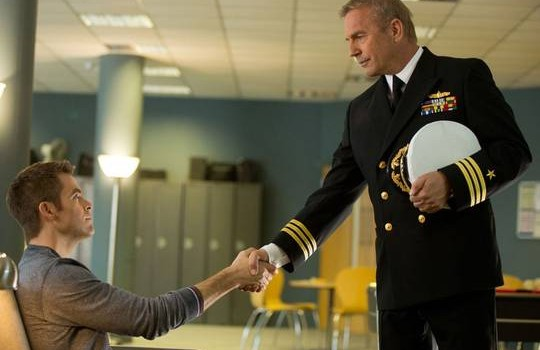 If anything, the last James Bond movie was so successful because it embraced British culture and the environmental landscapes of its central character. In a similar way, Jack Ryan is an all American hero, ready to protect the virtue and meaning of the constitution while shielding American citizens from peril and providing love and security to his lover and family. Chris Pine showed that he already has many of these qualities in his portrayal of Captain Kirk in Star Trek (2009) and its subsequent sequel. While the approach here is more glossy and bombastic than the Baldwin and Ford pictures, the scale and scope of this picture seems to favour the style of grounded while flamboyant action rather than the CGI led nuclear genocide of Ben Affleck's turn. Kenneth Branagh surprised many with his take on Thor, offering fun and character to Marvel's cannon, and his underrated take on Mary Shelley's Frankenstein (1994) was very well played.
It also wonderful to see him chewing up the scenery here on screen as the quintessential Russian antagonist. Kiera Knightley is also a superb actress who has prospered since her awfully bad role in the Pirates movies. She has such a versatile presence, and it's great to see her on screen here. Kevin Costner was the actor who defined the 1990s and late 1980s, so his appearance here is heart-warming and ironic to me; following his scene stealing turn in Man of Steel (2013) it is simply a great move to have him on this picture too.
No doubt when the movie is released Tom Clancy's name will be all over the media, in print and on screen. I just hope this movie is a posthumous, indelible imprint to his legacy.
See also: 24 Frames: The 'Movie Critic' Edition