Welcome to a brand new feature at The 405 called '405 Covers'. No, it's 405 cover songs that we like but a crafty idea whereby we get some great bands to cover a great song by another great band. Sound's great! (you can never have to many greats). The first band to step up to the plate are
Our Lost Infantry
. These guys are relatively new in the grand scheme of things but bloody hell have they made progress. Coming from the mean streets of Alderhshot, this four piece should be on all of your radars. Rather than waxing lyrical about our fondness of this band for a few more paragraphs, we'll cut straight to the business at hand. In a rather 'Stars In Your Eyes' style moment, I present to you Our Lost Infantry's take on 'King Of The Carrot Flowers (Part 1 & Part 2)' by
Neutral Milk Hotel
.
Listen:
Our Lost Infantry - King Of The Carrot Flowers (Part 1 & Part 2)
Click
here
to download the track!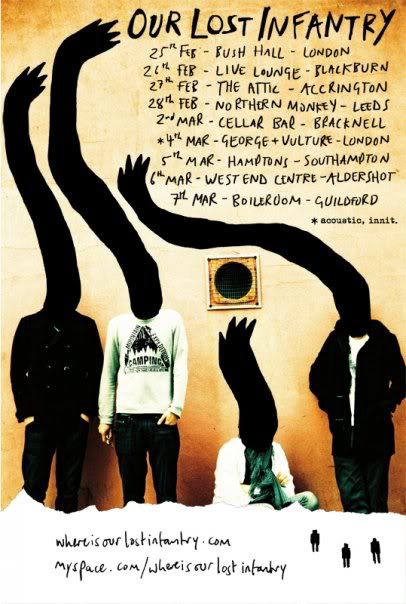 The Aldershot four-piece are playing shows in some places they've not been to before. They said it'd be great to see you there.
Tues 2nd March
- The Cellar Bar, South Hill Park, Bracknell
Thurs 4th March
- The George and Vulture, Shoreditch (acoustic)
Fri 5th March
- Hamptons, Southampton
Sat 6th March
- West End Centre, Aldershot (with Frightened Rabbit)
Sun 7th March
- Boileroom, Guildford You can visit the band by clicking
here!
Illustration by Robert Griggs