I don't care who you are, or what you do - you could be humanatarian of the year, as voted for by the cute Disney animals from Bambi - there is NOTHING quite so satisfying as playing as a bad guy in a video game.
That's what Gearbox have done with their latest character class for Borderlands 2, the aggressively named Krieg (it's the german word for War, officially making it the most hardcore name ever). He's a Psycho bandit, so you'll already be more than familiar with his MO, or at least with his spinning buzz axe of death and tendency to attack people while he's on fire - now, instead of being on the receiving end of a buzzing blade of pain, you get to brandish it yourself and unleash your own personal brand of whupass (kids are still saying whupass, right?) on the lonely plains of Pandora.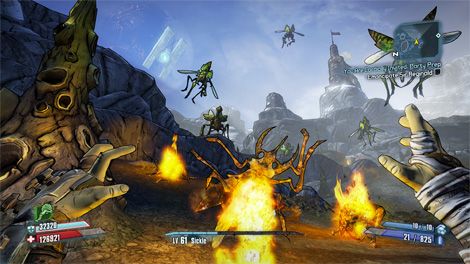 I got the chance to spend a brief amount of quality time with the character a few weeks ago, and he really is as satisfying and fun to use as his skill trees make him sound.
Hellborn: these skills are activated when Krieg is on fire. That's right, your character gets stronger the more on fire he happens to be (well, you're either on fire, or you're not - it's not really a quantitive issue). When this happens, and depending on your choice of upgrades, your damage resistance can increase, or you can shoot fireballs at enemies (to name but a few cool side effects of being on fire).
Mania: the old "the closer to death you are/the stronger you get" mechanic. A risky path to take, but it can be hugely satisfying.
Bloodlust: turn Krieg's arsenal of guns and grenades into assault weapons of the highest order. Once you've maxed out this skill tree, your enemies will explode when you shoot them.
And Krieg's Action Skill, the appropriately named:
Buzz Axe Rampage: kill an enemy with your buzz axe, get all your health back.

You're going to have hours of fun customising him, turning Krieg into your perfect Psyco, and while some of the choices may appear to have a negative impact on your character, as you level up you'll soon be able to balance him out, making him a non stop killing machine. That's on fire.

For me, this character embodies everything that makes Borderlands so enjoyable. For all intents and purposes, this is a ridiculous character (I may have mentioned he sometimes catches fire), but the skill trees give Krieg the potential to be an absolutely hilarious, experience for the player. The focus is very much on pure, unadulterated fun with a heavy helping of mindless violence. I can't wait to get my hands on him again.

You can download Krieg for Borderlands 2 on May 14th. Tiny Tina's Assault On Dragon Keep, the last instalment in the game's season pass DLC, will be available from 25th June.