As Ryuki Akira, Ed Williams and our photographer Aida Guevara descended onto Westfield Shopping Centre in White City to cover the Metal Gear Rising: Revengeance GAME store UK launch event featuring Metal Gear creator Hideo Kojima and game series artist Yoji Shinkawa, no one would have believed, in the early years of the 21st century, that human affairs would culminate in a fan-tastic show of appreciation for one of this year's most over-the-top kick ass video game releases. Now, over to Ed who, having never queued for a midnight launch before, decided it was about time he experienced it first hand.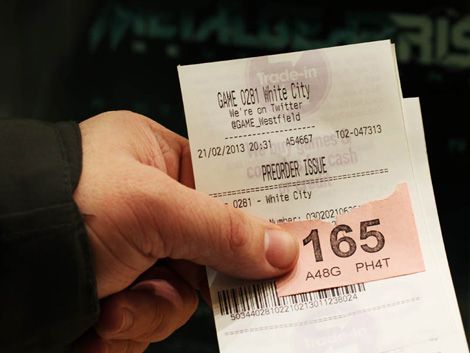 Ed: I originally hadn't planned to spend almost 5 hours waiting in line for a game that I was, at best, morbidly curious about. However, I'm a huge Metal Gear fan, so the prospect of meeting Hideo and Yoji was far too big an opportunity to miss. Originally, we were just going to take photos, do a quick write up, and make our way home before the clock struck twelve. But as I sat drinking coffee at 7.30 pm after checking out the queue outside, I started to get ridiculously excited. I could actually shake hands with the team that were responsible for controlling untold hours of my life (I can't be bothered adding up the game-time/cutscenes - it has to be going on a week now, surely?). After quickly checking the overdraft situation on my phone, I was in GAME handing over my hard earned cash.
The excitement soon waned after spending two hours in the biting cold outside waiting for Westfield to shut. To call security's game plan a shambles would be doing the concept a disservice. They were confrontational, judgemental - in short, they did everything they could to make the midnight launch experience resemble something out of a POW movie. We were rearranged by ticket number, and berated for not reacting to their barked orders in a timely fashion, none of them knew at what time we'd be allowed back inside to the warmth of the shopping centre, and no one seemed to know what was going on except that there were 400+ people queuing for something outside.
The only thing that kept me sane was the other people in the queue. I'm not usually one to talk to strangers, but it was ridiculously easy to get sucked into the surrounding conversation - everyone was passionate about the Metal Gear franchise and couldn't wait to meet the legendary Kojima. There was a slight dip in morale when we found out there wouldn't be any signing, and as the bitter wind picked up, the chat became more infrequent.
Finally, with only a pity-bought hot chocolate from Ryuki to keep me warm, we were allowed in to Westfield. I showed my ticket to security, and then informed them that I'd be bringing a writer and photographer through with me to the event. They flat out refused to le them through. I explained that they were press, and we'd been invited to the event. They still refused. So, leaving Ryuki and Aida at the door, I made my way to the back of the queue - arguing with security had cost me my place in the middle. It was going to be a long night.
Then, like a bolt out of the blue, I got an email from the PR guy looking after the event asking me if the 405 team had arrived yet. I quickly explained the situation, and within 5 minutes both Aida and Ryuki were whisked past security. However, the PR still had to argue with security over HIS identity - which goes to show, even if you've been integral to organising an event, make sure the security team know your face or you might get kicked out in the cold. Luckily they accepted a business card as proof of his identity. I made my way to the back of the queue once again. I was determined to experience the phenomenon of the midnight launch as a gamer, and left Ryuki and Aida to cover the Q and A session.
Ryuki: As Hideo Kojima and Yoji Shinkawa finally stepped out onto the stage in front of 400 excited fans, the Metal Gear creator proceeded to answer some questions posed by fans via Twitter earlier in the month:
Q. What was it like to work on Metal Gear Rising and how happy are you to finally see its release?
Hideo Kojima: We actually started development of Metal Gear Rising about four years [ago] and then we experimented with some things with work that took about two years. However we ran into some problems unfortunately, and as you know we ended up switching things to Platinum Games and we worked with them on [the game]. It was a long up-road, however we are very happy and whenever a game releases we are very happy and excited to see the launch of the game, but especially this time as it was a difficult game to make and a slightly different experience. We're just happy to see it out and we think it's a really great product.
Q. Are there any characters in the Metal Gear franchise that you liken yourselves to?
Hideo: I would like to say Raiden, but I have to say, Snake.
crowd Which one? Which one?
Hideo: Naked Snake!
Yoji Shinkawa: …and I'll say Raiden!
Q. Where do you see the series going in the future – Will you continue the story of the characters as they are or would you ever consider a Metal Gear reboot?
Hideo: Well, what does everybody think?
The crowd displays a large negative reaction to a reboot
Hideo: Don't worry, I won't reboot it. As you know I'm working on Ground Zeroes. [I'm not] not announcing anything about it today, but you know, Metal Gear Rising is out so I hope you all enjoy playing [it] and hope you all know that we are working on Metal Gear Solid: Ground Zeroes and don't worry, it will be coming soon!
Q. What was your proudest achievement and what would you like to be remembered for in the gaming industry?
Hideo: I have to say that 20-something years ago when I first started making Metal Gear, at that time action games were just action and no actual story [was] present in them. I think what I was successful in doing was [to] introduce story telling to the action game genre and if anything that's what I think people recognize me for.
As far as what I want to be remembered for or leave behind, I'm not going to leave anything behind because I'm going to keep on making games forever. I'm just going to keep on going till I die. Even after my body gives up, I'll turn myself into a cyborg so I can still make video games. So if you guys want to keep on playing my games you should turn into cyborgs as well. Unfortunately though, you'll lose your sense of taste so think it through before your decision!
Ed: I'd like to say that I got to see the Q and A, but along with three quarters of the crowd, I couldn't see and could barely hear what was going in front of the GAME store. It was a huge oversight by security, who having lined us up down one side of the mall (frankly) couldn't have cared less. All we heard were murmurs, all we saw was the back of an escalator. Then the queue started moving. And after a grand total of 5 hours queuing, 2 of which were spent in the freezing cold, I finally had my copy of the game, and got to shake both Hideo Kojima and Yoji Shinkawa by the hand.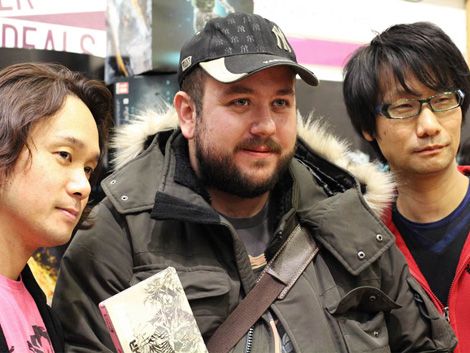 I had finally experienced a midnight launch. And I'm glad I did. With the economy in the state that it is, and gamers flocking to online retailers (some of which often release games a day or so before the official release date, as well as severely undercutting the RRP) there's very little incentive for people to physically queue for a game's launch, so I fear these may soon become a thing of the past. GAME struck gold by securing both Hideo and Yoji for a public appearance, but I worry that the security team provided by Westfield may have inadvertently damaged their brand in the process, by association if nothing else. As a customer, if you've committed to supporting a company like GAME during a midnight launch and are prepared to pay over the (online) odds and queue in the cold for the chance to meet one of your heroes, the last thing you want is a burly muscle bound man in a suit talking to you as if you're an idiot.