For the next few weeks, The 405 will be taking a look at one of gaming's most iconic survival horror franchises - Resident Evil. Each week, one of our writers will revisiting one of Capcom's zombie slaying classics as we build up to the release of Resident Evil 6.
Set bang smack in the middle of the events of Resident Evil 2, Resident Evil 3: Nemesis takes you back to the chaotic streets of Racoon City. You play as Jill Valentine, former S.T.A.R.S member, clad in gravity defying boob tube and ludicrously short skirt - which begs the question; where was she headed before the zombie outbreak? But never mind about that.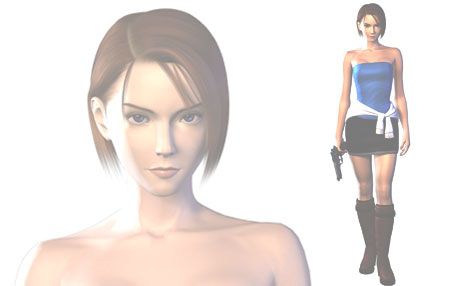 Resident Evil 3 is iconic because of the addition of one of the franchises most formidable foes - The Nemesis. You can be wandering around the city, minding your own business, popping caps in zombie heads with your, frankly, obscenely large machine gun when all of a sudden, a grizzled voice cries out from the darkness. . .
"STARS!" (dudududiDUHHHHH)
A gigantic hulk of a beast smashes through a door, a window, or drops from the air (assisted by Umbrella's helicopter division - seriously, what kind of drug company has air support?), and proceeds to take pot shots at you with a rocket launcher. You try to take it down, emptying clip after clip after CLIP into its mouldy leather clad carcass, but it does no good. It can run. It can dodge. And it will not stop until you are DEAD. Sure, the Nemesis will fall down from time to time, but don't expect that to be the end of it. It's only a matter of time before he's back on his feet, hunting you with the relentlessness of a T1000. This is an Umbrella made killing machine programmed to hunt down and destroy the remaining members of Racoon City's S.T.A.R.S. team. Sucks to be you, right?
But, plot aside, what's the point of the Nemesis? Well, any of you who've played and loved the first two RE games (RE2 being a particular favourite of mine, as I explained last week) will remember one of the series' major flaws. There were several occasions to get stuck on one puzzle or another while trying to advance your way through the game, and once you'd destroyed all the zombies in a particular area - that was it. Nothing was left, except some corpses dotted here and there, which you'd gingerly walk past in each scene because, well, you know - zombies. The problem was, once you killed everything, wandering around the police station, laboratory or old abandoned mansion became a bit boring. There were no more scares. All the Lickers were no doubt playing cards somewhere, and the Tyrant was biding his time until you found whatever well hidden thing it was you needed to open the next door. Even the crows started ignoring you (this might have just been me). This made it all too easy to put the controller down, not in anger but just general bored frustration - then a mate who'd already completed the game came around, and made you feel like an idiot by showing you exactly where you'd gone wrong and found the vital piece of the puzzle.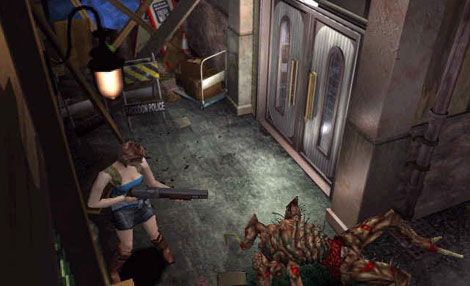 With the introduction of the Nemesis, wandering around a pre-explored area stopped being boring. Sure, there are a lot of instances when your character walks through deserted streets, stepping over piles of the bullet riddled undead, where nothing happened - but you always had that niggling feeling that the next corner you turned could be your last. It gave you just enough tension to keep the adrenaline flowing through the quieter parts of the game.
In a way, the Nemesis is a natural evolution of those old side scrolling platform games that had you navigate a level with lava/water/insert terrifying substance here chasing you. Anyone one who played Probe's version of The Terminator on the MegaDrive will remember how tense it was to be chased by something that was practically invincible. It upped the ante - you couldn't hang around and enjoy the scenery; one false move, and it was game over.
The game is also owed a heavy debt by two subsequent survival horror franchises that expertly took the torch and carried it over into the next generation of consoles - Silent Hill, and Dead Space. What is the Nemesis, if not a pre-cursor to the guilt-made-incarnate, buster sword wielding, Pyramid Head? And who felt a pang of familiarity when, after watching Isaac gruesomely dismember that bugger of a necromorph on the Ishimura, then had to watch in terror and disbelief as parts of it started growing back?
Resident Evil 3: Nemesis may not be the best game in the series, but it's the first in the franchise to really push the boat out in terms of gameplay and enemy development. RE1 and RE2 are, cosmetically, very different but at their core, they are essentially the same game. Combine herbs for health medicine, keep an eye on your bullets, try not to get bitten too often. I've already covered the Nemesis as an example of a next gen enemy, but RE3 also lets you craft your own ammo using found materials, introduces you to assault weapons much earlier in the game and, most important of all, it gives you the quick turn and the dodge. How handy would these moves have been in the earlier games? No more getting attacked from behind after you've run yourself into a corner, no more random button mashing as a flesheater grabs your round the neck - just push the correct button combo and BLAM - threat eliminated - RUN AWAY.
As a stand-alone survival horror game, it's probably the most accomplished. It showed Capcom wasn't content to rest on its laurels, and was committed to pushing the franchise forwards, as opposed to pandering to fans like me who could happily play RE2 until the cows come home. For better, or worse, Resident Evil 3: Nemesis is the series' first step towards the games as we know them today.