Sonic hasn't had it easy these last couple of decades. But, perseverant as ever, SEGA's favourite hedgehog is back once again in another racing game, Sonic & All-Stars Racing Transformed.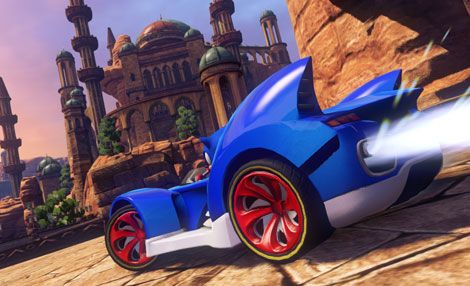 So, what can we expect this time around? Seasoned Sonic evil genius Dr Eggman (or Robotnik if you prefer) and Super Monkey Ball's AiAi will be returning to the grid, along with new blood Vyse from Skies Of Arcadia and Golden Axe's Gilius Thunderhead. There will be up to twenty drivers on track, each with their own transformable vehicle, which can switch between car, boat and plane to take advantage of the dynamic terrains of the game's race tracks. There are also a host of new weapons to help you blow the ever loving crap out of each other as you battle for first place.
Check out the gameplay trailer below.
There's no denying that Sonic & All-Stars Racing Transformed faces some stiff competition: it already lives in the shadow of the ludicrously successful Mario Kart series, and with its release date set just a week after LittleBigPlanet Karting, it looks like Sonic and Sackboy are set for a head to head battle on the PS3. However, the former does have the advantage of being a multi-platform release as well as practically being a launch title for the upcoming Wii U. Time will tell which one comes out on top.
Sonic & All-Stars Racing Transformed is released November 16th 2012 (PS3, X360, 3DS, Vita and PC) and November 30th 2012 (Wii U).