Tamara Schlesinger from
6 Day Riot
was kind enough to take some out of her busy schedule to talk us through the amazing
On This Island
. If you haven't had a chance to give it a listen yet, hopefully this Track-by-Track guide will tempt you to give it a go. It really is very beautiful.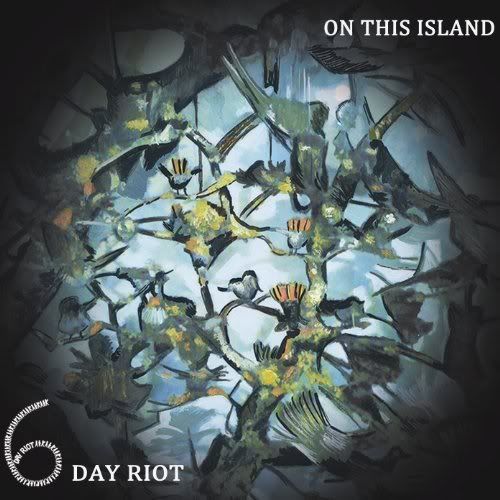 Take Me:
This song is about doing a deal with the Devil to leave the town you are in. That desperate need to escape your surroundings. Even to the point where the character in the song has given away every possession they own and their only child. I have a tendency to write pretty dark lyrics, but the music often contrasts with them and this is an example of that. I love playing this live because everyone is bouncing around shouting 'Take Me' and probably not even knowing what the song is actually about.
Raise Your Head:
This was one of the first songs written for the album, we began working on new tracks quite soon after releasing 6 Day Riot Have A Plan. Dan, Edd and I had some long days in our disused gym where we rehearse writing a lot. But it wasn't until we got into the studio that this song came alive, we layered two different drum patterns and added loads of vocals to the outro and the song came together. I also love the sentiment of the song, it is about not needing any possessions at all, that one person can be enough to make everything ok. And it was written as the recession was beginning to hit and I was thinking of so many people that had lost their jobs or their homes.
Runaway:
I wrote this while I was up in Glasgow last Christmas, I was sitting in my old bedroom and the snow was falling. I think the plucked ukulele has ended up sounding like falling rain. It was inspired by a cross between 'Into the wild' and 'Where the Wild Things Sre'. Having a childish temper tantrum and wanting to runaway, crossed with the need to explore. I think at that point I really wanted to be somewhere else and I wrote the whole thing that afternoon.
Out To Sea:
I tend to imagine characters a lot when I am writing as their lives can be much more interesting than my own. This song is about a woman who has been thrown out of her house by her wealthy husband. But she is a strong character and she is fighting against her wrong doing. I can see quite a vivid image of the husband banishing her from his land and into the sea. I love the breakdown section and when it all kicks back off with the trumpet line coming in, it is like a huge release of tension. Although I take on characters in a lot of songs, it is usually my subconscious that is spilling out onto the page, I guess at this point I was feeling like things were caving in around me and I needed to fight hard to get through some personal turmoil.
For Anne:
This song was actually written in the studio, it was our 2nd last day (we only had 6 days to record and mix the whole thing) Dan was tapping on my banjolele and he had this lovely rhythm and I picked up my uke and came up with a riff. Initially we were going to have it as a short instrumental. But I went home that night and I was singing this melody, even in my sleep. And I woke up and decided to write lyrics for the song. I had just watched a series on Anne Boleyn and the I had all these words and images in my mind of heads rolling. So I wrote the song as if I was Anne walking to my death that day. And we recorded it all that morning. I am so glad we got it on the album as I love the song, and the weird two part harmony just adds to the creepiness I think.
To See Your Face:
Only now that I am talking about the what the songs are about do I realise how dark and depressing the subject matter of most of the album is. This song is about giving your child up for adoption. I read a piece in the Guardian about a white woman from Belfast in the 60s having an extra marital affair with a black doctor. She got pregnant, went through the whole pregnancy and then convinced the midwife to tell her husband that the baby had died in labour so that he didn't see that it was not his own child. She put him up for adoption and visited him all the time until adopting him herself years later. I thought it was an amazing story so I wrote this song about it. I love the end of the song where it gets quite aggressive instrumentally, with the lyric "I'm dying to see your face" I hope it portrays the desperate need to see that child again.
A Woman's Mind:
This is one of my favourite songs from the album. It is quite an angry, aggressive song about a woman needing to be needed. I think we can all sometimes feel that way. And because Anne Boleyn was still inside my head at this point there are lyrics like "for you my dear I'd sever my head, without you my dear I'd rather be dead". Quite a terrifying lady really who is probably quite an obsessive and possessive person. I was also thinking about getting a bit older myself and what it means to stop being a girl and to become a woman. I love the mood of the song, the power of the drums, bass and the guitar parts and the string section in the middle.
I am you, you are me:
This was written about my mum. A lot of this album was written during a difficult year in my life and I was feeling very reflective. I was thinking about how similar I am to my mum both in appearance and in the way that I am as a person, and that there is a bond between two people that is unseen but always there. This is probably the strangest song on the album instrumentally as there are these bursts of fanfare trumpets, an almost jazzy mid section and the verses have a pulse, like a heart beat, of drums and bass.
All I Need:
We went into the studio about 5 months before we did the whole album and recorded 3 songs and this was one of them. It is a really positive song about being able to succeed, to be a better person and rise above some difficult situations. There are mariachi trumpets, strings, a waltzing drum beat and harmonies. Most of the album in spite of the subject matter is very upbeat, but this one is also more joyous lyrically too.
Without These Words:
The last song on the album is about how I sometimes feel I have to write music to feel myself, and how my head can be filled with all these different characters and that sometimes I wish they would go away. The song has a lovely string arrangement on the pre-chorus and a powerful chorus and ends with an epic sing-a-long which seems the perfect way to end our album.
On This Island is out now on Tantrum Records
You can visit the band by heading to http://www.myspace.com/6dayriot