A Badge Of Friendship Interview Visit A Badge Of Friendship
Please start off by introducing yourselves and telling us a bit about your favourite things?
Claire:
My name is Claire. I run A Badge of Friendship with Paul - we've been doing ABoF for around 5 years now. My favourite things are music, art, fashion... I also love food (particularly baking and trying to perfect my lemon madeira cake!), travel (Barcelona has become one of my favourite places), dreaming of a life of being able to wear PJs permanently and playing Left 4 Dead / Guitar Hero.
Paul:
…And I'm Paul and some of my favourite things are American dramas such as Dexter and Battlestar Galactica, listening to all manner of music (too much to list), any David Lynch film, Celtic FC, Pro Evolution Soccer and Yorkshire Tea.
A Badge Of Friendship began as an underground music gig promotion company. Did you ever struggle with not only finding the best un-heard of bands but also getting the crowds in to hear them?
C:
We learned a lot of lessons from starting with gig promotion - it was quite hard. We had to get savvy really quickly and started to really try and PR each gig and find nifty ways to draw more people to the shows like working with record labels, magazines or websites - this always helps. We were lucky that the bands we worked with were really passionate and would try and bring their friends down but it's a team effort - the promoter really has to do their bit as well. It was a struggle at times and frustrating seeing amazing bands play to small crowds but it was really encouraging when we had some of our busiest nights for bands that many may consider difficult to listen to. A fickle game!
P:
Those two points are the main two reasons most people give up the ghost very early on of their foray into music promotion. The only way to overcome these issues is to keep plugging away and have complete faith that the bands you are putting on are worthy of people making an effort and spending their money on your night – ahead of all the other gigs in London! It is difficult, however if you trust your instincts, keep your ear to the ground and tap into what is a very healthy underground community, you can overcome these difficulties.
It's not often that the PR companies behind the bands get noticed by the fans. It must still be rewarding work though, so what's the day-to-day stuff that makes you guys smile the most?
C:
Personally, I feel really chuffed when bands get great reviews and features in magazines. I feel just as happy as the bands do and it feels almost like we've won a prize or something! I treat every little review and feature to the really big ones just as important - everything counts. Ex Libras recently got their first big feature in Classic Rock Prog - a big one pager all to themselves - plus a review and "Critic's Choice" accolade in the magazine - that put a big old smile on my face. Also the little things like us guesting on Total Rock Radio and Amazing Radio (both happening in Feb) - we have so many interests, we don't just want to be sat behind our computers all the time. We've got lots to say and are quite opinionated people and want to try and make a little difference in music in our own way too. Plus DJ-ing for aftershows and things - we usually bring a few mates along with us and it's a good free night out, lots of fun. There are so many things that make us smile. It's a really hard job but really rewarding.
P:
Definitely reading a stellar review of a band who you have put your faith in and who have put their faith in you. This is the ultimate vindication that your belief in something has merit. Furthermore, we wouldn't want to be noticed by people for the sake of it or for some misplaced desire to be famous, instead the most rewarding part of ABoF is the fact we have gained complete independence in our working life which, for me, is one of the most important requirements for day to day life.
Ex Libras; a recent A Badge Of Friendship roster addition and a firm live favourite of The 405
ABOF has a pretty diverse client roster; which band would be the hardest band ever to do PR for and which artist would be the most fun?
C:
Am assuming this is a "fantasy band". That's a hard question... The hardest bands to do PR for are the ones that don't sound very linear or appealing to the masses - the challenging bands. This can be a great challenge though because when you do get results, you really feel like you've broken some kind of little barrier. I can't choose a band that would be most fun I think - I generally love the PR side of things. I treat it like I'm in The Sims or something and getting these results and making these bands seen is part of the strategy of the game (all those years of playing Transport Tycoon, Sim City, The Sims etc clearly had an effect on me!).
P:
The hardest band to do PR for would be any generic indie/pop type hotchpotch that I would have absolutely zero to say about and would rather melt my face with a rusty iron than potentially give air time to. The most fun would have to be Spinal Tap – the farewell album and tour. I foresee live shows with midgets, woodland creatures and White Witches and a double album that if you play backwards it tells you that your soul has been shat out by Satan, or something… Nevertheless, it would be fun.
Our readers might not know it but The 405 and ABOF get on pretty well! Do you think that indie/networked music sites will ever outgrow print?
C:
I definitely think that some music websites will outgrow some print publications. It's evident now, unfortunately, from the poor sales that some magazines have seen these last few years. However, I really feel there is still a need for some magazines and there will be the mighty few that stick around. It's also still hard for websites too - music fans can get their news, MP3s, information etc anywhere and there are so many music websites and social networking options that to try and get folk to specifically come to your site only time and time again must be very difficult. Again, there are a few that will prevail! Quality writing and content, I believe (or hope!), always wins in the end.
P:
Absolutely. The process of this in the written media has already started to unfold. You already have an abundance of free papers doing the rounds now due to the fact that most people already have the most up to date news being fed to them via laptops, mobile phones and blackberries no matter your location. The Evening Standard, once London's flagship daily paper, has now had to become a free publication just to compete. The Internet has allowed any individual to read what they want without having to read what any particular paper/magazine/fanzine is trying to preach to them. The choice is solely the readers, which in turn, benefits the likes of The 405 and others as there is room in the market to have your likes, dislikes and thoughts conveyed to a wider audience. Furthermore, there are a plethora of excellent writers on blogs and forums who are infinitely more talented than some of those who have made a career in the written press. The content, you can find on some blog by Joe Bloggs far outweighs the peddling of propaganda, scandal and celebrity obsession that we have thrust upon us on a daily basis.
When're you guys going to get some badges made? Seriously?! We all want one. Also, what other merch would you conjure up if you had the chance?
C:
We did have badges back in the day! Little green and orange ones! We used to give them out at our shows, I think we may have a few kicking about somewhere. I'm not sure what other merch we could conjure-up - unless you're a band, something with "A Badge of Friendship" slapped all over it, may seem a bit contentious! Maybe ABoF pants? Yup, maybe our own range of comedy underwear or something, with "A Badge of Friendship" written over the crack! Class.
P:
ABoF long johns in case we have another cold snap like this winter. ABoF totes toasties with individual toe holes where each toe has an individual small philosophical message – like fortune cookies. ABoF smoking paraphernalia – lighters, tobacco tin, papers – sorry Mum. Then we could start to infiltrate the religious sectors. ABoF dog collar, ABoF Yamulkes and ABoF Putkas! The opportunities are endless…
You guys definitely have your ear to the ground music wise, but instead of asking 'top tips for 2010' we want to know what, who and where you think will be big in 2015.
C:
What - I've been hoping Back to the Future (2) style hover boards would be big since I was a youngster but it just hasn't happened yet. Will 2015 be the year? Who - Someone like Lourdes (Madonna's kid) will probably be the next Hollywood kid on the block. They churn them out these days - every five years or so, some new Hollywood spawn will be huge. Where - Not sure "where" will be big in 2015. Maybe Barcelona... I'd like to be living it up there by then!
P:
We will be superstar PR gurus travelling the world in our mystery jet en route to some Sheikh in Dubai who has paid us a fortune to DJ at his son's (the Prince) birthday appearing alongside Sonia and Terry Nutkins – Posh Spice will making an appearance at some point though – result! Still the same little me, just a bit older and definitely not wiser. Hopefully, we will be sunning it up in some beach in some far flung country!
Lastly, what is the strangest thing that a band/client/label has asked you to do that you're allowed to tell us!?
C:
We're not *that* close to our clients that they'd ask us anything x-rated or dodgy - haha! "We'll use you for PR if you give us a lapdance... dance ABoF, DANCE!" We're really lucky that our clients are all normal people, sound of mind!
P:
Nothing weird or wonderful unfortunately. I am hoping though, in years to come we have some artists befitting of Trent Reznor and Marilyn Manson in their debauched prime.

Overthrow | UK Interview Visit Overthrow | UK
Could you please introduce yourselves and tell us a little bit about what you do and why you do it?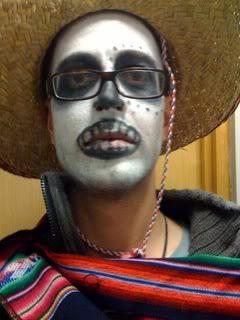 Hello, we are Overthrow|Uk. We do advertising, design, web stuff, film and sound for a wide range of clients, from rapper and hypnotists to lawyers and hackers. We do it for riches, fame, glamour and the hope we will eventually be asked to join forces with the upper echelons of advertising elite and be accepted in to the Illuminati - apart from Paul who is an eco warrior and Jonas who is Norwegian.
You're one of the proud sponsors of These Monsters album launch party (like we are..!); so if you guys were a band instead of a company, what would you sound like?
Eclectic. Perhaps something like the result of locking Miles Davis, Talib Kweli, Pink Floyd, Phil Spector, George Martin and Ali Farka Toure in a room and waiting for the resulting album.
What would you say is the most important philosophy when it comes to design and film making?
We have a strap line - the best idea wins. It kind of does what is says on the tin. This is our guiding principle and following it helps reduce creative ego, politics and hierarchy. It also results in the most effective or relevant outcome for our clients.
For the sake of contrast (we've asked this question to someone else recently too...) Instead of asking 'top tips for 2010' we want to know what, who and where you think will be in 2015?
We follow the Mayan calendar and think we will all be dead by then I am afraid. :-) I guess there is quite a contrast?
Could you tell us three of your favorite hilarious music/art/film related pieces of trivia?
Lady GaGa, Jedward or JLS are all hilarious in a bad way. This one counts for 2. I took it word for word and claim no credit. I just love it! "When British Rail, one of the largest railway networks in the world, decided they wanted to have an advertising campaign to improve their poor image in the early 1980's they asked several agencies to pitch for the job. One of the agencies arranged a meeting at their own offices after they had finalized their pitch. The BR managers turned up at the agreed meeting time and the receptionist showed them into a meeting room and told them that the advertising team would be with them shortly. Whilst they waited, they slowly began to notice how dirty the room was – there were stale cigarettes stubs in the ashtray, the room smelt badly, there was litter on the floor, sticky seats and the windows were unwashed. After 20 minutes, they began to get impatient and one of them went out to speak to the receptionist who told them that unfortunately the team had been delayed but would be with them shortly. After another 20 minutes and, growing ever more impatient, one of them again left the room and asked the receptionist what was going on. The receptionist rather bolshily told them that they would be seen to soon. Confused, the BR manager returned to the meeting room where the conversation inevitable focused on how unbelievably stupid it was for the advertising agency to treat important clients this way and how they couldn't understand how this large advertising agency even had any clients at all who were willing to put up with this sort of behaviour. Another 20 minutes past and the managers from BR decided that enough was enough. They all got up and opened the door to leave the room. Outside, the Advertising Team were waiting with their message – You now feel like your customers do. This is what the public think of your service. You're dirty, you're late and you're rude – but we can help you. "We're getting there" was born. The slogan worked because it implicitly acknowledged the existing failings but promised that the organization was working on improvements."
Which band, film-maker and artist would you most love to work with/be hired by?
Any one with interesting material or ideas really, it helps if they understand their market and respect good design. We already have some good people we like working with but it would be nice to do a film cover for Warp Films, Darren Arnofski or The Coen Brother. On the music side we would like work with uk artist, uk label,Talib Kewli, The Roots. My business partner and I have both talked about wanting to work with Anthony Gormley and we already work with some great artists.
Twitter or Facebook? Spotify or Last.fm? Centaur or Minotaur?
Facebook, Spotify and Centaur - Minotaur made my eyes hurt.
Lastly, what are your most exciting plans for 2010?
We will be helping Art for Kunst with there next release and Chester P with some design and web site work. We will be launching a music based web site as a side project too. Jeet has fully fitted his sound room and booth, and should have his 5.1 monitoring system soon, so we will be focusing more on sound, mixing and recording. Then hopefully generally being very busy, expanding the team and making our offices and even nicer place to work.
We have some great projects and clients that we are either working with or are in discussion with and will be working on a nice range of briefs from Music releases, feature films and viral videos to ad campaigns, events promotion and product launches. We are really looking forward to getting our teeth stuck in and having fun, unfortunately I can't talk much about them al yet. A Badge of Friendship are going to be doing some PR for us and we are launching our blog so keep an eye out for updates and news.

These Monsters
Album Launch! Supported by
Shield Your Eyes
+
Munroe Effect
With very special guest DJs
Pulled Apart by Horses
Friday February 19th 2010
The Lexington
96-98 Pentonville Road, London
Click here for tickets
- £5 or £6 on the door. Doors 7.30pm – 11.30pm
Links
www.abadgeoffriendship.com
www.overthrowuk.com
Brew Records
Function Records
These Monsters