Leave a Swedish singer and her band in a foreign country without directions and you're bound to get a crazy mix of something. Following them around the Dutch festival Motel Mozaïque, cranes; joking around; running around and a lot of white wine is all a part of the life Nina Kinert welcomed me to capture.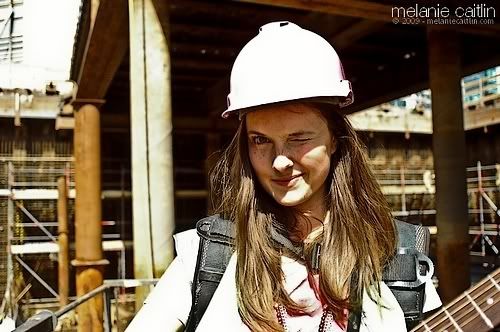 The 11th of April starts early for Nina Kinert with a long drive to Rotterdam, where she'll be spending the day entertaining an unknown crowd with her music. Arriving at the venue she'll be playing, Nina has no time to sit down and relax. Instead, she is rushed off to a radio station to perform a few acoustic songs, leaving her band behind. The organisation lets her know she is scheduled to perform in a lift. Dressed up in a diaper and a pink helmet she enters a rather shabby basket attached to a rather large crane, taking her up into the sky. That's right, a crane. "My band will be so sorry they didn't come down for this", Nina tells me.
After the radio session Nina and her band make a quick stop at their hotel to check in only to rush right back to the venue to set up their stage for their performance later in the evening. Changing around their previous set up, waiting for permission and approval they spend their time tuning instruments, sitting around and watching other bands sound check.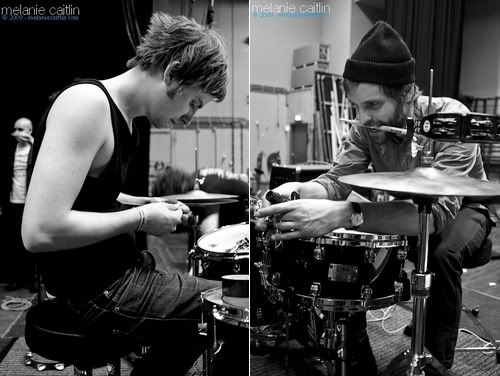 Waiting around for stuff to get done makes touring feel like an average job, according to the band.
The best average job out there, they add.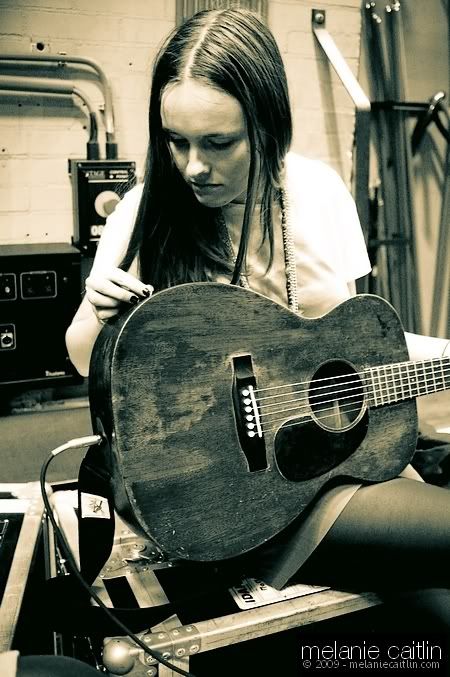 And so time passes by as the band gets ready for their show. After hours and hours of discussing possible set up plans, soundchecking and running around the venue it is time to grab some dinner. Although, you wouldn't quite tell from their almost childlike enthusiasm for what they do, the multiple glasses of free wine remind me Nina and her band are anything but children. And the multiple glasses of wine remind them just how much fun it is to tour.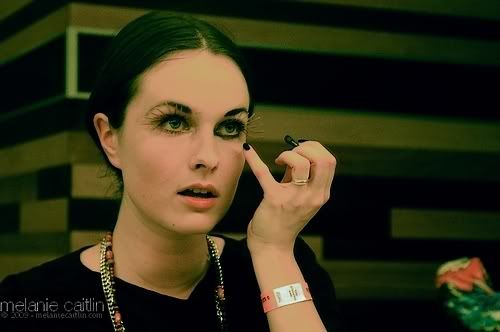 A quick dinner later, the band rushes back to their dressing room to get dolled up for their show. "I wear a lot of make up on stage", Nina says.
About 30 minutes and - indeed - a lot of make up later the band is good to go. It all gets real when the stagemanager runs in telling them they have 5 minutes left. "We do still get nervous. Especially when we play really small or huge venues. Whatever is in the middle seems to be fine with us." In the dark area known as the sidestage, Nina and her band take a few minutes to encourage each other to play an amazing show. An amazing show would be the understatement of the year. A festival crowd waiting just for Nina Kinert welcomes them with such a loud applause, it could easily damage one's ears. In return Nina and her band play all of the crowd's favourites, from the wellknown 'Beast' to sing-along 'I shot my man'. Even though Nina was nervous about singing because of a sore throat, she manages to play a great gig adding several impressive new songs like 'Wings' and 'Original sin'.
Back in their dressingroom, the band gets the rare opportunity to sit down and relax. And so more white wine is consumed celebrating yet another day on tour.

Text and photos:
Melanie Caitlin
A big thank you goes out to Nina Kinert, her band and her manager Mikael Gustavsson for allowing me to capture this day and trusting me with it. I couldn't have asked for anything better!
For fullsized photos click
here
.  A 'behind the scenes' piece on the day and my personal experiences will be posted up here by the end of the month.