It's official, the curse has been lifted and Kevin Durant has been freed from its undeniable wrath. The basketball world was in a frenzy on Independence Day when it was announced that Durant was leaving Oklahoma City Thunder for the Golden State Warriors, (the team who ousted them during the playoffs this year and the champions representing rapper, motivational speaker and sports guru, Lil B's hometown.) For some sports fans, the swap felt like an ultimate betrayal - see Vince Staples - but all seemed right in the world when Lil B took the opportunity to make peace by lifting his BasedGod Curse, freeing Kevin Durant from its confines after five long years.
For those unaware, the Based God Curse is the most revered karmic energy sifting through the sports world, assigning accountability to players who disrespect the Bay area rapper in any capacity. It was Kevin Durant who kickstarted the bad energy when he took to Twitter to diss the artist, calling his music "wack" back in 2011.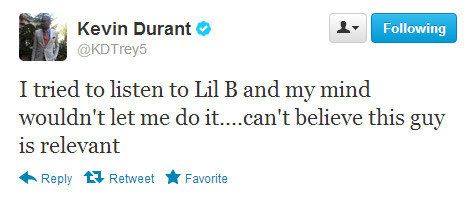 But Lil B, (aka Brandon McCartney,) harnessed his powers and on May 26 2011, he cursed the forward player publicly with the unstoppable force now known as the Based God curse - an unfathomable power that may just be one of our generations greatest mysteries.
KEVIN DURANT WILL NEVER WIN THE TITLE AFTER HE SAID "LIL B" IS A WACK RAPPER,

"THE BASEDGODS CURSE"#THEBASEDGODSCURSE ON DURANT - Lil B

— Lil B THE BASEDGOD (@LILBTHEBASEDGOD) May 26, 2011
AND FUCK KEVIN DURANT LIL B FOR LIFE - Lil B

— Lil B THE BASEDGOD (@LILBTHEBASEDGOD) February 17, 2014
And since then, Durant hasn't won.
As if negative energy and a giant stain on his career wasn't enough, Lil B also released a Kevin Durant diss track which relies on the articulate hook 'Fuck Kevin Durant' to really propel the song's level of greatness.
But Durant wasn't the only one paying for his lack of respect. Lil B also had some serious words for James Harden (and most of the Cleveland Cavaliers,) for attempting to take credit for something he's certain he originated. When Harden and co. gained notoriety for their "cooking dance" celebration, Lil B took to twitter to warn them of his powers and that they could face the same fate as Durant.
Go warriors @warriors and let James harden no he doing the Lil B cooking dance if he doing that flickin wrist or whipping he mark - Lil B

— Lil B THE BASEDGOD (@LILBTHEBASEDGOD) May 21, 2015
People that steal from Lil B will pay now or later all you have to do is pay respect to the original and the leader blind ones will - Lil B

— Lil B THE BASEDGOD (@LILBTHEBASEDGOD) May 22, 2015
This should be official logo of #BasedGodCurse pic.twitter.com/sxQMbZHc0P

— Beke (@BekeGSW) May 22, 2015
When NBA fans began to realize that Lil B may not be the internet's biggest troll but rather a gifted rap wizard instead, other teams began to save themselves from the Based God's wrath.
Dear @LILBTHEBASEDGOD:

We're not like the others. Please show mercy and spare us #THEBASEDGODSCURSE. 🙏

Sincerely,
The Hawks

— Atlanta Hawks (@ATLHawks) May 22, 2015
LIL B is here to keep honesty and integrity in the NBA and other sports and protect people who care @NBA @ESPNNBA @NBAcom @NBATV - Lil B

— Lil B THE BASEDGOD (@LILBTHEBASEDGOD) May 22, 2015
But now, after five strenuous years and title losses, Lil B has lifted his curse against Kevin Durant following his move from the Thunder to the Warriors. In an interview with CBS Sports, he even went as far as explaining that he'd "seen Durant's heart and earnestness and said it was only right for the curse to be lifted." Thank you Based God.
"The BasedGod" wants to speak,As life unravels and superstars make decisions that change lifes, welcome home KD the curse is lifted - Lil B

— Lil B THE BASEDGOD (@LILBTHEBASEDGOD) July 4, 2016