The USA is a massive place. That doesn't really need saying, but it's important to stress the point when considering the American music scene. How many of you, when faced with placing The Killers, Sonic Youth or Death Cab for Cutie, would say they were from 'America'? Until I started playing the States game on Sporcle (
this thing
), I probably would have too. And yet, faced with this continent over 4000km wide, one city keeps popping up in the descriptions of bands, appearing like a rash across my search engine results. That city is
Portland, Oregon
. Over the last few years, it's been a hotbed of musical creation, throwing out and drawing in countless fantastic bands for The 405 to review.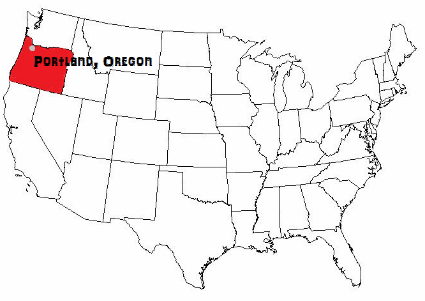 A west coast state, Oregon is south of Washington, where Seattle's grunge scene ruled O.K. in the USA and everywhere else for most of the nineties. Wakefield-born twin from
The Cribs
, Gary Jarman, has been living in Oregon's largest city with his wife, bassist Joanna Bolme, for a few years now. The Cribs have their roots firmly in the Yorkshire soil of their youth, but as Gary said in a
Pitchfork interview
, Portland is a "real pot of creativity", and some of the tracks on 2009's
Ignore the Ignorant
were written there. To help me out as an outsider,
Cory Gray
from Portland band
CarCrashLander
, who I interviewed
here, last year,
gave me a little summary of what Portland is like. "March in Portland is a dreary misty greyness that can keep you inside for days on end, though you are hard pressed to find a pedestrian with an umbrella. Nobody fights the rain. But hopes are high (c'mon global warming) for the spring and summer, where a little sun can transform this place into the lush Eden that keeps us all here year round. Less than an hour east puts you in the insanely beautiful Columbia Gorge, and just over an hour west to the ocean. The music scene, though rapidly filling with indie crusaders from around the country, has an intensely strong backbone in all sorts of styles. It is a rare night when a worthy concert of some sort cannot be found. This town is always a pleasure to come back to, no matter where you've been."
As for their music,
CarCrashLander
are definitely one of my favourite bands from Portland at the moment. The band's pensive experimental rock seems to have been getting more and more intense, more idiosyncratic and just, well, better since they first put pencil to manuscript, or pick to guitar, around two years ago. Cory was also a member of the Portland rock band
Desert City Soundtrack
.
A band Cory Gray is involved with at the moment is called
Castanets
, the moniker of Raymond Raposa and a changing list of friends. Castanets' rather dark, melodic experimental "freak folk" is a great example of the way styles have come together in Portland: the video for 'You Are The Blood' above is eerie, the song a melange of percussive sound and emotion.
Blitzen Trapper
have been on the scene for eleven years, and they're still relevant and productive, having made 4 albums in the past 4 years, receiving critical acclaim from prominent online music publications such as Spin and Pitchfork. The band's frontman Eric Ealing has been playing since he was three. Blitzen Trapper's music ranges from wildly punk-rock and experimental ('Woof & Warp of the Quiet Giant's Hem') to more sensitive acoustic tracks ('Black River Killer'), all of which are wonderfully sung and played by the band's six members. Last year, 405 writer Sarah Sahim loved
their single 'The Tree'
.
The Thermals
spring to mind next; their upbeat, homemade guitar rock isn't particularly original. It's just a perfect example of great modern punk-rock, following follows in the footsteps of Stephen Malkmus (probably literally - he lives there now, with his wife and two kids: very rock and roll). The lyrics are deceptively profound as well though, giving The Thermals an extra dimension of listenability. Anyone who likes a nice grunge guitar sound but also washes and cuts their hair at regular intervals should love this band.
On any single town's scene, things begin to get incestuous when you start exploring more than three or four artists - so now for my final plug:
Quasi
, a great raw rock trio, are made up of Sam Coomes, Janet Weiss, and yes, Joanna Bolme, the wife of Cribs bassist Gary Jarman. A tour round the best of Portland has lead me full circle, to Quasi, who formed in 1993, adding Bolme to their line-up later. And they're still going, still making brilliant lo-fi music.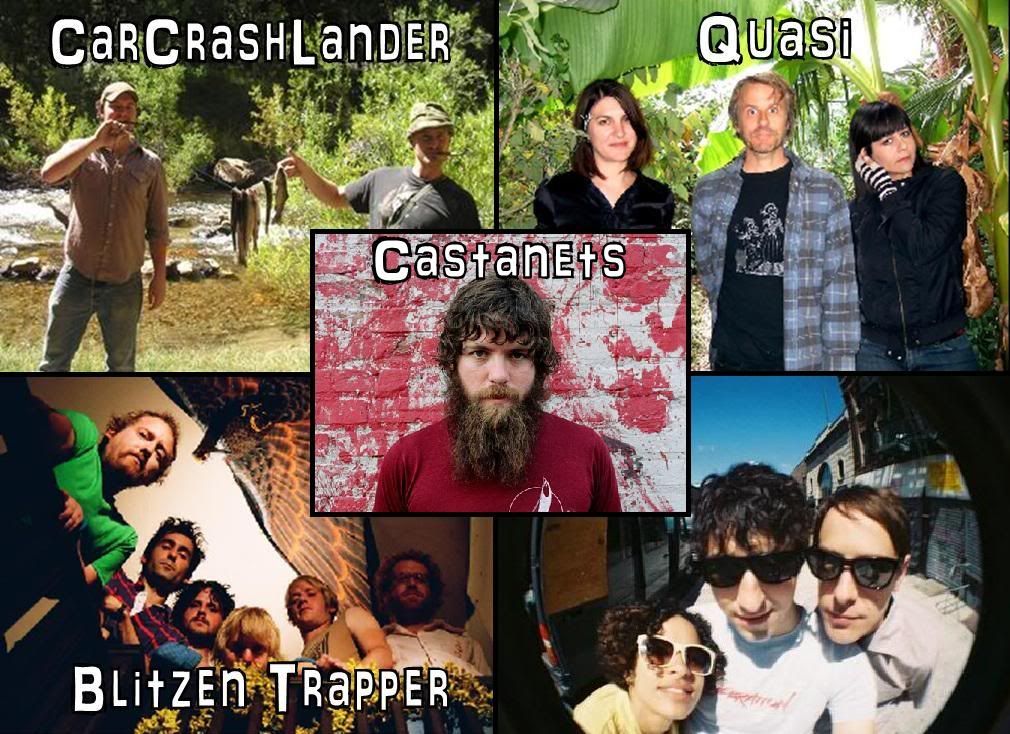 Portland is currently, as far as indie rock and punk is concerned, a hive of creation, a world away from the bleak ex-industrial town in the Midlands where I live. The youth of Portland are blessed in this musical age with an underground scene worthy of a lot of attention, and I guess all we can do, from afar, is give it what it's due, because I guarantee that if you like any of the bands above, then other bands like stylish rockers
The Taxpayers
(
here
), melodic
Grand Hallway
(
here
)and more electronic, experimental
Menomena
(
here
) will also rock your boat.