On a brisk February evening in Chicago's Thalia Hall, a festive mood hung in the air as an enormous group of kids, bubbled with energy and eagerly awaited entrance to the Summer Is Forever II tour. Featuring Wavves, Best Coast and Cherry Glazerr, the show was actually the second in Chicago and was only added after the first night sold out so quickly.
For Ghost Ramp, the record label run by Nathan Williams of Wavves and his cohort Patrick McDermott, the tour was the result of a careful evolution from an ambitious idea. "Summer Is Forever II kind of started as a Ghost Ramp festival concept," said McDermott. "We were going to do it in Los Angeles. Then, we were like, 'Let's just do it as a whole tour.' So I think that the idea started as a little bit of Ghost Ramp, and it just went from there."
When toying with this idea and working with bands as popular as Wavves and Best Coast, some difficulty can typically be expected in negotiating the business and scheduling side of things. But according to McDermott, this really wasn't the case when putting together this tour. "At first, we were like, ' I wonder if they'll let us,'" he explained, "but Bethany [Cosentino of Best Coast]'s camp was super nice about it. They don't have to let us on here. It has been awesome. The initial fear from management would have been, 'Will it take sales away from the other bands?' But instead, it has been record numbers for everyone."
But beyond traditional tour metrics, Summer Is Forever II was an opportunity for the burgeoning and booming success of Ghost Ramp to enter the physical domain. "For me, it has been a lot of fun because everything has been so online-only and just me and Nathan brainstorming in our own little world," smiled McDermott. "So it is nice to actually meet fans and be in front of it and be a part of this machine. It is pretty humbling and awesome."
Prior to the May 2015 release of the debut LP from Spirit Club, Ghost Ramp "was an aesthetic label that [Williams] would use to co-release the Wavves LPs and some small stuff, like Trash Talk 7"s." It had originated as Williams' blog but expanded into an aesthetic brand once his career with Wavves launched. But since the release of the Spirit Club record, Ghost Ramp has expanded aggressively by releasing more records, adding ambitious projects and diving into unique sectors that few other labels seem to be exploring right now. The ambition seems to be paying off.
The label's quick rise was the result of a firm friendship between McDermott, who has had years of experience in the record industry, and Williams. "I was fast friends with Nate when I moved to L.A.," said McDermott, "but then I got a job at Captured Tracks and moved back to New York. I had been there for like two months and I had helped with some ideas, just in the sense that I had been on the label side, and we were all hanging out and it was easy to talk about, 'Well what if we did this?' And Spirit Club was coming along and this bartender from this bar we went to in L.A., a guy named Jason Finazzo, had a band called Birth Defects. That was the first big thing. I wasn't even involved in the beginning of that process, but when I came in I kind of took over that record and started doing Spirit Club and all that.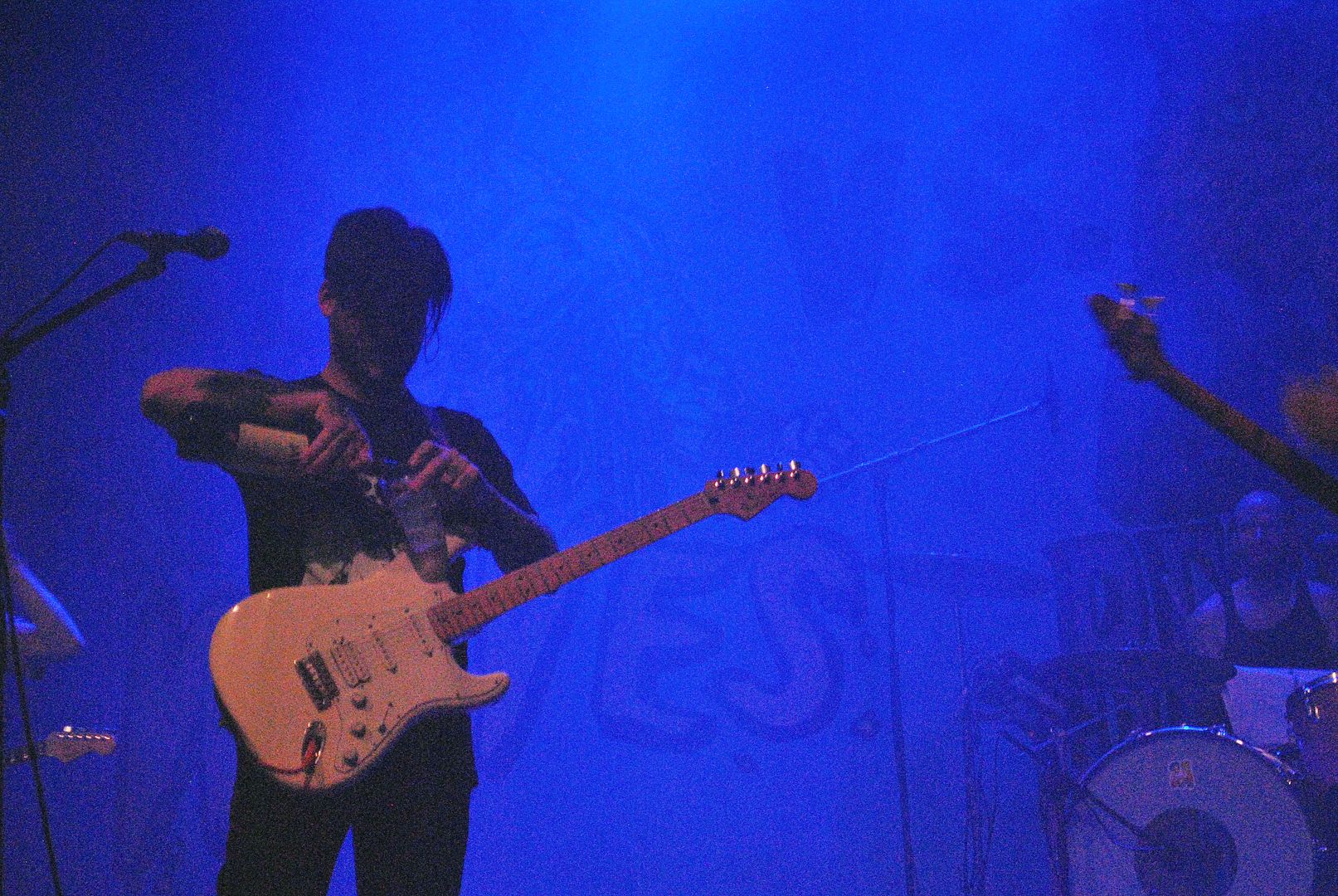 "So for maybe six months, I was working tangentially from New York as sort of a side project," he continued. "But once we built enough steam, I was like, 'This is so much more my speed.' I love having more creative control and working with Nate, who I really respect. It just felt more like something I believed in and had a lot more say in. I also felt that my skills were being better utilized. Captured Tracks was a great experience, but I was just doing design and didn't have much other input. So I moved back to L.A. and we drove straight to Austin for SXSW, which were some of the first Spirit Club shows and Sweet Valley did a Fool's Good set. We got some momentum and it felt good. Then, when we put out the Spirit Club LP through our web store, all the earlier connections we made come together and we realized, 'Damn, we can actually do this thing.' It has snowballed since then."
In building Ghost Ramp, McDermott and Williams have collaborated closely with friends and previous colleagues, but not just because of the closeness. "We are really lucky to have really talented friends!" exclaimed McDermott. "It isn't like it is a charity case, these people are really good at what they do. Like, I was a sound guy and Jeff [Somers of Steep Leans] was a bartender at a bar in Boston. I credit him with a lot of my musical growth in my early to mid-twenties. He was just a cooler kid than me. He didn't give a shit that I was more into folk music and songwriting, he was just like, 'Let's learn together.' It was fun."
Other artists that have been added to the label, including Gracie Jackson, have kept the roster largely comprised of friends or people from within the same circles. Business partnerships have also come from the same place. "We have a partnership with Dennis Herring and his studio [DTLA Recording]," McDermott elaborated. "Dennis produced King Of The Beach and has a few Grammys. He has done an Elvis Costello record and a B.B. King record and a Buddy Guy record. He's amazing. That partnership has been awesome, and comes from some history between Nathan and Dennis."
But while the foundations of Ghost Ramp have been built upon friendships and personal relationships, the label's next major step will see them straying into more unfamiliar territory. "The main thing that we have transitioned to outside of that groundwork has been the video game content, which has been amazing," gushed McDermott. "That's all total strangers, in a cool way, because the music industry and video game industry are so different for whatever reason. But we are trying to marry them and bridge that gap a little bit. It has been so fun working with people coming from a slightly different place."
Like any company making a name for itself, Ghost Ramp has started slowly with the new endeavors, but has quickly been gaining traction. "The first game is 'Drift Stage,' which has been awesome and the response has been amazing," said McDermott. "We sold out of this sick shaped picture disc we did and then we've got five other OSTs, with a big feature in PC Gamer outlining the other ones. So we are working with really big indie games, which is its own niche world. But the games we are working with...it would be like the equivalent of Ghost Ramp signing Beach House or something. The games are huge. But a lot of labels aren't really thinking about that world and it certainly isn't for everyone. It is physical-only most of the time, so you aren't monetizing from the other stuff you usually would. So it is its own risk, but I think we are just doing what we actually like.
"When Nate and I became friends, we would just get drunk and play video games," he laughed. "We all have interest and hobbies, but I believe that gaming is one of the most impactful. The social impact of that has formed some of the best friendships of my life in its own weird way, so it has helped reinvigorate the music industry for me, in a sense. Like anyone, you can get kind of burnt out on developing bands and selling records. It is a lot of effort for a minimal fiscal reward a lot of the time, but at the end of the day, we are trying to have jobs. So the video game stuff has been so fun. It has been exciting and is breaking new ground, and it is also pretty accessible and people are responding well."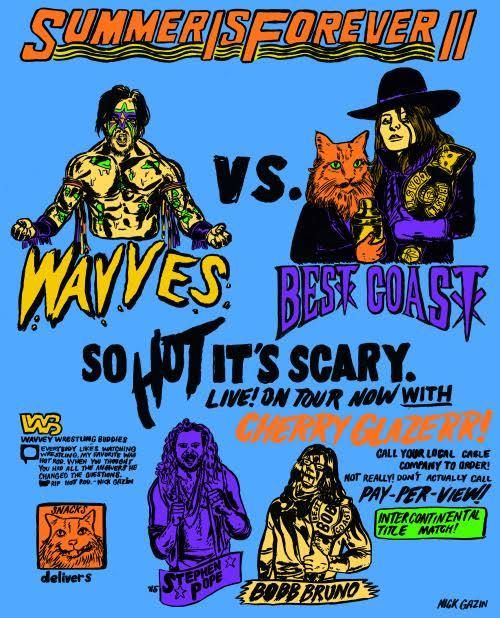 McDermott admitted that there is a risk in trying something relatively new, but that he is curious to see the results as they move into bigger projects. "The first big LP for this game, 'Lisa: The Painful RPG,' made me so curious for when we put the pre-order up," he said with a smile. "It is such a loved game and soundtrack, and it is exciting. We truly have no idea. Even seeing 'Drift Stage' do this well as a much more unknown game is pretty exciting, especially knowing this is right around the corner."
Above all, this venture has allowed Ghost Ramp to experiment with the various ways in which one can couple art forms in exciting ways. "The video game community has an amazing visual art community, as it is even more married to visual art than music because you are inherently looking at visual art the whole time," explained McDermott. "So it has been great to run into these amazing artists that are filled with such passion. Again, it is a different community with similar interests, but it still feels fresh and fun."
But even when Ghost Ramp dabbles in familiar concepts, they have attempted to put a fresh, modern spin on it. With Ghost Ramp Monthly, a vinyl and apparel subscription service that recalls the singles clubs of old, McDermott and Williams have discovered a way to connect with hardcore fans in a personal and meaningful way, while simultaneously expanding their brand and business. In the first several months of the service, the offerings have included a split single from Wavves and Best Coast, a 7" of a cut track from the Wavves x Cloud Nothings collaboration, various apparel items and artwork from Nicholas and Penelope Gazin.
"What we realized is there was this level of interest," explained McDermott. "The overall goal is to reach a wide audience, but at first, we realized there are some people that just really love this stuff. They are buying everything and we thought it would be fun to have something that is exclusively unique to that type of fan. And, I love having a home for stuff like that Wavves/Cloud Nothings 7". I mean, sure, you can release 7"s as standalone pieces and promote them and sell them, but we have a lot of content and a lot of people we like to work with so we wanted an established avenue for it. We can have some months be an amazing, high profile Wavves release and another month can be a more obscure new project. But we love the idea that that avenue still has a consistent number of subscribers and that fan base is being exposed to new stuff and really exclusive, cool stuff."
But while music and records formed the backbone of the service, McDermott and Williams strived to put together a unique product full of quality items that would make the service appealing to a wide variety of fans. "Music was the base of that and having a home for singles was kind of the concept initially," McDermott said, "but then there are some other services--Vinyl Me, Please and a few other big vinyl subscription services--and we realized another big part of what people loved about Wavves and other things are the aesthetic things we do. So reaching out to Nick [Gazin] about the trading cards was a no-brainer, we love collectible stuff. Nate collects so much weird shit. So that was an awesome thing, and now using Penelope [Gazin] to do the enamel pins is great. And even on tour, seeing the response has been crazy. People just love these kind of tactile knick-knacks that are kind of a throwback to yesteryear. It gives people a way to relate to stuff that's still...it doesn't say 'Wavves' on it, but it is still something that is close and in the same vein."
Just as one would expect that putting together a tour with such big names would be difficult, one might also expect that facilitating such widespread collaboration for Ghost Ramp Monthly would be challenging. McDermott asserted this is not the case. "Everyone has been so awesome about it," he said. "No one has really hesitated, which has been great. Nick is a huge supporter and a great guy, and he has worked with Nate so much! I mean..." McDermott said as he gestured with a laugh to the stage where a humongous drape of the tour's poster, drawn by Nicholas Gazin, serves as the backdrop.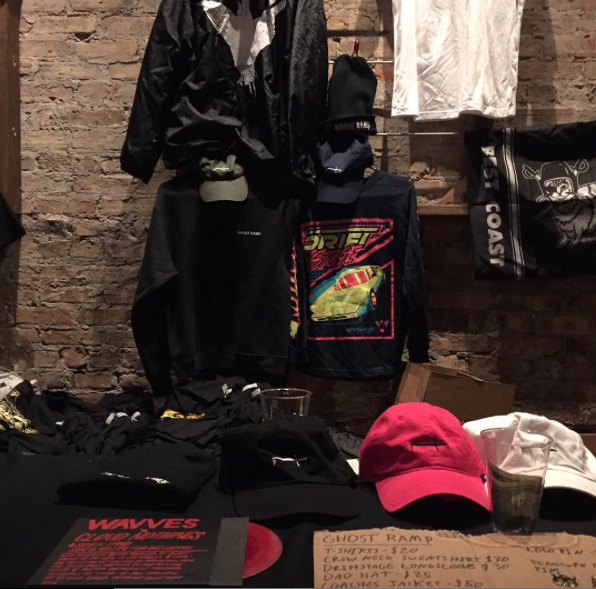 "As for Penelope," he continued, "there is a mutual respect between how everyone has created their craft and their vision, so there is a lot of communal excitement over this stuff. When you understand Nate and Wavves and this whole culture, people don't hesitate to understand that it has some weight behind it and that the fans are awesome and that it is actually a helpful thing to be a part of for everyone. So everyone has been pretty positive about it."
For McDermott, Ghost Ramp Monthly has also been an exciting opportunity to put items that, in an increasingly digital world, might never have seen a physical release. "It is also a fun and exciting avenue for stuff that has been digital-only. Like the March offering is Sweet Valley's So Serene, which has never been on vinyl," he said. "Finding exclusive things that we probably wouldn't have otherwise done is great. I mean, who knows if we would have even pressed that record if it wasn't through this project where we can bring something to life that may have never otherwise seen the light of day."
The service has been significantly aided by the fact that Williams carries with him a large, established fan base. As a result, Ghost Ramp has been able to pursue a project such as this without incurring the same risks another upstart might otherwise suffer. "With Ghost Ramp, we realized early the power of Nathan's fan base and that if we release stuff that isn't totally out of the realm and if we do it conservatively enough that we aren't hemorrhaging money, people will buy it and it will be successful enough that it isn't a huge risk," McDermott elaborated. "I run my own label [Driftless Recordings] and those decisions can be really hard when you are starting from scratch and are investing $5,000 in a project. But with this, we knew we had the outlet to reach some people and the fans are awesome. They really respond to what we are curating."
Like any good business, Ghost Ramp has adapted their model for Ghost Ramp Monthly to include more choice for fans, who will eventually be rewarded with a litany of items, some of which may one day come from outside the label. "Now we have two options: you can just get a record, a pin and a card, or you can get the apparel with all that," said McDermott. "We just have a lot of ideas. I mean, Nate is prolific--Sweet Valley, Spirit Club, Wavves--and in the same sense, we like making this stuff a lot and it is a way cheaper way if someone is already going to be paying into this stuff. You get something consistent--12 different things a year--and if that is your speed, then go for it! So we've been trying to curate some cool stuff and I think that over time, we are going to dial it in even more with collaborative artist months and different pieces like hats and other things. I can't really give details on the exact people, but there will be some awesome stuff in the future where there will be some label curatorial things where another label will have a record of their artists and then we will do a digital release to pair with that. So then they'd kick us a pin or something to do a 'Ghost Ramp x ?' type deal.
"Over the years of this, you meet a lot of people you respect and love," he continued. "Ghost Ramp is trying to expose a lot of different artists, whether it be Steep Leans or Gracie or something, so I think that Ghost Ramp Monthly is trying to do the same thing. Yes, it is our service, but we still want to shed light on other stuff we are excited about, whether it is a different artist or a different LP or whatever."
According to McDermott, this ambitious service has really struck a chord with fans. "At first, I think people were like, 'Huh, this is interesting,'" he laughed. "But once they started seeing the photos of everything together--a nice photo of the 7", the shirt, the pin--they were like, 'Oh, this is pretty dope.' But it is the best on Twitter. When we start sending out the packages and they start landing, I think 75% of people are then DMing me or Tweeting at us or Instagramming a picture. I've never felt that before during any of the other label experiences I've had. People are so jazzed that they are compelled to share it. So that has been a really rewarding part of the experience, where you know you are bringing something really unique and special to people."
With only three months of the service out into the world and such a hugely positive reaction, McDermott is eager to see people continue to enjoy it over the whole year, which he sees as the ultimate reward for his hard work. "It has been cool with month two seeing people show month one and two together," he excitedly said. "I'm like, 'Damn, we are doing something kind of cool.' They look great together and it is a lot of content. My brain is kind of fried, in a good way. We just do so much stuff now that I'm just programmed to think it's normal, but it is kind of not normal in a very cool way. Like in two months time, we already have eight unique items that people have at their house. It is just a cool feeling. We have a lot of help, obviously. There is so much collaboration, which is the most fun thing about it. But I'm thinking what will, at month 12, it look like at someone's house to have a whole year of records and stuff?"
At this point in time, even as the company grows so quickly, McDermott and Williams remain the only true employees of Ghost Ramp, though they do rely on a lot of outside help. "It is just us in the sense of creative control of the situation," said McDermott. "We have an amazing warehouse team that fulfills the items--The Hyv, run by this guy Chase Ortega who is awesome and does a lot of great work for a lot of great people. They manufacture our clothes, they ship all the LPs and they handle the customer service. We have great publicists, we have a great licensing team, all commission based work. But Nate and I are the only employees, I guess I would say, of Ghost Ramp. It can be overwhelming, but we have a good workflow together and there are fewer people to bounce stuff off of in a way that has let us move this quickly. I think at a lot of places, when there is a large chain of command, you can have a lot of hoops to jump through. These ideas just never would come to fruition as fast as we are going. I'm sure someday we may be like, 'Ah, I guess that one was a little preemptive.' But for now, I honestly don't regret anything. I think using our instincts have been pretty spot on."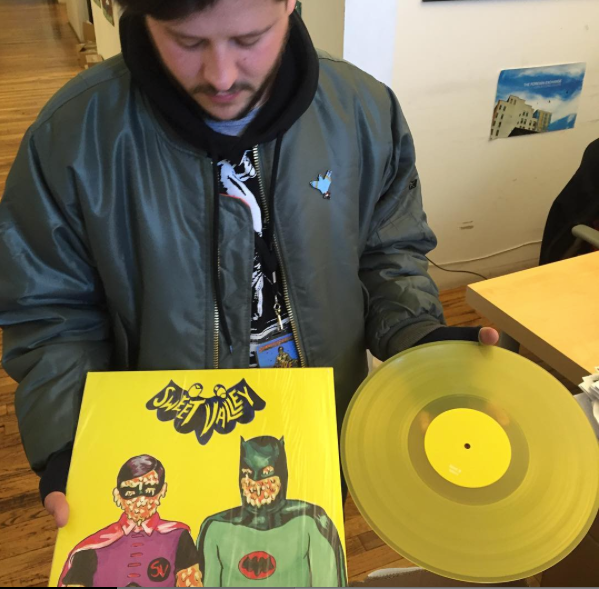 And while the rapid ascent of Ghost Ramp has been taxing on McDermott and Williams, they are very proud of their progress. "Stuff is moving very fast and I am looking forward to a time when I can take a breather and let all this stuff we've built flourish and not really worry about implementing a ton of new things," said McDermott. "But I think we are at the phase where the new stuff and pushing the envelope is sort of why it is doing well. It is easy to get stuck and be like, 'Oh, we are doing well. Let's just stick with what we are up to.' We could have stopped and just been doing traditional band LPs, with no merch and no apparel and it still would have been a cool label. But the fact that we added Monthly and all the clothes and all the video games is really what is making it something new."
The business acumen and innovative vision displayed by McDermott and Williams is perhaps the largest part of what has allowed Ghost Ramp to grow so substantially in the ten months since the release of the Spirit Club LP. This focused vision has been the company's guiding force to this point, as it has allowed them to make Ghost Ramp a more modern company.
"I think from day one, Nate and I had discussed that there is really no point in starting a record label anymore," said McDermott. "It is not a very good business model, in the traditional sense. Like, 'We're just going to sell only records in a dying market where people don't buy LPs.' You can do it, like again, my record label that I love. I know that I'm not going to make a living off it, but I really enjoy the curatorial process and all that. But from a standpoint of wanting to start something you want to become bigger, starting a label is not my first recommendation to kids right out of college. So we knew that if we were going to do this, we would have to make it unique on some level. I don't think we've reinvented the wheel per se, but I think we are adding stuff that, as a whole, is pretty unique.
"Especially because I don't believe there is anyone marrying video games and music as cohesively," he continued. "Like there are video game-only labels, such as Iam8-bit and Data Discs, and then there are music labels like everyone else. And then occasionally some of those traditional labels, whether they be electronic or experimental, will have one-off OSTs and stuff like that. But I think we are going to really strive to have a true marriage of the two worlds. We still have to prove ourselves with our model, but with the schedule coming up we will have lots of awesome opportunities."
But, as a young company, Ghost Ramp has encountered at least one bump in the road. With the June 2015 release of No Life For Me, the long-awaited collaboration between Wavves and Cloud Nothings, the label hit its first true bump as they were forced to go against the traditional album release cycle. As a result, vinyl orders for the record weren't released until the very end of the year. Despite the issues, McDermott has embraced the situation as a learning experience.
"It really actually wasn't that delayed, it was just a unique way to release a record," he explained. "I kind of emailed this to fans subsequently to explain this difficult thing, but traditionally when you are putting a record out for pre-order and setting a release date, that record was submitted to the plants six months ahead of time. But this was a weird situation where we got the mixes and mastered them and the record had to come out because Nathan had V coming out in October. If we had done a traditional cycle, we probably would have announced it with a pre-order in August and released it in November.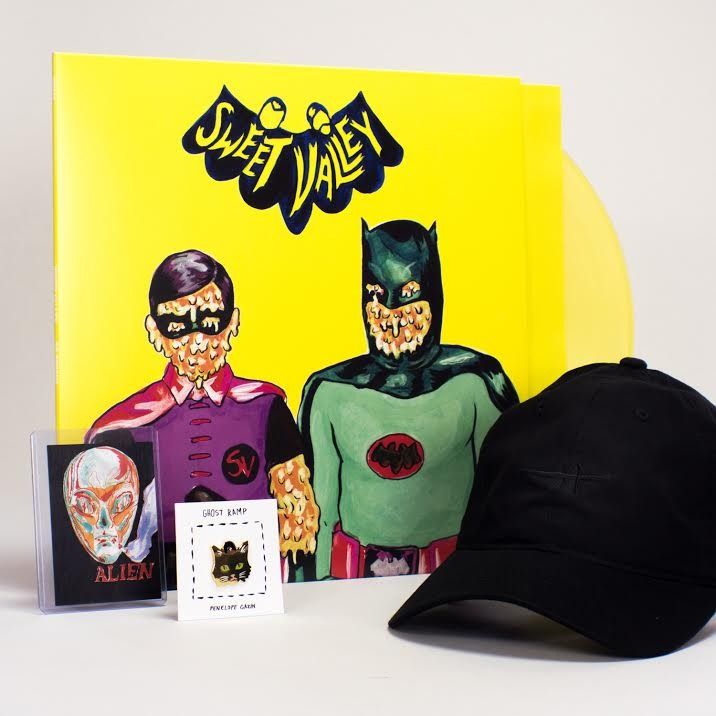 "But we had to put it out digitally immediately," he continued "and in our mind, one side was like, 'We should wait to tell people there is a vinyl option when it is closer to coming out,' but the record was out and people were excited. We had to say that a pressing was coming. And the whole artwork was really based on the pressing--having it all red and being text-based. I felt weird not showing the art concepts if it was already out. So it was a really backwards version of a release in the sense that we announced it, released it digitally and put in the order for the vinyl at the same exact moment. And then of course, on top of that, we hit about a six-week delay as a result of the nature of how swamped facilities are. It was definitely a learning process. I definitely don't want to make anyone wait five months for an LP they've already paid for ever again, but at the same time, I don't anticipate that ever happening. It was a pretty rare scenario to run into, where you are releasing an LP at a time where there are no other options."
But despite the issues, the physical sales for No Life For Me have pleased the Ghost Ramp team. "I just got a report on the store sales and, again even that wasn't ideal because stores had to wait to lose the momentum of the review cycle, but even the stores are really stoked on it and it has been going awesome," said McDermott. "To me, it was our first pressing that, conceptually, was really fun for me to work on and collaborate with an artist as talented as Nick [Gazin]. Obviously, it isn't fucking rocket science, but I think it was fun to make something that was that cohesively strong visually. And that's been the bedrock. The first Spirit Club LP and that record are the non-monthly options that are bigger records and helped to fund the whole ship at this point. It was awesome that Warner Bros. let us do it; it was awesome that Dylan [Baldi of Cloud Nothings] was happy with it. So I was happy it came together. It is pretty sweet to start with two amazing artists as close to an inaugural release."
As of now, the next big music-centric Ghost Ramp release is the second Spirit Club record. "We just got the mixes for the new Spirit Club record today [Feb. 25] and it is such a step up. It is amazing," McDermott gushed. "It is already done and some of the third is already being started. When they are home, it is just video games and music basically. Andrew Caddick [of Spirit Club] lives in L.A. now and Joel [Williams] is back and forth between San Diego and L.A. That's just their thing, so it is awesome. We have people that really want to see them tour. I think that would be the next bump in their story if they can play some more shows. It is hard for Nate with his schedule with Wavves, especially now that they're kicked into gear and supporting this record for the next two years. I'm sure some time home will be really sought after. But I think it would be awesome if they could do that.
"I would say that the record will be here by the summer. It is essentially done, but we don't have art and there could be a few snags, but the bulk of it, which is final mixes, is all there," he continued. "So new Gracie, new Steep Leans, a few other smaller new bands, but most of the new heavy-hitting material in the first six months of the new year will be video game-oriented. But it is crazy when I'm doing these catalogue numbers. We are up to 'GR18' now, or whatever. We are moving pretty fast from '05' when I started. That's over a release per month, and now we are literally having a release every month just from the subscription service."
This rapid growth for Ghost Ramp is probably best exemplified by their next major business venture: a physical store. "I think we are locking it in as we speak," said McDermott. "It would be permanent, three years at least. It is all happening so quickly, more quickly than most small businesses of this ilk would move, but we're just trying to run with the momentum that's there. And we came into a unique opportunity with the space that just seemed perfect."
McDermott sees the physical space as yet another method for the company to branch out and expand their horizons in unique and novel ways that will allow them to connect meaningfully with fans and consumers. "While I think there are elements we are doing really well in, there are worlds like the video games that we haven't tapped just yet," he explained. "Like I think the video game stuff is going to be about half our releases in the future and 'Drift Stage' is the only one so far. And even with the apparel, we are just hitting our groove. We've had some amazing artists we work with, but I'm still designing the stuff. I've never designed a piece of clothing in my life. So it looks cool, but we are like, 'Damn, this stuff is working,' so we've had this guy do some custom-fit clothes. More true fit stuff, still wearable and not high fashion, but custom cut and custom concept pieces. Just trying to take the vision we have and realize it. There is a lot of stuff that you can make that is cheap and accessible, but still cool and that's where we are at. But I think we are excited to still keep items like that, but also, branch out into some stuff that is a little bit more advanced.
"And using the space, I think it will be a great way to invite people in," he continued. "In a world that has become so digital, I love the idea that people can come in and try the stuff, see the stuff. Nate and me are also always excited seeing the work next to each other. Seeing stuff next to each other shows the cohesiveness of the aesthetic as a whole, which I think will be really fun in person. So I think once that space comes together, the video games come together and Ghost Ramp Monthly progresses...it is really awesome."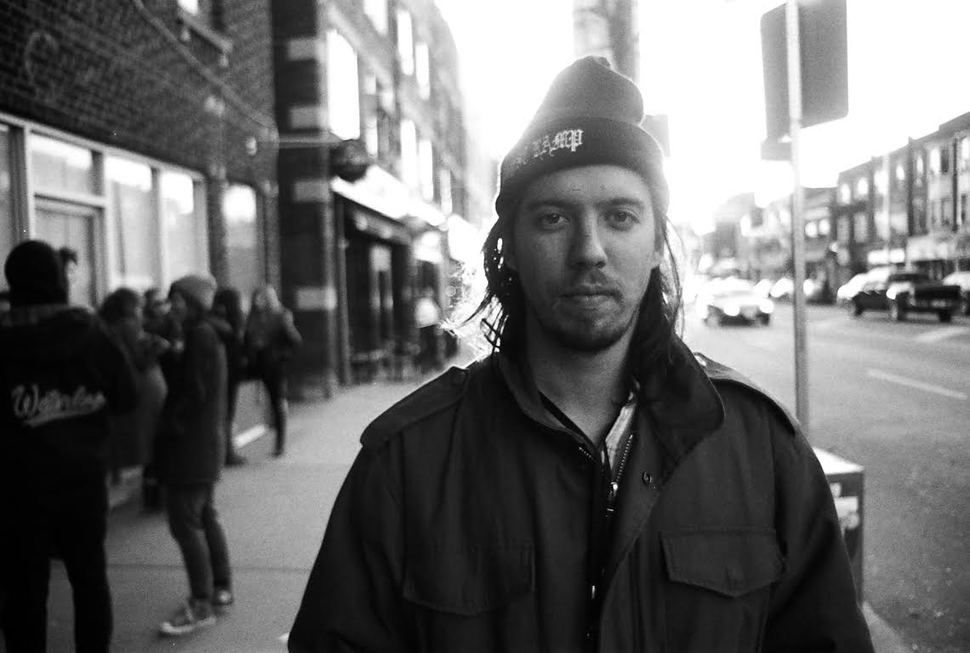 By opening a store and expanding the services of Ghost Ramp Monthly simultaneously, McDermott hopes to see each experience enhance the other and make it better for everyone. "It is all sort of rolling into each other. I think the space will enhance the service in the sense that, although it is in L.A. and not everyone can access it, it is another way for people to come in, see what they are dealing with, see the quality, see what's there," he said. "And it is letting us progress. A lot of our peers are making amazing work. I'm excited to keep making the stuff better and more unique and pushing the boundaries. That's what cool when you know you have X amount of subscribers. It is almost like the stuff is already paid for, so you don't have to be like, 'Let's worry about how we produce this record because who knows if anyone is going to buy it?' You can't cherry it out so much where you lose money on the month, but it still gives us some freedom to make unique stuff because it isn't some crazy gamble. The quantity is largely set. You lose people each month and gain people each month, but we have basically seen that we hit a base number and have stayed right there."
So it would seem that Summer Is Forever II has come at the perfect time, as Ghost Ramp has gotten to tag along and sell merchandise at each show, heightening their ever growing visibility with their target demographic. "I don't know how common it is for a record label to ever be at a show or ever be welcomed by the bands to be a part of it," McDermott said. "I feel like labels often have almost tenuous relationships with their artists and there is a lot at stake. Like I can't imagine Warner Bros. ever selling a Seal record at a Wavves show. So I think it is a unique thing for us. I definitely learned a lot from Mike Sniper at Captured Tracks and their whole model. They have two record stores now in Brooklyn. Mike is a true historian of music and a true vinyl collector. But that's not my world and that's why our store may curate some records, but it won't be a record store. Still, it is so cool that Mike was able to take his label and then tied in another part of his ambition, which is used records and used gear and was able to spin it into this awesome concept. It was inspiring. It is cool that you can marry something that isn't exactly your record label and still find ways to bridge the gap. So I was definitely inspired by his ambition with the record store.
"For the Ghost Ramp store, we are going to have a few arcades and some co-op video game setups alongside all the apparel," McDermott explained. "My goal is to do soundtracks only. So we will still buy other movie soundtracks and video game soundtracks, but keep it niche. We want to make it a place for people to hang out. I think that's part of the idea behind Monthly as well. Even though we aren't literally in anyone's house, it has a personal and direct feeling to somebody. Stuff like the trading cards were such a personal thing to me as a kid, it felt like such a natural component to this. But I'm excited for the feeling of having people in the store and that they are here because of this world. It is so much more than financial transactions. I think people will get excited about that too. And we will do in-store shows and certain event-based stuff. It certainly won't just feel like a minimalist stagnant fashion retail space. We want to make it as fun as possible. Whether it is this space or something six months from now, it is happening."
McDermott is aware that Ghost Ramp is moving quickly--much more so than your standard company--but he thinks you can merely chalk that up to the breakneck work ethic of himself and Williams. "That's how Nate works and I think we've found a good workflow together," he said. "Even today, we were like, 'Man, getting a space isn't the most conservative thing to do financially at this point,' but that's just kind of how we've done it so far. We've never really batted an eye at doing what we thought was right conceptually and we ran it by our business manager, so it isn't some crazy cliff we are jumping off of. But it has been refreshing to do what we think is right."
The tags of "slacker" and "stoner" have long dogged Nathan Williams and to see a company of his own creation thrive has been intensely satisfying. "I think Nate gets a lot of satisfaction when anyone doubts him by showing them that's the wrong thing to do," laughs McDermott. "This whole tour is a testament to the fact that a lot of indie rockers from 2007 and 2008, no matter how much buzz they had, totally fizzled. And here are Wavves and Best Coast on the biggest tour they've ever had. They've kept it up from a work ethic standpoint, not just in terms of keeping up the content and making it good, but also growing up with it and learning how to make it work in other ways. They've stayed relentless and focused. And now Nate has taken it to a whole new level. It is almost like a whole other baby. Wavves is one thing and now Ghost Ramp is whole other conceptual thing that he wants to build."
This rapidly growing company with an enormous ceiling of potential has left Williams in a unique position, as most musicians, especially those on the punk side of music, do not usually have a lengthy career span. "There is no 401k for these musicians, there is no retirement plan, there is no anything," McDermott said. "So it isn't like he is built on 'what's next?' per se, but we can build something larger than even Wavves can do in a certain sense. Just by the nature of being able to curate so many other things, he has a potentially longer shelf life. It is obviously Nathan's product and brand, but I think we've done a pretty good job so far of establishing it as its own thing. It is very Wavves-centric, but if Nate were to take three years off to pursue other shit, it isn't like Ghost Ramp would also be hidden. It is standing on its own in a great way."
At the end of the day, Ghost Ramp is aspiring to usher in a return to the label love of old, when fans could ID a preferred curator of their favorite music and items. It is a rarity nowadays, but that kind of connection is what McDermott thinks will continue to make them special. "I think a lot of my favorite labels are deep electronic labels or metal labels because they have such their own aesthetic," he said. "A lot of indie rock stuff is really well curated, but I feel like people aren't as obsessed with the label concept as they used to be. Whether it was K Records or Factory, there is definitely some fandom but it doesn't feel quite the same as with those names. So I hope we can build something that really emulates some of that. It goes so far beyond just the music."