Ever since the Tidal press conference, the majority of the responses have been jokes. Rightly so, really. Combining the 'all is awesomesauce' feeling of new tech pitches with the spectacle of people who are already notably rich and famous implicitly noting they would like that state of being to continue, it was a bizarre neither-fish-nor-fowl farrago that would have made perfect sense as a live staging for some secret Key and Peele bigscreen comedy.
Madonna's most notable moment all year may not be a new album or outfit but the way she signed the paperwork by almost attacking it. Still, at least we got an amazingly crabby interview on Tidal itself from Pere Ubu's David Thomas out of it, which also underscores why he wasn't asked to be on stage.
Given Jay Z's role as the prime mover of the project via his purchase of the original service, he's come under the biggest focus -- and in terms of aesthetics, it's kinda hard to beat critic Geeta Dayal's take the other day: "Just what does Jay Z have to provide me? I am honestly uncertain... Jay Z's newest CD was dreadful. Hearing that in lossless audio versus paying attention to that on a cruddy YouTube stream?" It's noteworthy that said newest album, Magna Carta Holy Grail, emerged in a cloud of hype about being preloaded onto Samsung phones, anticipating the U2/Apple tie-up, and going down about as well in the end -- both classic cases of people seemingly with nothing left to prove at all beyond a brand image doing something that provoked mostly shrugs if not outright disdain.
Yet for all that, I've been thinking of another role model to compare him to, to a partial degree if not a complete one. It emerged in the original Billboard interview that ran with the Tidal announcement. It provided another odd moment, where Jay Z made this comparison: "People really feel like music is free, but will pay $6 for water. You can drink water free out of the tap, and it's good water. But they're OK paying for it. It's just the mind-set right now." At once it suggested David Bowie's prescient observation from 2002 -- "Music itself is going to become like running water" -- and put Jay Z in a rather rarified world where there's somehow no cost for tap water at all. (Given I live in California, that right now is the understatement of the century.)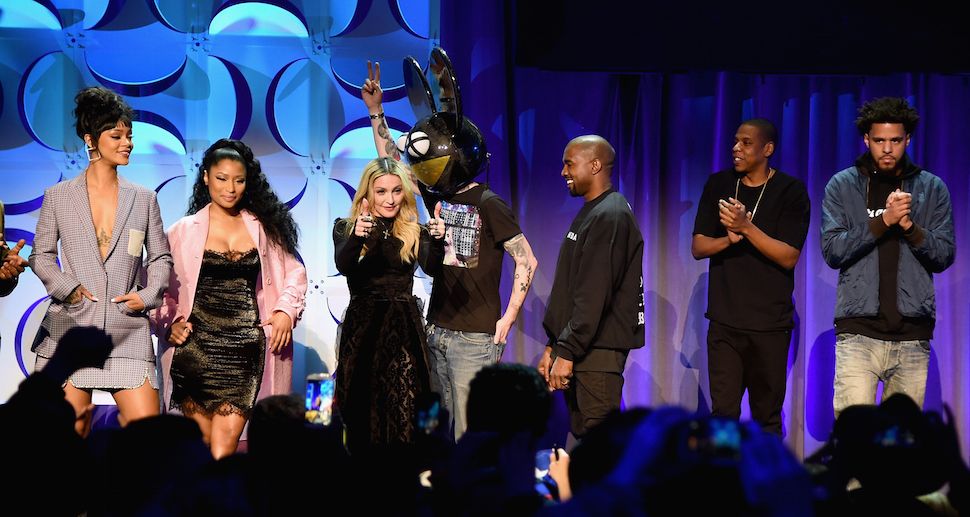 But the real moment I'm thinking of, also noticed by a few writers, further along in the interview:
---
Isn't another of your goals to make sure the revenue makes its way down the food chain to content creators?
Definitely. For someone like me, I can go on tour. But what about the people working on the record, the content creators and not just the artists? If they're not being compensated properly, then I think we'll lose some writers and producers and people like that who depend on fair trade. Some would probably have to take another job, and I think we'll lose some great writers in the process. Is it fair? No. If you put in work, everyone else, you go to work you get paid. That's fair trade. It's what our country is built on.
---
If anything this is the strongest point Jay Z offers up in favor of how to consider the music industry as such -- for a business too often reduced to a conception of struggling artists, The Man, and various toadies for The Man taking all the artists' money, the reality is of course far broader, however much of the business itself still shrinks. If you take a look at any credit list for what currently passes as a big budget release in these more straitened times, it's almost a question of where it stops rather than where it starts. (An obvious comparison, perhaps, but take a look at the full credits for Beyonce's last album -- the DVD adds to it, but perhaps appropriately; that might as well be a movie credit sequence the more you scroll.)
This sense of supporting others beyond oneself with your work is the type of thing that only comes up every so often in the realm of the industry, at least in the public eye. (This story onwhy the Rolling Stones still tour also quotes Larry Mullen Jr from U2, both to illustrate a point, as Mullin puts it: "you employ a lot of people and you are responsible for them.") In the industry, it's well known, the literal cost of doing business, but treated appropriately, it becomes an investment -- the producer you regularly hire, the songwriter whose work you've become a regular interpreter of, the equipment techs and the lighting designers and so forth. Again, this is superstar level but this all trickles down in various ways, with people striving to get ahead in the business being just as much the roadies hauling gear but making a reliable name for themselves as an up-and-comer as much as a young artist doing her thing with a guitar and a lyric like nobody has for years.
So the role model for Jay Z I'm thinking of? Garth Brooks. It's barely remembered now, but in 1993 Brooks became the face of a debate about music, money and paying people. He was then a newly christened superstar, following his shocking Billboard chart topper in 1991 Ropin' the Wind, one of the first signs of how SoundScan would change the industry and the charts completely. In the runup to 1993's In Pieces, which would become yet another step forward in his dominance as much as modern country's, he spoke about he was going to withhold CDs from being sold in stores like the Wherehouse chain where used CDs were also sold -- the reason being that there would be no royalties available for the performers and the songwriters when a used CD was resold.
The backlash from this ensured that this didn't last long -- barely a month after he'd said this, his label essentially caved, but I still remember any number of jokes, comments and outright mockery about what he was trying to do. (One of my favorites, scrawled in the liner notes to a Rocket From the Crypt singles compilation released that year: "Garth Brooks is a puppet asshole.") And yet it's worth noting that the entire time, even as the label reversal happened, he said he wasn't just doing this for himself and other artists but also the songwriters -- something that, at the time, seemed to some as much an admission that he really was a bit of a puppet, singing the words of others at a time when grunge, alternative, whatever meant that the only things that mattered were REAL, man. A perfect lie in its own right, of course, and from the perspective of a longer view of pop history at this moment in time -- where there have been and always were, as Jay Z put it, "not just the artists" working on the end results, and where songwriters in country as much as any other realm were always part of the whole creative process (just ask the shade of Harlan Howard) -- Brooks' action, however ill-conceived, tried to make a case for people beyond the guy on stage.
Of course, this was all at a time when you could speak about owning music because there it was, right in your hand and why couldn't you sell it on to someone else, the very same year the initial MP3 standard was first published while more and more computers had CD-ROM drives installed, meaning that CDs themselves could also be put onto a computer, and here we are now. It's hard to see past the press conference and the celebrity glitz and the gassy comments for a lot of Tidal, and I can't say I'm bothering with it (or any other streaming service period) myself -- if I have a digital music home in this world, the platform for me is the increasingly successful Bandcamp, where the principle still lies with directly paying an artist for their work instead of charging a fee per month that generates micropennies. It's worth reading a commentator like Maura Johnston on Tidal, though, because of what Jay Z has articulated, even if offhandedly. As she says, simply due to the attention generated, "Tidal has brought the idea of paying artists back into the conversation" on a wider level -- and not just them.
Ned Raggett writes for the likes of The Quietus, Pitchfork, Rolling Stone and Red Bull Music Academy. You can find him over on Twitter.