To say
A Sunny Day In Glasgow
have had a colourful history would be quite the understatement. Heck, their story could quite easily be the sort of thing you might find in an episode of Lost; twin sisters departing the band and accidents with tool boxes are just a small part of the adventure this Philadelphia-based band have gone through since the release of
Scribble Mural Comic Journal
back in 2007. Back with a new line-up, including a new singer in the form Annie Fredrickson, A Sunny Day In Glasgow have gone and released one of the best records of the year. We caught up with Ben Daniels to find out more about this incredible band.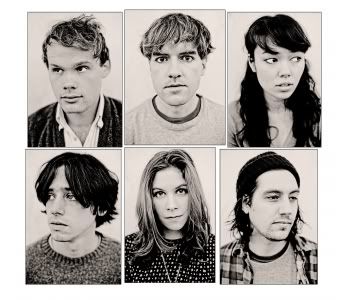 Ashes Grammar seems like it could be a classic, how gratifying has it's reception been?
Wow, thanks. It's been kind of a strange but great reception. I feel like it's taken people a little while to get into to the record but then it seems as though lots of people have gotten into it and that's wonderful.
What should we know about the new EP?
The A side contains several new songs which we recorded while recording
Ashes Grammar
. We didn't have time to finish these in time for AG and AG was already long enough, but really loved these songs and we are happy they will get out there. The B side is a collection of remixes.
You've been all over the place over the last few months, what's been the best venue so far? Any horrific sound situations?
Oh wow, it's hard to say what the best venue has been so far because there have been many. Off the top of my head these ones were pretty great: Schuba's in Chicago, Bottletree in Birmingham, AL, Meet Factory in Prague, and I have a soft spot for Sleazy's in Glasgow.
Can you compare your current touring line-up to past incarnations?
The current line-up is far tighter than and previous line-ups. We've played ALOT more shows than any other line-up. This line-up also has the knack/ability/propensity to close every party/bar/whatever. We never seem to sleep.
What were the challenges of replacing band members, after a random accident, in order to tour? Did your former bassist's leg recover ok?
Brice's leg is happily all better! There were so many challenges to getting new people on board. I honestly can't remember them all. We haven't really relaxed as a band at all since Summer 2008.
Did you experience any volcano drama while touring in Europe?
No. We were already over here and driving around in our van when all of that happened. Most of us fly back home in early June though, so fingers crossed the cloud stays north.
Did you enjoy creating the video for 'So Bloody, So Tight' ? What was the make-up process like?
Very much. Making the video was one of the craziest two days of the band's life. Annie and Jen had to wear the most make-up for the longest. They were painted for 2 days, but I think Josh and Adam actually had more paint on their bodies. They were each painted for about 3 hours I think. Adam had to sit in position while he was painted too. Ryan and I lucked out and really only had our faces painted. But the whole thing was such a wonderful experience. The people at Court 13 did a tremendous job. The second day took about 17 hours of painting and filming and everyone (there were so many people involved in making this video!) was working for free in the freezing cold and rain. In the morning, on the way to the shoot, we got into a car accident when a car ran a red light and rammed us. We thought that was a bad omen but yeah, what an absolutely wonderful day.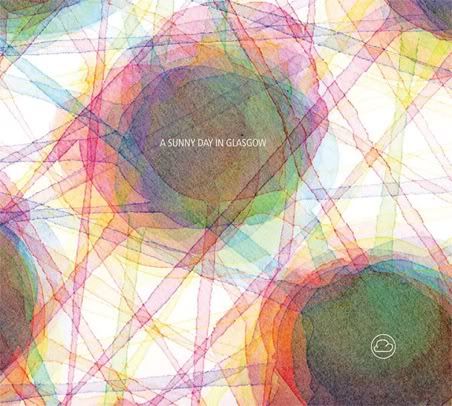 What do you love about Jaakko Mattila's imagery?
The images are so meticulous but at the same time the watercolours have this really loose feel to them. He obviously thinks a lot about tone and colour. In the cases of
Ashes Grammar
and the
Nitetime Rainbows
EP the images just seemed to compliment the music so well. I can no longer separate them in my mind. I am so happy he let us use them.
What's the current status of King Kong Ding Dong?
Alive and well! I (Ben) and not so much involved with things anymore but Josh is. KKDD is putting out Youth Culture Index on vinyl this Summer and once we are back from tour I am sure KKDD will start playing shows again.
In the past you've mentioned an affinity for The Cocteau Twins, can you rattle off some other dreampop/shoe-gaze favourites?
It's a short list actually in those genres. Beyond the Cocteau Twins I would add maybe My Bloody Valentine and Jesus & Mary Chain, but beyond that I feel like everyone is aping the aesthetic of these three (and I understand this is something people probably think about us). I've always thought stuff like Boards of Canada or Caribou or even Aphex Twin/Analord was the direction those genres should have moved towards.
How long before we can expect an LP from this latest (and possibly permanent?) line-up?
We still have even more songs from the Ashes Grammar sessions that we are finishing up while on tour. Really wanted to forget about these songs and just move on, but we really like these. So I believe we will get these songs (a full-length's worth) out this Fall hopefully. After that, we are going to take some time off to write and try to think up all new stuff. So I really can't say when we'll get new "new" stuff out there.
You can check the band out at www.myspace.com/sunnydayinglasgow
Photo by Drew Reynolds