It's wonderful when you manage to get together with friends again in better circumstances. The last time I'd been with Boogarins was right after the 2015 attacks, and the mood wasn't the lightest — to say the least. Having unfortunately missed them last time their were in town, I made sure I caught them live in Paris, the first stop of their 2019 EU/UK tour.
I met them in the afternoon for a chat, but knowing they had just arrived from a 11-hour flight directly to the venue I didn't want to tire them with an ordinary interview, so we did something different instead. A couple of hours before their show at La Boule Noire I gathered them backstage and offered to read their Tarot cards in order to shed some light on what they could expect from their European adventure.
Raphael was fast asleep when I arrived and we decided not to wake him up for the reading as he would probably tell us to shove the Tarot cards up ours, but Benke, Dinho, and Ynaiã all picked a card each and I read them collectively for the whole band. Here's what came out: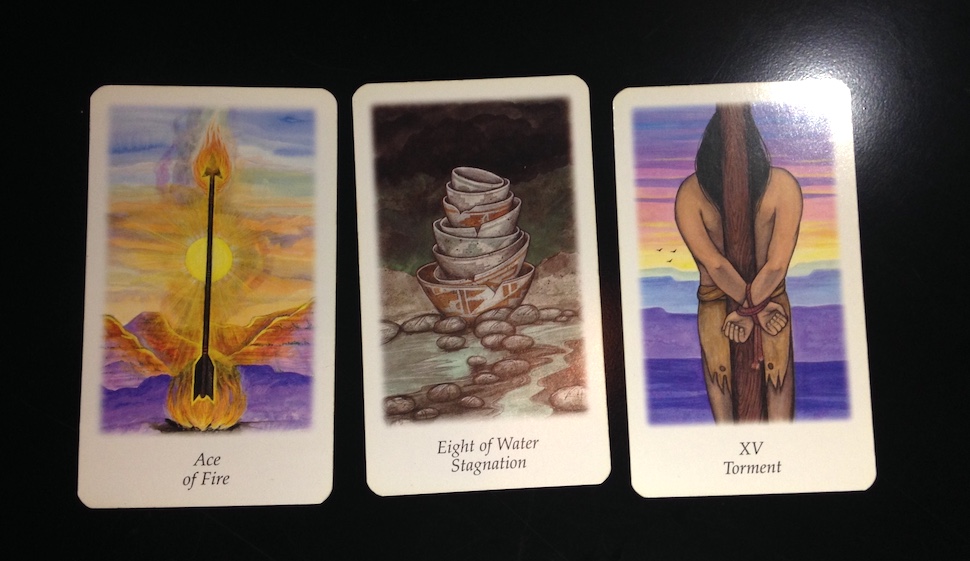 Ace of Wands (Benke): The tour is obviously going to be amazing (no need for cards to tell us that, huh), with the Ace of Wands granting them creative force, optimism, enthusiasm, and the much-needed energy any band needs in order to survive the hard life on the road. Aces also tend to minimise other cards in the reading that might indicate challenges or struggles, so this was definitely the best of omens.
Eight of Cups (Dinho): Somewhere along the way there'll be a situation in need of a new perspective or change of direction. All steps must be thought through calmly, and the band will need to look inwards for the best course to follow, avoiding rushed decisions. If something no longer serves them, they need to accept that it is so and abandon it.
The Devil (Ynaiã): Finally, I warned them to be careful and not become their worst enemy. This means taking care of themselves, getting enough sleep whenever possible, eating well, not partying too hard, etc. Sometimes we tend to self-sabotage ourselves, focusing on the immediate and forgetting about future consequences. This reinforces the Eight of Cups as it asks them to value moderation instead of overindulgence, ponderation over quick (re)actions.
I always look at the bottom of the deck to see what the shadow card has to say about the whole reading — the Ten of Wands appeared, warning them not to tire themselves unnecessarily: extensive summer tours are utterly exhausting and trying to accumulate further extra commitments could be the straw that breaks their back.
After playing a brilliant show, kicking off their next month and a half on this side of the pond in the best way possible, we said our goodbyes as they promised to keep me posted on how accurate the reading was; Raphael was somewhat sad for having missed our little séance, but I assured him that if he failed to take part of it, it was because the universe had nothing more to add at this particular moment. Things will go just fine, meninos.
Boogarins are currently touring the EU/UK to promote their most recent album Sombrou Dúvida; check out their upcoming dates here.