Favourite Albums
by Adam Gande
Originally I was going to write about my favorite record but I couldn't decide on one. Thing is--and maybe you're this way too--my favorite album changes from day to day, which I think is pretty common. That being said, here are my three favorite records. I wholeheartedly recommend checking them out. None of them are obscure, out of print, or hard to find.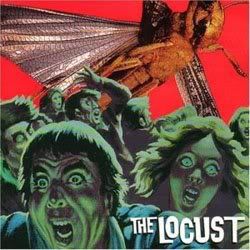 The Locust, self-titled
The CD version of this one is a cool little three-incher and it's something ridiculous like 15-minutes-long. (Which is worth noting when you consider that there are 20 songs on it.) Brutal, microcondensed, 40-second-long blasts of tweaked-out hardcore. Screaming mini grind-core noise operas. Savage shit. Wonderful. Best song is "Nice Tranquil Thumb in Mouth," which soundtracked a scene from John Waters' Cecil B. Demented. I listened to nothing but this record for something like two years straight. Basically they had me at hello or whatever.
Bruce Springsteen and the E Street Band Born to Run
As somebody who's down for super-minimalism-above-all, it took me a while to get into Bruce's full-band records. When I was 18 I swore by his acoustic albums (fucking Nebraska, right?) and thought this was the cheesiest shit ever. A couple years ago, however, Born to Run hit me like a fucking piano dropped from space. The lyrics get me, the big overblown production gets me, Bruce's voice gets me. (I even like the sax solos.) The whole thing is an ass-kicker from start to finish. I said this somewhere earlier in one of my curating articles for the 405, but I should say it again: I am not a critic or a journalist. I wish I could describe this record the way it deserves but I can't. Let me just say it's the loneliest, biggest, most heartbreaking, most packed with story and truth thing that Springsteen has ever done. It's a novel in songform and it feels American, in the way that I want my own songs to feel American. Born to Run makes me forgive him for doing shit like dueting with the stupid fucking guy from The Killers or releasing records like Human Touch. I own this on CD and vinyl. Someday I'll find the tape. Oh, and "Thunder Road," that's the jam. I sing that one to myself at some point every single day.
Neutral Milk Hotel In the Aeroplane Over the Sea
Alright, I take it back. I can decide on a favorite record. This one. For the past two years that I've owned this, Neutral Milk Hotel's In the Aeroplane Over the Sea has been my spirit animal, my travelling companion, my cool older brother, my favorite piece of art (any art), and my best friend. I pay attention to this record like some people do church sermons. I should also say, I can't play anyone else's songs besides my own, but I could play you (a very amateurish version) of this whole album right now if you asked me. (Somewhere there's an EP of me playing and singing songs from this record. It's awful. No one will ever hear it.) So, I love the noise interludes and all the fuzz and psychedelic brass band arrangements but what really gets me about The Aeroplane Over the Sea is the lyrics and the good-hearted honesty with which Jeff Mangum delivers them. This record makes me feel like life isn't such a meatgrinder and that people aren't such mean, money-obsessed bastards. There isn't a cynical or sarcastic bone in this record's body, and I'm all for that. And yeah, it's a concept record about the life, death, and reincarnation of Anne Frank, which is pretty powerful. Couple months ago I was in Amsterdam a few days after tour and I went to the Anne Frank house. It was an off-day so my buddy Jamey and I were the only ones there. I heard these songs in my head in every room and it nearly ruined me. Had to get wild-drunk that night to chill myself out. So yeah, my favorite record. Buy it, listen to it alone and in one sitting (which is very important) and it might just win your heart like it did mine. A few more albums worth your time: 1. Castanets In the Vines 2. Youthmovies Good Nature 3. Jonquil Lions 4. Yume Bitsu Golden Vessyls of Sound 5. Peter and the Wolf (US version) Mellow Owl 6. Jana Hunter Blank Unstaring Heirs of Doom 7. Sean Na Na Dance Til Your Baby is a Man 8. Fuck Buttons Street Horrrsing 9. Ohioan Being of the Good River 10. Sufjan Stevens Illinois