Whilst on tour around Europe we visited independent record stores in nearly all of the towns we were playing in. We wanted to celebrate the importance of these stores and how they can become a central part of a community, even in large buzzing cities such as Manchester. We also wanted to celebrate the beauty of physical music, in particular vinyl. So we have picked out some of our favourite all time albums, which include songs that have helped shape our musical journey and have been an important part of our lives growing up.
1. Polar Bear Records, Birmingham: Portishead's Portishead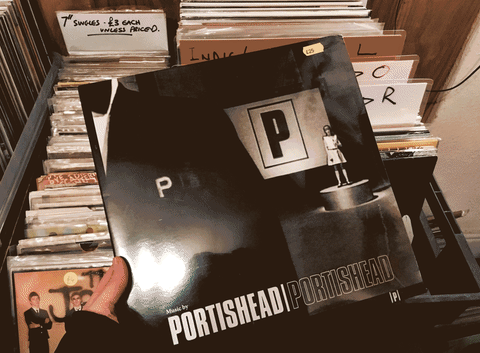 So starting in Birmingham! We visited Polar Bear Records in Kings Heath on the outskirts of Birmingham, which was located near to the venue we were playing on tour (Hare and Hounds). This was a great little store with a very passionate store owner who was willing to talk to us about the history of the shop and Birmingham's rock and roll icons over the years. He had lots of vintage memorabilia on the walls, including Bob Dylan concert tickets and Beatles posters from the '60s and '70s. We picked out Portishead's self-titled album as a key one for us. We have always loved the atmosphere Portishead create in their music, they have a rare and unique ability to conjure up a sonicsphere unlike anyone else. This is something that has always inspired our writing and production.
2. Crash Records, Leeds: Nas' Illmatic and Prince's Purple Rain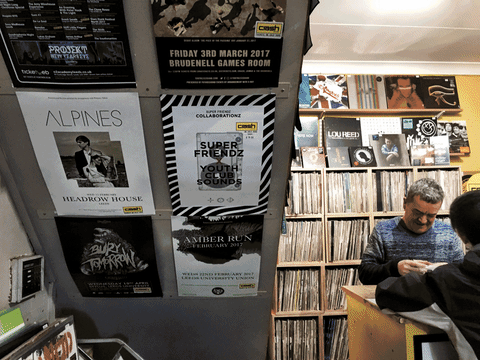 The next show was at Leeds and we popped into Crash Records, which had a great selection of records including two of our all time favourites, Nas' Illmatic and Prince's Purple Rain. Catherine was brought up listening to Prince and was always inspired by his songwriting and ability to push boundaries throughout his career. Illmatic is one of those classic albums which was a great introduction to hip-hop when we were teenagers just getting into the genre. Catherine is a massive lover of hip-hop and will only drive listening to her hip-hop playlist! 'The Message' is one of those songs we must have listened to 100 times, as is 'Purple Rain' (it is also one of our all-time favourite movies).
3. Eastern Bloc, Manchester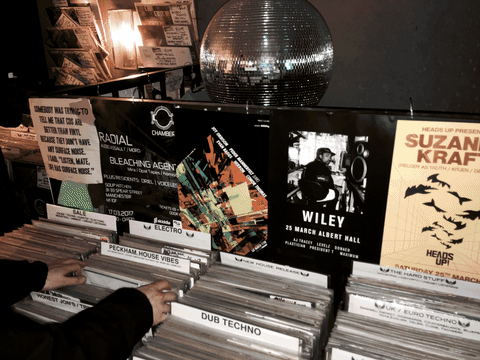 We popped into Eastern Bloc to grab a coffee and check out the store upstairs before our show at the Soup Kitchen. We didn't pick out any standout records here, as Eastern Bloc hosts an incredible collection of more niche dance music tunes which we are still learning about. But what we loved was this quote from John Peel, which I think summarises the ethos of why we wanted to celebrate vinyl and records: "Somebody was trying to tell me that CDs are better than vinyl because they don't have any surface noise. I said, 'Listen, mate, life has surface noise."
4. Piccadilly Records, Manchester: Sampha's Process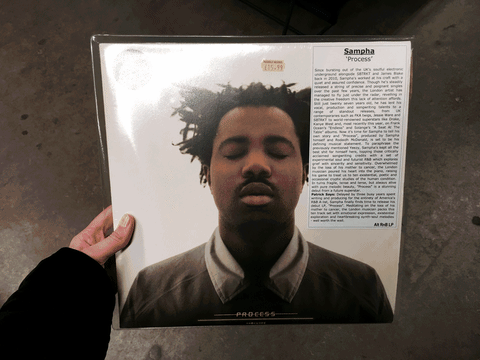 Piccadilly Records is a great store which houses records for every music lover. We picked out Sampha's Process as our standout album here. Sampha's vocal and lyrics have inspired us to be more honest with our writing and be braver with being more exposed with the way we express feelings into our music. He was one of the main influencers on our album Another River. This record is both timeless and contemporary, it also contains one of the most heartbreaking songs we have ever heard with '(No One Knows Me) Like The Piano'.
5. Rise Records, Bristol: Solange's A Seat At The Table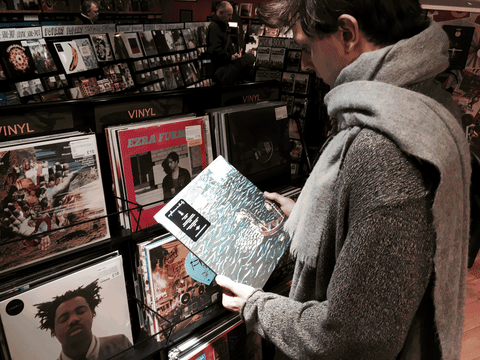 We headed to Rise Records before our show at the Louisiana. This store is nestled in amongst a cafe and clothes and is one of those places that would be easy to pass away a couple of hours. Lots of standout records here that have inspired us but we will focus in on Solange's A Seat At The Table. Rarely do we find a record that so quickly wins us over in one listen. This album is so incredibly rich, poetic, political and well crafted. Every time you listen you peel back another layer and that is probably why it has been one of those records we have listened to countless times in the short period it has been out in the world.
6. Resident, Brighton: D'Angelo's Voodoo and Patti Smith's Horses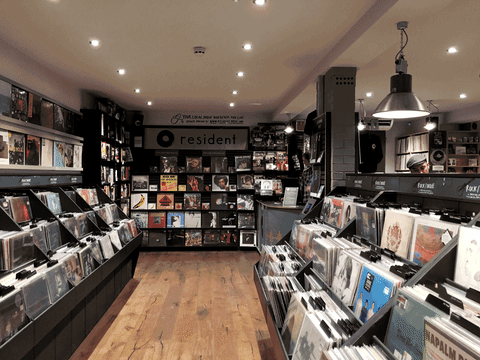 Resident is situated in the heart of the lanes in Brighton and is a beautiful record store with listening stations to check out your favourite tunes. D'Angelo's Voodoo is an album we are both totally obsessed with. On our first ever UK tour we listened to this driving around the country in the van and it is reminiscent of such good times. The musicianship on this album is on another level and the grooves are off the hook. And then there is his vocal which is one of the greatest. It must be up there as one of our most listened to records. Patti Smith's Horses is an album we love not only because of the music and her poetic mastery but also because of what it represents, its history and the love story behind it. Robert Mapplethorpe took this photo of Patti and it has to be one of the most iconic album covers of all time.
7. Wax Factor, Brighton: Bob Dylan's Blonde on Blonde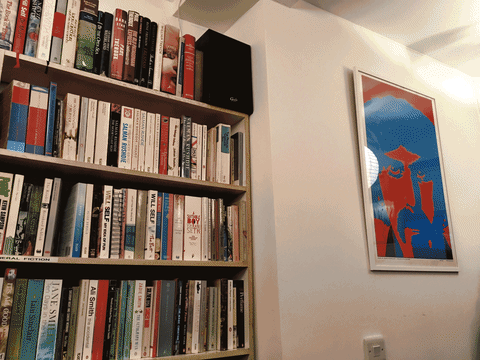 We stumbled across this record store by chance just as they were closing up. It is one of those stores which feels a bit lost in time, doubling up as a book shop, but it had some great records tucked away in the shelves. We picked out Bob Dylan's Blonde on Blonde. Catherine grew up in a household of Bob Dylan fanatics and was always taught the power of songwriting through his lyrics. This album reminds her of family and childhood and these songs will always have that nostalgic power.
8. Record Palace, Amsterdam: Dr. Dre's The Chronic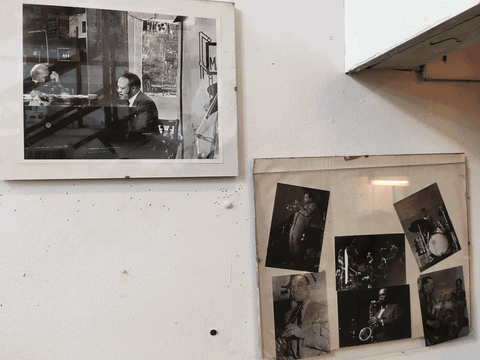 This great little store, which has two levels, the ground floor being more focused on jazz and soul records. It is situated opposite Paradiso, which is where we played our show that night. It had a great selection of hip-hop and we picked out Dr Dre's Chronic as the standout album. Like Illmatic, this is one of those classic albums you can listen to over and over again. It is a great opener in the world of Dr. Dre as his solo debut album. It reminds us of growing up and long bus rides to school.
9. MiniGroove, Hamburg: Miles Davis' Out of Nowhere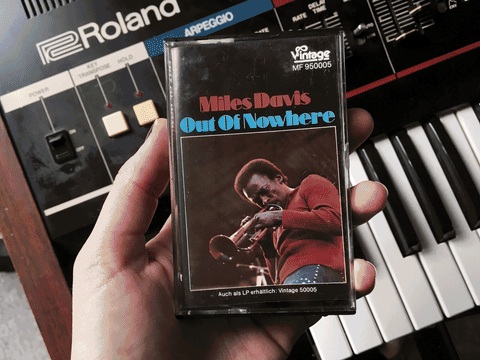 This was one of our favourite stores on the tour. It was very small but so well laid out and had the most amazing collection of vinyl and also cassettes, which we hadn't seen elsewhere on our travels. We bought Miles Davis' Out of Nowhere on cassette as we collect tapes and put them on our window in the studio at home. We really lovely jazz and are still learning about the greats, but Miles Davis is one of our all-time favourites. Kind Of Blue is an album we know much better but excited to check this one out on our tape deck when we get the chance.
10. Optimal Records, Munich: Massive Attack Protection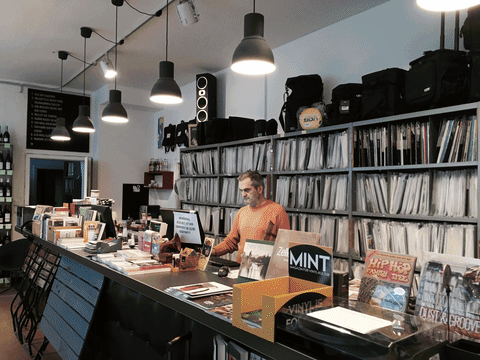 The final stop on our European tour was Munich, where we checked out Optimal. It was a large and bright store with an amazing listening station to check out your favourite albums. It also had a great bookstore at one end of it. Massive Attack's Protection was an album we grew up listening to in our teenage years. Like Portishead's records, this album was an eye opener for us into the more left field world of darker and weirder production. The intensity of the trip-hop beats combined with the jazz influence and soulful sampled vocals is definitely still a great influence on our music today.
Alpines play a headline show at Omeara, London on April 6th. Until then, check out the video for 'Motionless':