Anthony Anaxagorou is a young writer and poet from north London. He's set to unveil his new book, 'Card Not Accepted', at a launch party at Camden's Proud Galleries on Monday (October 5). The night will feature poetry readings and live music, including performances from MOBO award-winning hip hop artist Akala and singer-songwriter Elena Legakis. The 405 tracked Anthony down to find out more.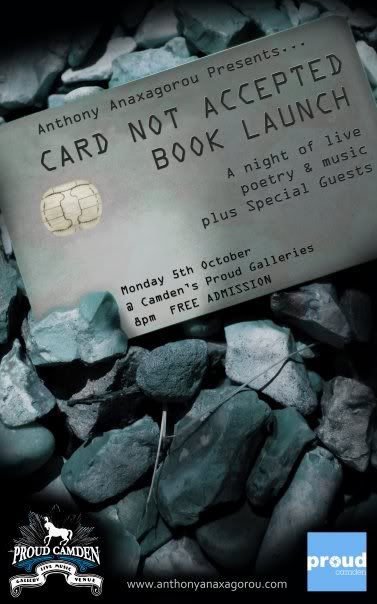 Tell us about your new book, 'Card Not Accepted'.
'Card Not Accepted' is a self-published book that consists of a collection of poetry, short stories and essays. It was written completely spontaneously; I never had the real intention of having a finished product. I was made redundant in November, so it meant I had more time to sit around and write about the issues closest to me. The book, in a way, is a detailed analysis of the various inward sagas we all go through at some point or another. I have tried to make the book as much about the reader as it is about myself, as I feel the topics discussed are universal enough for everyone to be able to relate to in some way or another.
Where do you take your inspiration from?
Inspiration comes primarily from people, I think. I spend a lot of time discussing life and the inner feelings and thoughts of the people around me. It's sort of like a spiritual pilgrimage we take together; talking and discussing our way through the confusion and uncertainty life can present at times. I have had people telling me our way is gloomy and depressing, but on the contrary, there is such an uplifting and encouraging message that comes from addressing the truth. It's simply wonderful. I think music is my second pilot of inspiration. I remember nights where I sat awake for two days writing and having nothing but the companionship of a few selected artists to help guide me through the long evenings and short days.
Who do you think your work would appeal to?
I think that the book will appeal to anyone with an inquisitive thirst to unravel the deeper elements of their existence. Some of us are fine living on a mechanical level and doing what's expected of us. Others have a problem with buying into society's idea of how we should live our lives. I was one of those people, and that is what has fuelled the main premise of the book. I have been as honest and as truthful as I can in the hope that the reader will take the message and project what is found inwardly, to maybe help discover something about his/herself that they were previously unaware of. This isn't another self-help book claiming to hold the key to salvation; it's just an allegorical documentation of issues that I feel we all, at some point, have to bear witness to.
What can we expect from the book launch on Monday?
It's looking to be an amazing night. We have some great people coming down to read out poems that they have selected from the book as well as some very talented young artists performing music. Books will be available to buy on the night. The event starts at 8pm and is free. I would fully recommend it to anyone who has an interest in poetry and music. I'm very excited about the whole thing. I truly believe it will be an incredible experience.
Written by Gemma Thomson