Apple Music launched the way most major Apple updates launch....with a lot of waiting. Watching that update install loading bar slowly crawl across the screen, while I worried that my phone wouldn't have enough battery to finish the update never mind have enough juice to give me something to listen to on my impending commute, felt like home. This is going to be a big one; one full of exciting changes.
And in a way it is. Apple Music feels like the first real contender to Spotify's music streaming crown. The giant Swedish streaming service which launched in 2008 now has more than 75 million active users across the world as of this month. Many competitors have come to try and take Spotify's place - Deezer and Pandora being the big two - but Spotify has stood firm with its slick UI on desktop and mobile and a ridiculously large library of music that has everything from Alvvays to Gregorian chants.
Now, after a few controversies along the way, Apple Music has come along with the support of Apple's extensive musical history, an equally large musical library and Beats1 (more on that later). But how is it? I've had a play around with it to give you the skinny on what's what with Apple Music. I haven't had a chance to properly live with it yet, which is the best way to judge a service like this, but here are my initial reactions.
Money, Money, Money
The first point to pick up on is the price point. Apple Music (the streaming service. The update containing everything is also called Apple Music which can lead to a bit of confusion) does not, unlike Spotify, offer a free ad-based subscription. For a single user, access to Apple Music is £9.99. The family plan, priced at £14.99, is an absolute bargain, allowing six people to use the service at the same time across different devices. The variety of artists available, quality of sound (256kbps to Spotify's 96kbps - 320kbps depending on whether you're a free or premium subscriber) and wealth of curation is pretty much the same, so there's not much to separate the two, though the ad-supported option with Spotify is obviously the most appealing.
Givin' 'Em What They Love
Removed from comparisons with Spotify, however, and Apple Music does stand up. While you can search for artists you want to hear the old fashioned way, as though you were searching in iTunes, the real draw for Apple Music is the focus on curation. They want Apple Music to be your service. The heart of this is the For You tab.
The first time you open it, you're asked to outline your musical tastes by tapping on bubbles or removing ones you don't like. The more you tap a bubble, the more you like that artist or genre; it's all pretty easy. Once that's done, Apple Music will cook up some playlists and recommendations suited for you. Surprisingly, it is pretty accurate; showing me a chilled out electronica playlist featuring Air and Portishead as well as a playlist of David Bowie hits and a Hot Chip album among other things. (By the time I've finished writing this, it's also given me an Intro to Girls Aloud playlist so it does definitely know me quite well).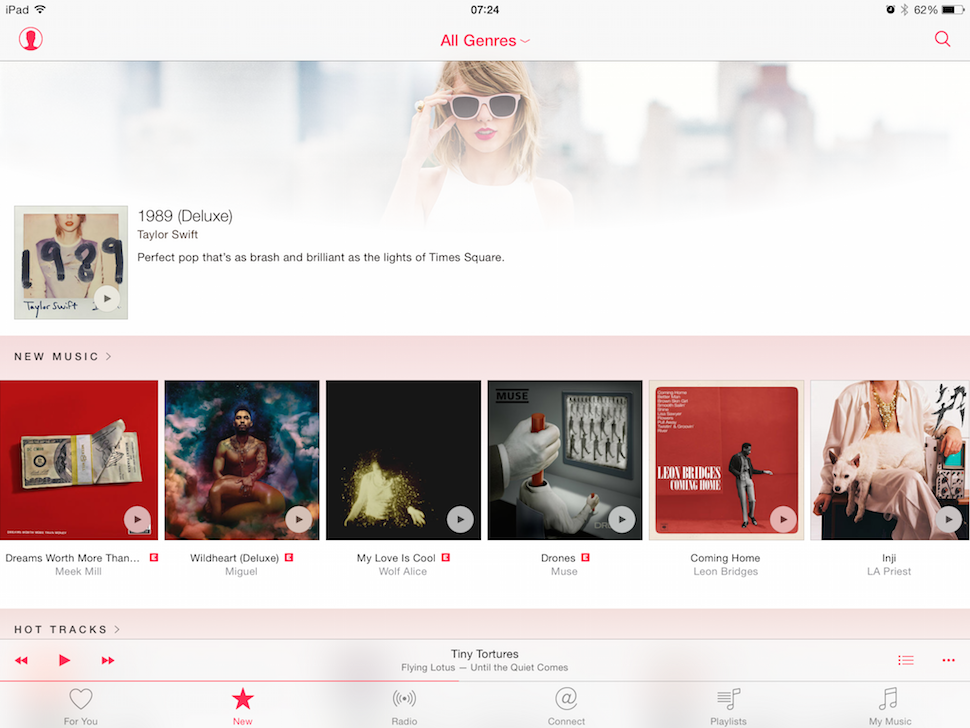 Diving deeper into the recommendations, the New tab, as well as showing you the newest releases, also give you a variety of playlists either based around events in music (currently, you'll find one focused on Glastonbury) or created by an Apple editor/curator (which currently include places like Pitchfork and Vice). You can also simply choose playlists based on your mood, the activity or a genre, similar to Spotify though none are quite as specific as Spotify's playlists which currently include for me "Tapping & Nodding"....
My only qualm with this so far is that the "You May Also Like" section doesn't feel quite as extensive as Spotify's. A look at the page for Jamie xx's debut album In Colour throws up just a few, all exactly who I'd expect it to (Four Tet, SOHN, Jai Paul), whereas Spotify gives me a much wider range from Koreless to AlunaGeorge. Outside of those curated playlists, I can see myself still discovering more music through Spotify than Apple Music.
As a streaming platform, though, it is very similar to Spotify. Making playlists, shifting things around, adding songs on the fly is extremely easy but, with so many menus and submenus and pop up menus to navigate, it can take a bit of getting used to. Most everything you need is in the three-dot menu, letting you start stations based around that song, find it on iTunes if you want to buy it, or just queue it up in your playlist.
Something Changed
Generally, the UI is a bit all over the place. Though everything, especially the My Music section which has had a rehaul to look more in line with your desktop version of iTunes with its backgrounds colour coordinated to the album cover you're listening to, looks very pretty with plenty of pop and colour, I found it very easy to tap something I didn't intend to. Artist pages on Apple Music are also a bit of a mess. Trying to find Kanye West's Late Registration through his artist page became a bit of a task; everything not quite as organised as with Spotify's clearly labelled areas.
The Now Playing UI has had a bit of a rejig too. Instead of defaulting to a full screen view of the song you've chosen, this update defaults the Now Playing information to a small bar at the bottom of the screen to allow you to continue searching around. The play/pause button is perhaps a little too small, making it easy to tap something you didn't mean to. You can swipe up on the bar to open Now Playing into full screen, which gives you the usual controls you'd expect plus a "like" button with which you can help Apple Music create better playlists for you.
Come Together
Where Apple Music really separates itself from Spotify is its integration with your existing music library. It's extremely easy to add albums or playlists from Apple Music to your My Music library, even making them available offline, putting all the music you listen to in one place. Beefing up your existing catalogue with albums and songs from Apple Music, right there in your My Music library, is a great feature that saves you having to trawl around to find what you want. This is where Apple Music's want to bring everything together into one place really seems apparent and it works beautifully.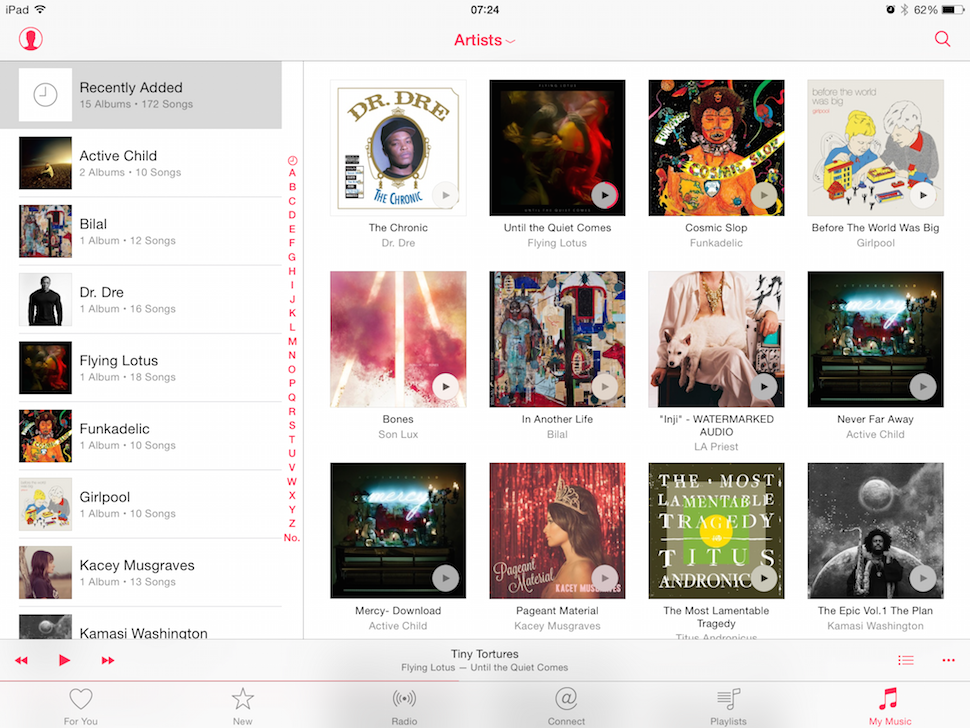 Beat Connection
I haven't got to grips with Connect yet (though it does automatically follow anyone already in your library) though I wasn't 100% sold on the idea in the first place. It's very reliant on these artists wanting to share the music of other artists, enabling the discovery aspect of Apple Music, rather than just peddling their own tunes. If it just ends up being the latter, there's not much point to it really.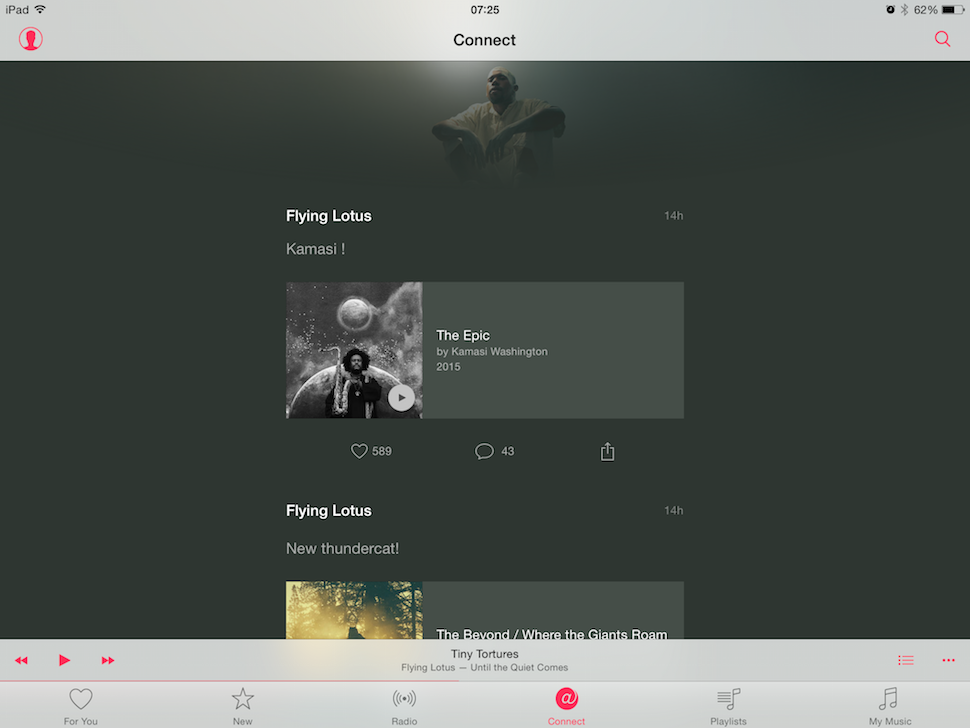 Radio Ladio
Radio is something that Apple Music is giving a big push to. Most of the old iTunes Radio functions are there, with curated stations available based on genre, but the real star is Beats1, a 24/7 global live radio station. Broadcasting kicked off with the flagship show hosted by Zane Lowe which is...erm...very much like an ordinary Zane Lowe show. Though it's yet to really get going, technical bugs still plaguing most shows so far, the promise of Beats1 is an appealing one.
The eclectic mix of hosts, specialist shows and guest slots (including one called St Vincent's Mixtape Delivery Service which I for one can't wait for) means that there's something for everyone here. It isn't really dictated by your regular radio playlists, going more off what the host feels like playing (at least so far). There's even the option to "like" songs as they're playing, as with Apple Music normally, which lets Apple and the hosts know what is and isn't being well received.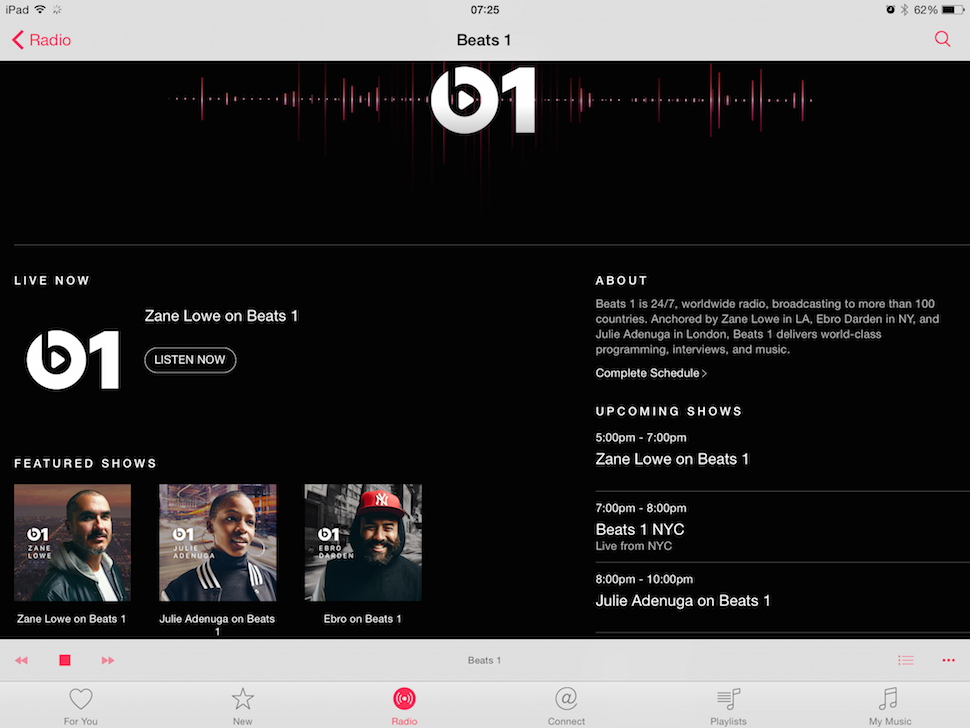 What makes Beats1 really special, though, is that each presenter, from Zane Lowe to Julie Adenuga have a palpable sense of excitement for what's to come. They come across as kids let loose in a sweet shop, to choose whatever they want with no limits (though it has to be censored). Whether this is just first day of school excitement or it's a genuine excitement that is going to carry on is yet to be seen, but for now Beats1 feels like an exciting new addition, not just to Apple Music, but to the internet radio world as a whole, that is full of promise waiting to be explored.
Out Of The Woods
Apple Music is a strange beast. It brings practically everything you might need to listen to music - your library, radio, a streaming service - all into one place, but I still feel content with using Spotify or TuneIn Radio for when I want streaming or radio. Obviously, though, I haven't had time to live with Apple Music to make a firm judgement on that. So far, Apple Music feels robust and handsome, though a little clunky, with plenty of features all in one place. At the minute, though, I'm not ready to shell out £9.99 for a subscription but I'm excited to see if there's anything over the next three months of my free trial that will make me change my mind.
And Taylor Swift's 1989 is on Apple Music and not on Spotify so there you go!