Label:
Domino Records
Release date:
Out Now (7th July 2009)
Website:
Arctic Monkeys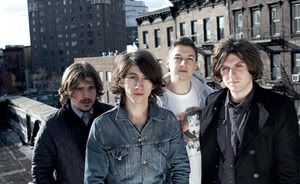 Josh Homme's influence on Arctic Monkeys newest offering to the hordes and hordes of obsessed fans is instantly recognisable, O'Malleys distorted new bass tone leads listeners into a sinister new sound. The minimalist genius of Jamie Cook's guitar gives the song an eerieness never before seen nor expected from the Sheffield foursome. Matt Helders drumming is as inspiring and creative as ever, I'd go as far to say he is a contender for the best Indie Rock drummer in the world. As for Alex Turner's contribution to this single, the ability to craft lyrics which are both witty and catchy appears to have stuck with him. "
Your past-times, consisted of the strange and twisted and deranged
" This lyric has stuck with me the past 4 days! "Crying Lightning" shows a definite evolution from the bands original sound, whether it's a change for better or worse remains to be seen, but the signs are good.
Rating:
9/10
MP3:
Listen here!