In Iraq one child dies every 5 minutes. 1.5 million children have been displaced, 1 in 5 are malnourished and almost half can't go to school. In Afganistan one in five do not live beyond 5 years old and those that do may face a life living and working on the streets without education or opportunity. In Congo more than 30,000 children have been actively engaged in fighting in DRC. Of those who are no longer part of fighting forces at least 10,000 have been unable to reconnect with their families and communities, while in Uganda, despite recent peace deals thousands of children were abducted by militia and used as soldiers and those that have returned to their families are denied access to education, healthcare and opportunity. Now, think about yourself getting pissed on any mid-Summer night (every occasion is good to party in Summer, we know) with the only regret of maybe losing your shiny new iPhone or throwing up on your new super limited edition Nike Dunk because you were drunk.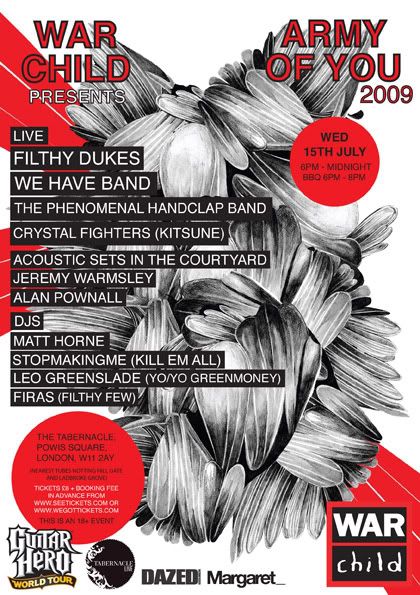 Start feeling guilty huh?! Well, War Child's
ARMY OF YOU
returns to London on Wednesday 15th July at The Tabernacle, Notting Hill, for its annual showcase of some of the most exciting names in the international music scene to give you the opportunity to redeem yourself from your Occidental stupidity. For those who don't know, ARMY OF YOU is an annual music event brought together by War Child to raise awareness and funds for children in the world's most dangerous war zones – Iraq, Afghanistan, the Democratic Republic of Congo and Uganda. After previous sold out ARMY OF YOU gigs featuring the likes of The Noisettes, Does It Offend You Yeah?, Friendly Fires, Rumble Strips, this year's headliners will be Filthy Dukes, supported by We Have Band, The Phenomenal Handclap Band - which I personally strongly recommend! Seriously! - and Crystal Fighters. The live acts will be supported by special DJ sets from Matt Horne, StopMakingMe, Leo Greenslade and Firas, as well as acoustic sets in the courtyard from 6pm from Jeremy Warmsley and Alan Pownall. And, as if all this was not enough, a yummy barbeque will be provided in the garden. All this for only 8 quid from
www.wegottickets.com
and
www.seetickets.com
. See, next week you could still party as a twat (if you really want to) but at least you'll be doing something good for the children living in the most dangerous war zones – and to yourself too, you stupid white man!