Some Hellish Canvasses to Kick-Start your Hallows Eve
You may have caught the new series
The Genius of British Art
that's gracing our tele-sets at the moment or you may not. Either way, the Art and the Sublime exhibition at the Tate Britain, set in a mind-blowing enormous vaulted space, proves one presenter's case in point. Howard Jacobson's life's work is to convince us that the art of the nineteenth century has been totally dumbed down despite its dramatic canvasses of uncompromisingly punishable yet erotic and disturbing images of people and the forces at work around them. Just grab a butchers at this…
John Martin – 'The Last Judgement' 1853
Imagine this painting framed in tonnes of gold, hung and devouring an entire house- sized wall, pointing straight at you as you dare to step through a doorway. I'm telling you now, this is a truly awesome sight. What you probably haven't noticed though, are the thousands of squirming, writhing, squealing people at the bottom of this painting who are literally being beaten down and sucked into the hellish world they have built for themselves without even realising. All their sins have come back to bite them in the proverbial and the literal, behind. It's pretty sick actually, and the works that surround it aren't any less disturbing. Because, this single room as an art experience is simply stunning stuff. It's sordid and it's beautiful; these are beautiful images that give us pleasure, whether we are a fan of the historic style or not, because they are not only finely crafted and blooming enormous, colourful and deeply passionate but also violent and terrifying. Now don't tell me there isn't something for everyone here. We are all fascinated by a bit of sadomasochism. I know many people who love a bit of Saw and all of its sickening sequels. Man will eventually succumb to the powers that be, or something like that; some serious karma is what I'd call it.
Just get a load of this one too. This figure barely has eyes, just empty sockets. He/she/it stares down at you from the walls of this semi-dark, gloomy and cold room set in one wing of the otherwise brightly lit Tate gallery; the whole set-up definitely gave me the pre-hallows eve heebeejeebees.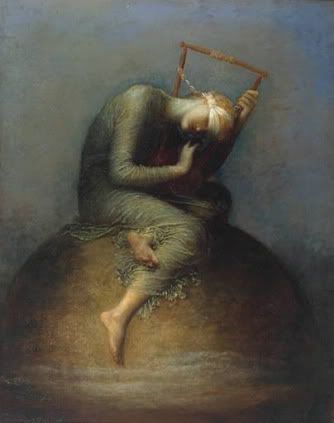 'Hope' by George Frederic Watts
This next lady, blindfolded, hunched over in the misty darkness and clutching a broken lyre didn't help. 'Hope'? Really? Doesn't look much like there's any hope here!
Death on a Pale Horse by JMW Turner
And just check out death here…enough said. This exhibition is taking some serious prisoners.