Hello, and welcome to the first of my art guides for The 405. Every month I'll be trawling through as many exhibitions as I possibly can to bring you the cream of the crop. There are some great things on this month so lets get started. Firstly, a couple of big shows which have been generating a lot of column inches; Quilts 1700-2010 at The Victoria and Albert Museum and Steve McQueen's Queen and Country at The National Portrait Gallery, are both very deserving of your attention.
I understand that
Quilts 1700-2010
may not sound particularly thrilling, but please don't be put of by that dour title, this show is really enthralling. It includes a huge range of hand-stitched, patch-worked, embroidered and printed quilts and textile wall hangings from the last few centuries up to the present day. The show, which is a celebration of the hand-made, is already one of the V&A's most popular shows, having had more advanced tickets sales that any other exhibition in the museums history. Featured are historical quilts as well as new commissions and works by recent artists such as Grayson Perry and Tracey Emin. Each quilt tells a story, with the life and thoughts of the maker stitched into the very fabric. For a long time craft may have been seen as the poor relation of art, however this show proves that they deserve to stand shoulder to shoulder.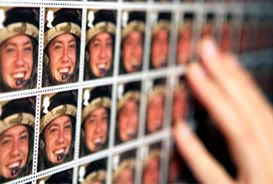 Queen and Country
comes to The National Portrait Gallery on the last leg of its UK wide tour. Steve McQueen was appointed as the UK war artist in 2003 and has produced a set of stamps featuring the images of soldiers who have lost their lives as a result of the conflict. It is a meditation on the cost of war, rather than a judgment - what makes McQueen's work so interesting is it's lack of objection to, or support for the war. It is a work that has been praised by those both for and against, which puts it in quite a unique position in the history of war art. The show features sheets of facsimile stamps in wooden cabinets however Queen and Country was not intended to just be a museum piece. McQueen planned all along that the images would become real stamps, available for everyone to buy and use, so that the message of his work would get out there into the conscious of the British public. However he is now embroiled in a battle with Royal Mail, who are adamant that they will not commission them. So for the artist, the work remains unfinished. But do go and see it while you can, as it is looking unlikely that they will ever become real stamps. Now for a few smaller shows - I have already reviewed
Idris Khan's
exhibition at the Victoria Miro Gallery (
here
) and I don't want to double up to much but it is still worth a mention. It is a great show and is on until April 24th. The gem of Vyner Street at the moment is the wonderful show by Ian Johnson at Gooden Gallery (pictured above).
Timescales
is a multimedia installation; it is an exploration into how to use a space and how 3D art should be presented. Whilst the a lot of the other shows on London's premier art street seem a little tired this month, with lots of uninspiring paintings hanging on the walls, it really is a relief that there are still galleries promoting object based work placed in a vibrant and exciting way, with a mix of small intimate works, large scale sculpture and light boxes. All of the works relate back to each other and make reference to the human impact of the natural landscape. It looks almost like the remains of a strange religious ceremony. It is a show that is very intriguing, and well worth a visit.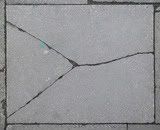 Finally, I must recommend
Sheer Fatigue
at the Christopher Crescent Gallery by up-and-coming artist Steve Bishop. Though it is closing soon, so hurry! Bishop recently graduated from the Royal College and has been receiving a lot of industry attention. He had his work featured in the prestigious New Contemporaries exhibition and counts Charles Saatchi as a collector. In fact he is to be featured in a Saatchi Gallery show later this year. Bishop makes assembly sculptures, combining contrasting materials. His previous work has used taxidermy animals and strip lights, this show features objects created out of stockings and glass. The contrast makes for captivating works that looks so simple, yet are utterly enthralling. So, hopefully that is enough to keep you going for now. I will be back next month with a new bunch of recommendations for you.
Information
Quilts 1700-2010 at The Victoria and Albert Museum until 4 July 2010. £10/6 Steve McQueen Queen and Country at The National Portrait Gallery until 18 July 2010. Free Idris Khan at The Victoria Miro Gallery until 24 April. Free Ian Johnson Timescales at The Gooden Gallery until 9 May 2010. Free Steve Bishop Sheer Fatigue at the Christopher Crescent Gallery until 10 April. Free
Images
1. At the End of the Day', a displacement flag, Natasha Kerr, 2007. Museum no. T.43-2008 2. Courtesy of
www.artfund.org
3. Courtesy of
www.christophercrescent.co.uk