So, there's been an election. However with no clear winner and talks of different coalitions forming, possible re-election later in the year and maybe, just maybe, electoral reform, the campaigning can still go on.
Make a Mark
, the website set up by curator and writer Rebecca Heald, encourages people to download and display political posters created by several high profile artists including Mark Wallenger, Jeremy Deller and Anthony Gormley. As you might expect from contemporary artists, the posters take a decidedly left-wing stance - all featuring pro-Labour or anti-Tory slogans. The artists involved all felt that Labour have done a lot for the arts whilst in power, from increasing free entry to many galleries and museums to generous funding for many arts projects, so they wanted to lend a hand with the campaign. The Conservatives may have more seats, but not a majority so it is not too late to take a stand! Online exhibitions are really on the up at the moment, even the major galleries are now getting involved:
Freshfacedandwideeyed 2010
at the Photographers gallery is a showcase for the best new photographic work from young artists who have graduated in the last year. It's a great way to spot up-and-coming talent, especially as, from the 14th May, all of the images will be on the their website as well as on show in the gallery, so even if you live outside London, you don't miss out.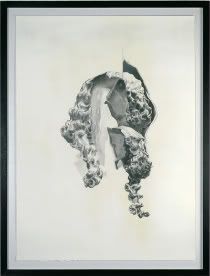 Don't forget to check out
White Ink
by Boris Mrkonjic at Ibid Projects. A fascinating show that combines the mystical with the modern to create intriguing otherworldly sculptures and prints. See my previous 405 review (
here
) for more details. I just had to mention it again as it is, for me, this is simply the best exhibition I have seen this year.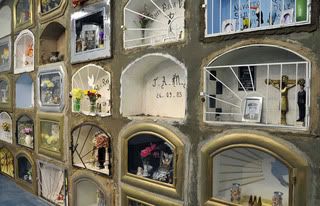 Another show that I'm very excited about, that's just opened, is
The Followers
by Ximena Garrido-Lecca at The Civic Room. Garrido-Lecca takes as her inspiration the shrines and offerings left behind by mourners in the burial grounds of Peru. In these areas the dead are placed inside concrete blocks that are horizontally stacked above ground, each fronted with a space for photographs, flowers and trinkets. The faithful reproductions of these memorials, transported into a gallery setting, highlights the avant-guard aesthetic of these ramshackle compositions.
If you fancy having a go at something artistic yourself there are the fabulous
Swallows and Amazons
life drawing classes presented by Storm In A Teacup and Ladyfest, running on Tuesdays this month, at the Victoria pub in Mile End. Each will feature unusual and interesting models such as performance artists, burlesque showgirls and contortionists. The aim is to celebrate real women in all their glory and to raise funds for the Ladyfest Ten arts festival (which will be held in London in November). Work created during the sessions can even be submitted for inclusion in the final Ladyfest exhibition! Last but not least, if you have not already been to the Barbican to see
Céleste Boursier-Mougenot's
sound installation, this month is your last chance, as it closes on the 23rd. Known in everyday terms as 'the birds that play guitars' the exhibition features a walk-through aviary filled with a flock of zebra finches and furnished with amped-up musical instruments. When the birds land the instruments, they cause sounds to echo around the roam creating a discordant soundscape . It is a truly immersive experience and will probably be one of the most talked about shows of the year, so definitely one not to miss!
Information
Make A Mark -
www.makeamark.org.uk
First Thursdays -
www.firstthursdays.co.uk
Boris Mrkonjic White Ink at Ibid Projects until 23rd May 2010. Free.
www.ibidprojects.com
Ximena Garrido-Lecca The Followers at The Civic Room until 30 May 2010. Free.
www.civicroom.org.uk
Swallows and Amazons Life Drawings. 4th/11th/18th May 2010 at The Victoria, Mile End, London. £8.
www.ladyfestten.com
Céleste Boursier-Mougenot at The Barbican until 23rd May 2010. Free.
www.barbican.org.uk
Images
Header image // by Bob and Roberta Smith courtesy of http://www.makeamark.org.uk/ Image two // by Boris Mrkonjic courtesy of http://www.ibidprojects.com Image three // by Ximena Garrido-Lecca couresty of http://www.civicroom.org.uk Image four // courtesy of http://ladyfestten.com