In a world obsessed with going digital it is always refreshing to see an artist go back to simple pen and ink, yet there is nothing simple about Dan Stirling's artwork as his full compositions are as beautifully haunting as they are incredibly intricate.
The piece that started it all for me was Orbit, later to be used as the cover for Marika Hackman's EP You Come Down/Mountain Spines. The piece is a fine line pen and ink drawing of dancers, quite rightly, orbiting through space. The dancers maintain their elegant and focused composures even as they are being thrown into a land far removed from their natural environment. Broken and weathered rocks are among the dancers creating a contrast between their harsh and soft forms.
In 'Mountain Spines' Hackman describes, "a place in our minds, where the Sun ceases to shine, and the mountains of our spines are cast in shadows." Even though the EP and artwork were made independently of each other, there is a connection between Hackman's dark lyrics over delicate guitars as Stirling's delicate dancers are stuck in a dark world much removed from their own, both artists creating a bewitching experience.
Hackman and Stirling later came together through the connection of a mutual friend who showed the artist's website to Hackman. Soon after the songwriter emailed Stirling with some very generous feedback along with a proposal to use his image Orbit as the cover of You Come Down. In addition, she asked him to create the artwork for That Iron Taste. Stirling was then left to create the album art with his only directions being Hackman's trust and a rough draft of her LP.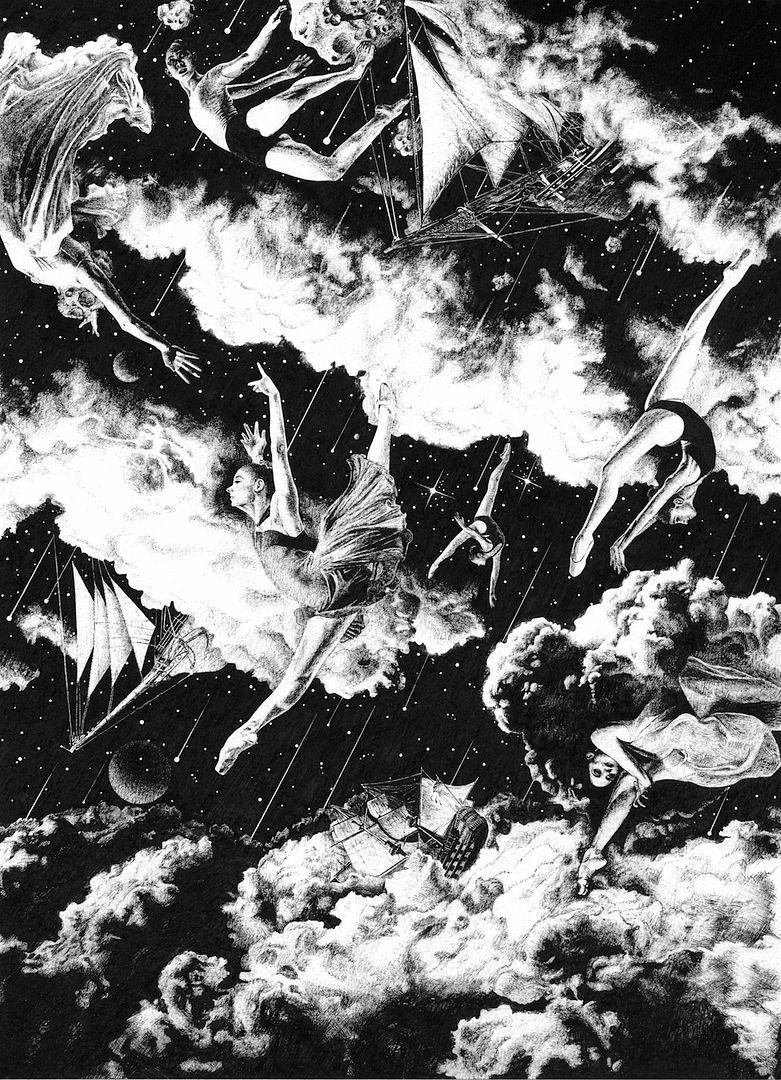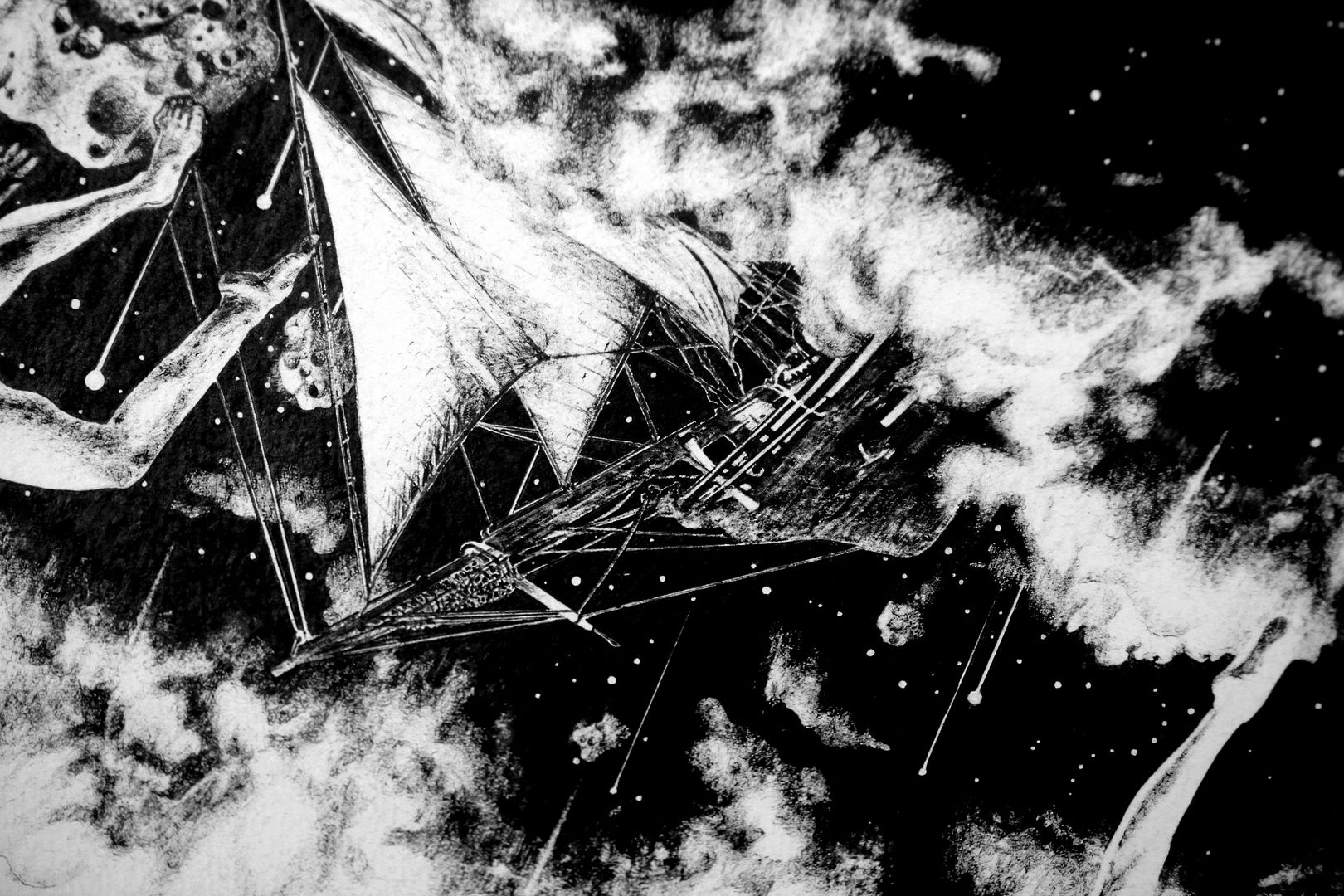 With Hackman's songs on repeat, Stirling created an original hand drawn piece entitled Descent to be used as the cover. This pen and ink cover art belongs to the same realm of Orbit with a sharp black and white composition filled with angelic like figures dancing through space and clouds with emerging ships. Instead of the dancers simply seeming to float, as in Orbit, Descent gives off the illusion that these women as falling through space through the downward diagonal pull of gravity, leading to an impending doom.
The cover as well seems to resonate with the music it holds within. Marika's voice echoes throughout the record like an angelic force singing sounds of distant lands and fallen romance. This time, Stirling was very much influenced by Marika's music throughout the creation of Descent. The album was on constant repeat in his studio, and was influenced by how the "layers unraveled as her beautifully strange poetic lyrics floated out from the almost ethereal campfire instrumentals." His artwork in relation to Marika's music shares a pattern in their use of layering images and sounds and the dark hidden undertones they evoke.
Music has been a big part of Stirling's life and work. Overall he prefers to work with musicians. Along with Marika Hackman, Stirling has also done work for Esben & the Witch in the form of a brilliant t-shirt design. Stirling says that music has definitely shaped his life in its style, thoughts, ideas, and definitely in his drawings. His musical inspirations comes from all over the place: film scores, classical "It's usually older stuff I enjoy more which saddens me sometimes until I see the crap on TV, then I'm laughing" and rap such as DJ Shadow's Endtroducing.
When he's drawing he enjoys to listen to a lot of progressive and psych rock music with 20 minute long tracks that makes time feel like it's standing still, like Electric Moon or Sleep. For long periods of drawing the music he listens to tends to become quite depressive, long emotional ambient instrumentals, "stuff that makes other people miserable around you if they're exposed to it for too long."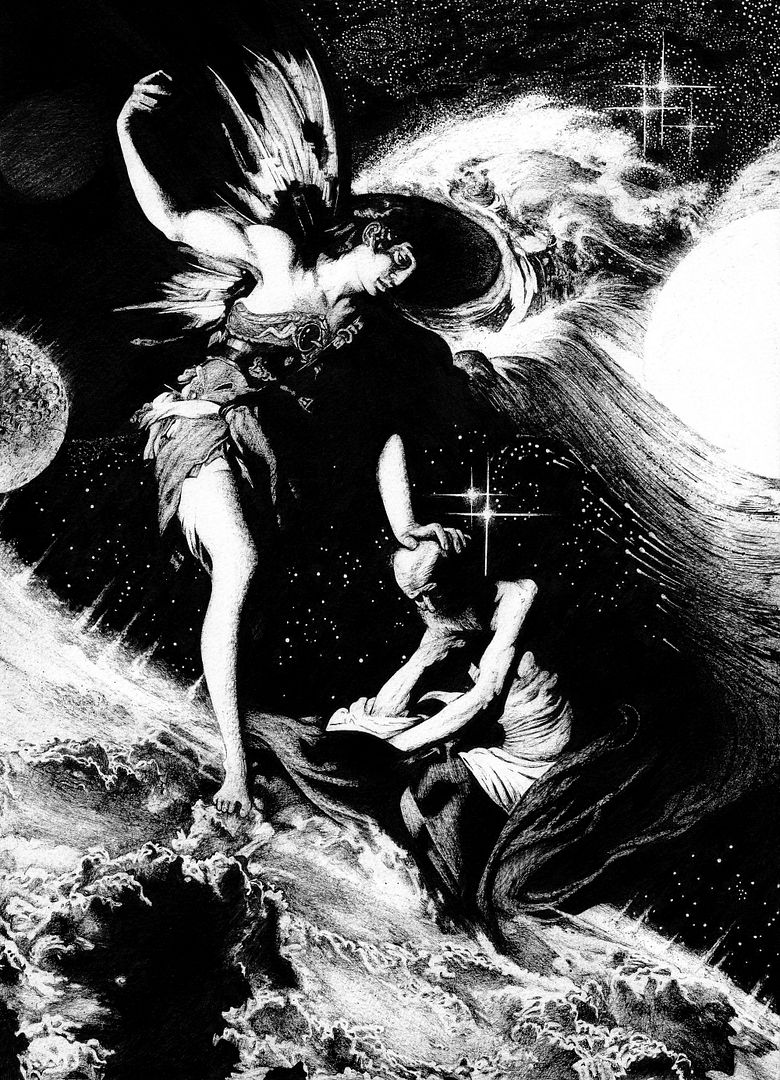 Overall much of Sterling's art uses very fine monochromatic line drawings with a 'Uni Pin', a fine line pen, and ink on heavy-duty watercolour paper. His work is reminiscent of renaissance woodcuts and engravings, such as those of Albrecht Dürer's Apocalyptical designs. Like Dürer, Stirling uses intricate line work and gradation to create beautiful images of possible doom with swirling script, use of animated skeletons, and focus on the unknown.
Although not all his images are focused with the mysterious unknown; the artist also has many colorful paintings of birds and creates greeting cards as part of his own Moonpig style side project. His most recent project has been for Haitian magazine, a rollerblading media company, which took him a solid two months of drawing to complete. This commissioned piece was done in the same black and white high contrast manner as most of his other works, but from the process images Stirling has posted on his blog, the fine exquisite detail and design is superior to his previous works. Stirling also plans to continue to work with Marika Hackman and I personally can not wait to see what he comes up with next.
More of Stirling's work can be found on his website and blog. If one of his prints or custom greeting cards tickles your fancy, he can be reached at Daniel.j.stirling@hotmail.com.