There's something inherently absorbing about the photographs of Lukasz Wierzbowski. For a long while now his unconventional 35mm shots of women and their surroundings have been among my favourite, possessing an almost unexplainable grasp. With the subjects' faces covered in much of his work, the expressionless is somehow more expressive, coercing an interaction between model, photographer and audience in every frame. Using the immediate environment and striking patterns Lukasz's portfolio is starkly diversified yet instantly recognisable.
Having been featured in an extensive amount of magazines and exhibits worldwide, and with a clientele boasting Penguin Books, Saatchi and Saatchi, Urban Outfitters and many more, we caught up with Lukasz to discern what it is about his process that makes for such distinct impact.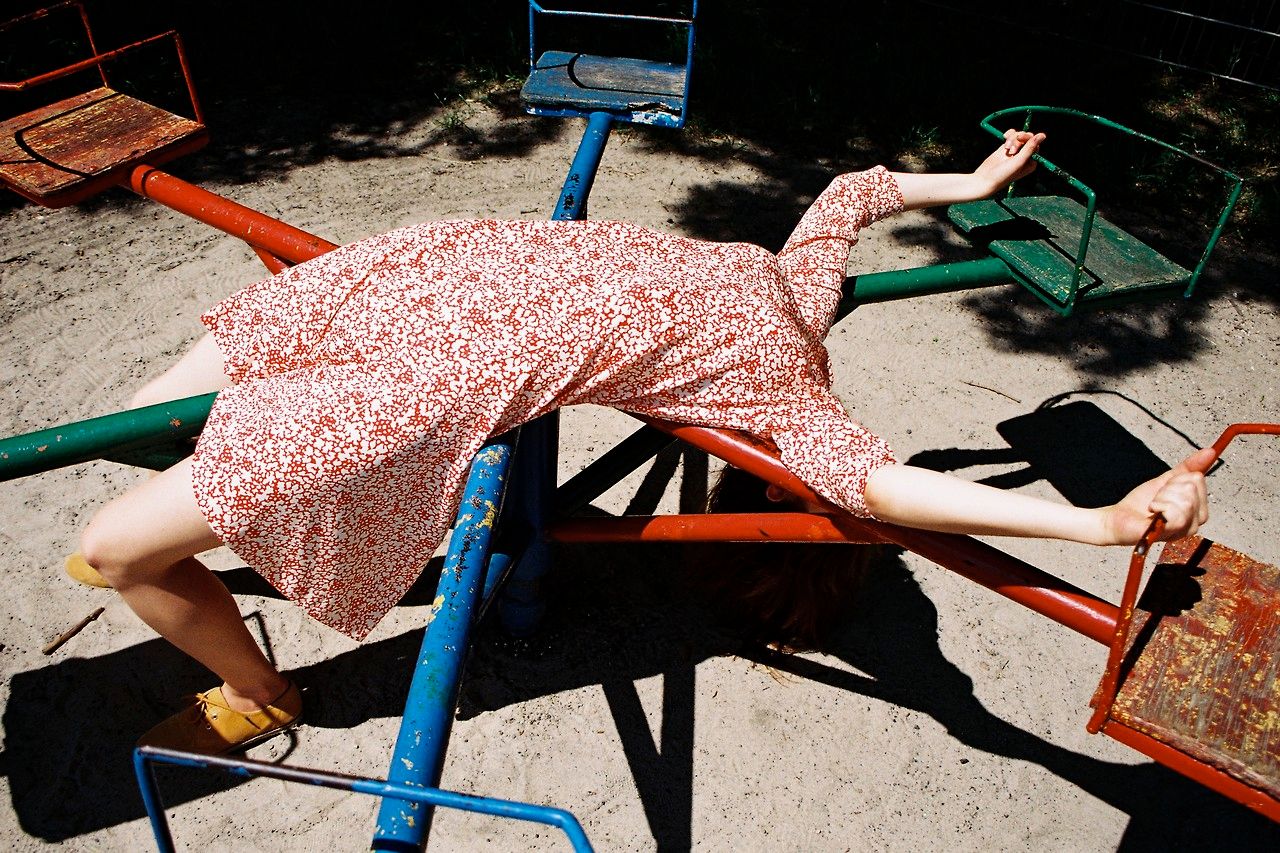 Tell me about your introduction to photography.
I was probably 13 when my father taught me how to operate an old rangefinder camera. Around the same time I started using my moms compact camera and did sessions with my niece (who up till today frequently appears on my photos). It seemed amazing at first but soon I got distracted by other activities... I picked up a camera being a third year student of social psychology. It was a perfect way to spend afternoons, doing something both creative and fun.
Your photographs are certainly fun, if not liberating, in the way that the models are shot unconventional positions. What attracts you to this way of shooting?
I want to challenge each situation, make something familiar to look a bit more unconventional. Typical posing feels artificial so I ask my models to forget about any type of posing and just behave the natural way. There is no plan or strict rules and everything happens on the spot. I usually give little instructions and capture the models interpretation.
So it's more of a collaborative thing?
It's a mutual process. I usually give the overall instructions of how I see the take but it's the model's decision on how it's gonna be executed. There is no wrong or right, my aim is to capture the moments of in between with all the imperfections. We don't spend much time in one place, we move ahead constantly and shoot usually one or two frames of each scene. I just want to make sure I use opportunities the space gives me.
This mutual process must put pressure on finding the right models for the task. What's your process when scouting?
I look for a certain type of attitude, ability to let loose and forget about the movement of the body. I want the model to merge with the situation we create so it's all based on a mutual understanding. Most of my models are my family and friends but I always look for someone new to collaborate with. If I'm working with someone hired for a commissioned project, a person I have never met before we need a bit more time for the model to forget about poses and start showing her personality but apart from that the process is very much the same.
You often use these spacial 'opportunities' to conceal the models face. Why is this?
Facial expressions reveal emotions, set a certain tone, makes it clear, obvious. I want to make it more challenging. By hiding the face I make the surrounding equal to the model. It felt like looking at someone's life from a distance, watching from a hidden place and capturing the happenings. I want to become transparent in this process.
You can certainly tell the surroundings are as important to you as the model. What is it about working in these environments you like compared to a studio?
I try to look for places that bring back childhood memories, places filled with colours, patterns and plants. I grew up living very close to the woods so the natural surrounding became a playground for me. I learnt to appreciate the beauty and complexity of both natural and man made surroundings. Studio is definitely challenging but can be very rewarding still I find the more natural environment more fun to work with.
Is working with 35mm film part of this natural and fun mindset as opposed to digital?
Film gives me opportunity to be more selective. Each frame gets a special treatment. I like the feeling of not knowing the outcome immediately.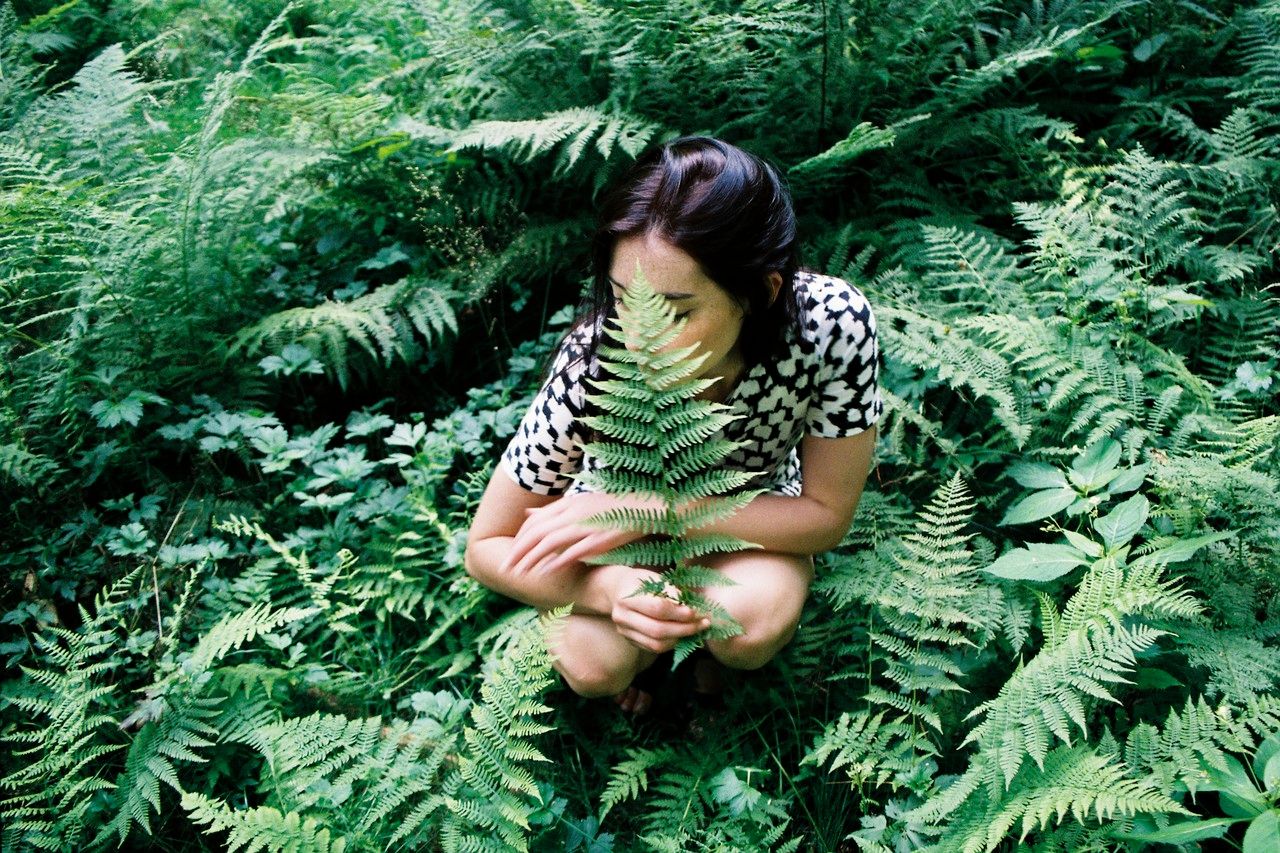 You mentioned earlier you studied social psychology and I've read you have an interest in Neuroesthetics; do you think this has helped with your photography?
I certainly do. It definitely improved my interpersonal skills, how I communicate with the world and how I interpret human behaviour.
How does your homeland [Poland] inspire you?
I'm very much inspired by the energy of people and places. The rhythm of everyday life will with happenings, conversations and emotions.
What does the future hold for Lukasz Wierzbowski?
I'm currently involved in quite a few projects and collaborations, working of both commissioned and personal projects.
Peep more of Lukasz's work by heading here.